Dutee Chand verdict: All you need to know about her biggest victory yet
Dutee Chand, on 27 July 2015 took a small step for herself and a giant leap for for fellow female athletes when she argued successfully that women athletes should not be discriminated based on their natural levels of testosterone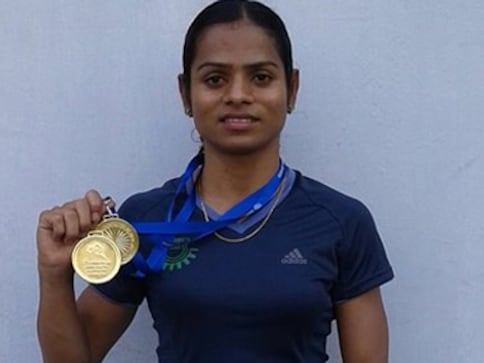 The thorny question of fairness in sports. Isn't Usain Bolt lighting fast because of his unusually long legs? How come Muttiah Muralitharan was allowed to take 800 Test wickets just because he was born with an genetic deformity in his bowling arm? Isn't Serena Williams too powerful for her counterparts?
And when is a female athlete not female enough? These are debates that sports has always struggled to answer and will continue to do so.
But a teenage sprinting sensation, born in poverty in Orissa, took it upon herself to prove to the powers-that-be that she is a woman and she has the right to compete that no one can take away from her. Dutee Chand, on 27 July 2015, took a small step for herself and a giant leap for fellow female athletes when she argued successfully that women athletes should not be discriminated based on their natural levels of testosterone.
Hyperandrogenism is the condition in human body where there is an excess generation of androgens. For those of us who did not take biology classes too seriously, testosterone is the androgen hormone that is secreted by reproductive organs in males. In females, hyperandrogenism results in more than normal amounts of testosterone.
Now that the technicalities are out of the way, testosterone level in the body is the only methodology in use today to determine if an athlete can compete in the male category or female. The theory behind this is that excess testosterone levels meant that athletes with perceived 'normal' characteristics are discriminated against.
Who was the case fought between and who presided over it?
Dutee Chand, the 19-year-old athlete, took the matter to the Court of Arbitration of Sport (CAS) against a) Athletics Federation of India and b) International Association of Athlerics Federation (IAAF).
Sports Authority of India (SAI) who had conducted the initial tests on Chand, have continued to back their athlete, calling IAAF's policy to be 'unscientific, unfair and unethical.'
What exactly happened during the arbitration? What are the two sides to this story?
Through no apparent fault of her own or external influences, Dutee Chand was told by Athletics Federation of India in 2014 that she cannot participate in races because she was deemed to possess an undue advantage.
But IAAF 's regulations are meant to provide fairness to athletes. IAAF, on their part, have never expressly stated that Dutee Chand is not a female.
CAS set about the investigation noting the fact that Dutee Chand is most definitely a female. This was never in doubt by any of the parties involved. CAS was to merely examine whether the Hyperandrogenism Regulations were discriminatory and not based on facts. The CAS also noted that the IAAF had not acted in bad faith and was merely trying to implement their regulations.
The issues that were addressed were discrimination against athletes and scientific evidence. Believe it or not, there is plenty of scientific evidence to support both sides of the argument, evidenced by the number of experts who deposed in front of the CAS.
Dutee, on her part, wanted to prove that testosterone that is naturally produced by the human body did NOT have a similar effect as ingesting steroids to enhance performance.
Dr Payoshni Mitra, a research consultant on gender issues in sport, who has been working closely with SAI and Dutee ever since the trial began, has maintained that the regulations are based on false premises. Other experts argued that the testosterone levels are dynamic in the body and it is senseless to fix a limit on something that keeps changing.
IAAF on their part produced expert witnesses to say that there is no other way to ensure fairness. It has long been established that male athletes are superior in physical attributes to their female counterparts because of their hormone characteristics.
British runner Paula Radcliffe, who holds the world record among women in the marathon, was also present during the trial but on IAAF's side. "The concern remains that their bodies respond in different, stronger ways to training and racing than women with normal testosterone levels, and that this renders the competition fundamentally unfair," said Radcliffe of such hyperandrogenic athletes.
So what is the verdict?
CAS agreed that testosterone levels in males are the main factor in deciding the athlete's performance and it offers a competitive advantage over female athletes. The separation between men and women based on this, is therefore, justified.
The problem, however, is to determine the proportionality of advantage a female athlete gains by possessing naturally higher levels of testosterone. In other words, the difference between testosterone levels between a man and woman is in no way comparable to a woman with normal and abnormal levels of testosterone.
The existing IAAF regulations, therefore, do not pass muster. But the CAS notes a need to revise the regulations based on evolving scientific evidence. The regulations are therefore SUSPENDED for two years and if IAAF cannot provide more evidence or change their modify their regulations, the regulations will only then be declared null and void.
Has this happened before? Why is Dutee Chand's case being hailed as a landmark event?
Yes, it has. The most famous incident is the Caster Semenya case. The South African sprinter was withdrawn from international competition for nearly a year after she won the 2009 World Championship in the 800m event.. The IAAF's handling of that incident was criticised around the world for being 'insensitive' -- including by legendary athlete Michael Johnson.
She was cleared to race again in July 2010 but it has never been made public whether she was made to undergo corrective procedures. Semenya has since won silver in 2012 London Olympics.
The reason the Dutee Chand decision is being hailed is because she is the first female athlete to take IAAF to court. No one has challenged the Hyperandrogenous Regulations before. "I am unable to understand why I am asked to fix my body in a certain way to simply participate in women's events. I was born a woman, I was reared up as a woman, I identify as a woman and I believe I should be allowed to compete with other women," Chand had written when challenging her withdrawal.
What does the CAS verdict mean for Dutee Chand? Has the ban been lifted for good?
For starters, Dutee Chand can run again. Forgetting everything else that has happened, that is the single biggest thing to come out of this verdict.
The appeal from Dutee Chand has only been partially upheld. IAAF has been provided a period of two years starting 27 July to prove that the 'actual degree of athletic advantage' that athletes like Dutee possess. She can meanwhile continue to be a part of national and international events.
If the IAAF fails to provide such improved evidence, the IAAF regulations will then be declared fully invalid.
How was the verdict been received?
Almost universally hailed. An important consequence of the verdict, as pointed out by NY Times is that though the panel was ruling specifically on track and field's regulation, given the Court of Arbitration for Sport's wide jurisdiction means the decision is likely to set a precedent for other sports around the world.
"I am shocked and heartened by CAS.'s decision," said Katrina Karkazis, who helped argue Chand's case in CAS. Part of the Center for Biomedical Ethics at Stanford University, she told NY Times, "I didn't think it was our time. Dutee has made history with her courageous decision to challenge a policy she felt was unfair to her and to all women athletes. It's a victory for women's equality in sport. And I'm thrilled she can just now run."
Dr. Mitra, who has been on Dutee's side from the beginning, told the Times of India: "Though we were optimistic we did not know what to expect. I feel a combination of factors worked for us. Firstly, the premise on which IAAF's gender regulations are based are flawed and challenging it was the correct move on our part. Secondly, the courage that Dutee showed through the length of the appeal was extraordinary; and most importantly, the support that we built around the campaign was crucial."
IAAF, which was applauded by the CAS for handling the case with due-diligince and sensitivity, said in  a statement: "The IAAF will now meet as soon as possible with its experts and with the IOC and its experts to discuss how best to address this interim ruling by the CAS. The IAAF will make no further comments on this subject until those discussions are concluded."
A super-excited Dutee, said that she will be able to sleep peacefully after a long time. "I believe the ruling is not a personal triumph but a victory for many other women athletes like me. Monday was a landmark day in athletics," Dutee told the Times of India.
And to think she is just 19 years old.
-----------------
Click here to access the full verdict of CAS.
Sports
Semenya, the Rio Olympics champion in women's 800m, feels sorry for Chand since the Indian, just like her, is facing a gender test row.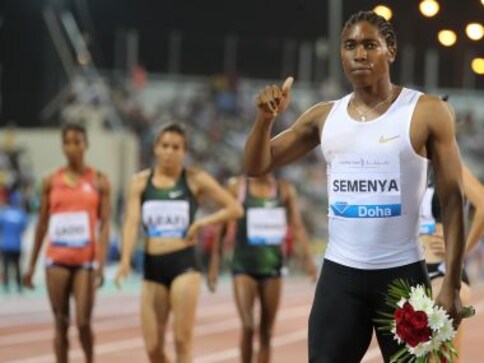 Sports
The CAS is expected to hold a five-day hearing into an appeal by Caster Semenya seeking to set aside the new regulations of the IAAF on hyperandrogenism.
Sports
After the CAS partially upheld her appeal in an interim order two years back, Chand was allowed to "continue to compete" till a final decision was given by the CAS on her appeal against IAAF's hyperandrogenism policy.