India's glorious journey in the World Cup came to an end, but the tournament itself is far from over.​ ​The Black Caps may have noticed that they've gained more than a billion new fans, as Indians around the world cheer the Kiwis. After all, they are the neutral's favourites.
In the pre-final press conference, Brendon McCullum said that he's confident that the Indian fans will be rooting for the Kiwis.
"I reckon we might have the home crowd tomorrow actually. I think it's probably no secret that most of the other teams around the world would probably fair New Zealand to win against Australia. So hopefully we'll get a good smattering of support tomorrow, and I'm sure the Indian guys will certainly be rooting for us."
But the Kiwi captain is leaving nothing to chance. The hard hitting batsman took the time out to write a heart warming letter, asking for the support of the world's most passionate cricket fans for this historic final. Here's the letter: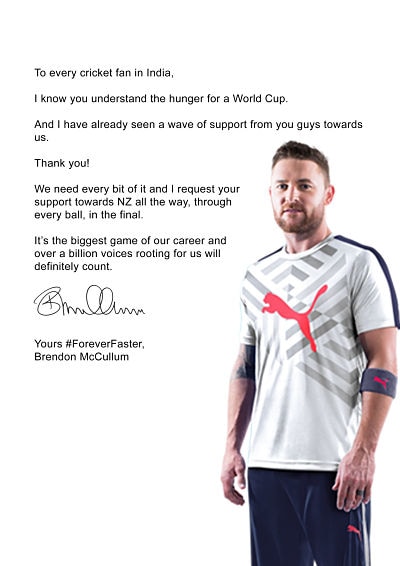 Updated Date: Mar 28, 2015 13:26:26 IST