Mayweather vs McGregor: When and where to live stream and watch the 'Fight of the Millennium'
Here's all you need to know about the live coverage of the 'Fight of the Milennium' between Floyd Mayweather and Conor McGregor.
After months of hype and profanity, Floyd Mayweather and Conor McGregor take their war of words into the ring on Saturday for a boxing mismatch that is poised to become the richest fight in history.
From motorcycle daredevil Evil Knievel to off-the-wall comedian Carrot Top, the Las Vegas strip has seen it all, but nothing quite like the crossover fight between undefeated boxer Mayweather and mixed martial arts champion McGregor.
Boxing purists have dismissed the bout as nothing more than a cash grab with McGregor in line for a $100 million pay day and Mayweather adding upwards of $200 million to push his career earnings towards the $1 billion mark.
Despite what is by most barometers a massive mismatch there is global fascination in the fight that could prove to be the richest in boxing history.
Promoters have sold the bout as "historical," a fight that will be talked about around the world for years to come and many intrigued fight fans have bought into the hype.
A crowd of close to 20,000 is expected to fill the T-Mobile Arena, where ringside seats on resale sites are being offered for more than $100,000, with millions more around the globe watching on pay-per-view.
For Mayweather it will be the culmination of a life's work, a chance to surpass former heavyweight great Rocky Marciano, who retired with a perfect 49-0 career record.
For McGregor, a victory would give him the greatest upset in combat sports history and establish him as a crossover star able to choose big money fights in both the octagon and the ring.
Here's all you need to know about catching the Floyd Mayweather vs Conor McGregor fight live:
When and where will the fight take place?
The fight will take place at the 20,000 seater T-Mobile arena on the Las Vegas Strip in Nevada on 26 August (27 August in India).
How do I watch the fight live?
The fight will be streamed live by the digital broadcast network VEQTA on their app and website. Fans will have to pay a nominal subscription fee of Rs 99 to secure access to the live stream.
Official website - https://veqta.in/
Android Play Store - https://play.google.com/store/apps/details?id=com.app.veqta&hl=en
App Store (iOS) - https://itunes.apple.com/in/app/veqta/id1044161618?mt=8
When will live coverage of the fight start?
The live broadcast of the Mayweather vs McGregor fight is scheduled to start at 9:00 AM IST on Sunday. The undercard bouts are expected to start at 6:30 am IST.
With inputs from Reuters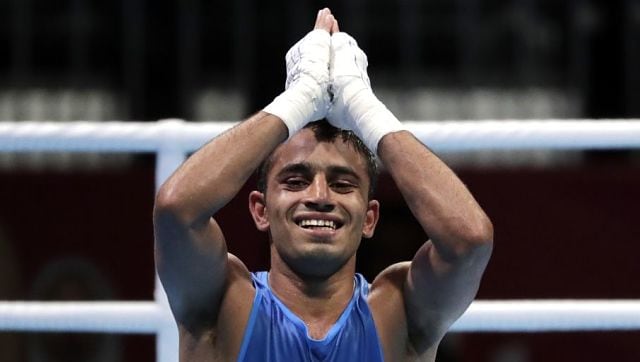 Sports
Firstpost.com takes a quick look at boxing star Amit Panghal's performances over the past two years, and charts his journey towards securing Olympic qualification.
Sports
Lovlina Boroghain assured another medal for India at Tokyo Olympics 2020 by winning her quarter-finals boxing match.
Sports
Borgohain, the lone Indian boxer in action on the day, prevailed 3-2 over her rival who is 12 years her senior. Both the boxers were making their Games debut and the Indian became the first from her nine-strong team to make the quarterfinal stage.