Maximum over midwicket: Apple CEO Tim Cook, Rajeev Shukla and Munnabhai's IPL adventure
Apple CEO Tim Cook was in the stands, sitting beside the most recognisable face of the IPL fanfare. No, not MS Dhoni. It was the IPL chairman Rajeev Shukla.
It was the 7,469th game of the Indian Premier League 9, now an eternal swirling soap opera whose immortality would put the saas, bahus and Simars of our beloved idiot box to shame. The apple (pun intended) of every middle class Indian living room, these sprawling studies on pith and poison of Indian families have needed facial plastic surgeries, generational jumps, and even the transformation of the protagonist into a fly (not even kidding at all) to survive through the ages.
The IPL, whereas, has continued without the requirement of plot changes for almost a decade now. People still go wild out of their wits at the same bloody hoick over mid-wicket for six. How many of them now?
However, a new character was introduced in Thursday's game, Gujarat Lions vs Kolkata Knight Riders. A special appearance for a solitary episode. Apple CEO Tim Cook was in the stands, sitting beside the most recognisable face of the IPL fanfare. No, not MS Dhoni. It was the IPL chairman Rajeev Shukla. Who, you ask? Haven't you seen the slightly rotund and formerly mustachioed man, beaming at the game as if it were his own offspring? Yes, that's him.
So, Mr Cook and Mr Shukla were sitting in the stands, marveling at the microcosm, buying over-priced popcorn, chips and coke, and ritually screaming on cue when that age-old, now a T20 staple, audio clip (because to call it music would be like kicking real musicians in the nether region) played, a timely reminder that you have not lost interest, sir. Not yet. Mr Shukla was beaming, as always. Mr Cook was sweating.
The Green Park stadium in Kanpur was hosting its first IPL match, and also its first game under lights. The crowd had turned up to take part as extras in a show they had only seen on their televisions till now. Naturally, the excitement could even top those sky-kissing sixes hit by Chris Gayle. By the time Danny Morrison, the director of the dysfunctional road show, said action, the stadium had become a bubbling bowl of sweat and spice, kept over the heat of the Indian summer, and stirred by a stick made of the finest English willow. Then a benign sprinkling of scantily-clad cheerleaders around the ropes, and the recipe was ready. Mr Cook had now tasted the most popular cricket curry, and it was hot.
Mr Cook kept reaching for his handkerchief, it felt like a trip to the tropics. Meanwhile, Mr Shukla kept complaining to him; something about Siri not recognising his accent. Just when Mr Cook thought he'd collapse from the heat and the hullabaloo, India's greatest and most famous doctor, who happened to be sitting beside Mr Shukla, came to his rescue. Munnabhai MBBS (Sanjay Dutt) gave him a jhadu ki jhappi, a cure so advanced that it's not yet available in the US, and all was right. Mr Cook had never felt better.
"Never felt anything like this before," Mr Cook admitted to Alan Wilkins as Mr Shukla beamed on. He was just proud that an 'American', who was also the CEO of the biggest technological company in the world, had given his seal of approval to the IPL. It was a great 'achievement'.
"Incredible," Mr Cook said. "I am already hooked on to it." We know, Mr Cook. A billion people have been hooked on to it for a decade. What do you think, they're all stupid?
Just as Mr Cook signed off, KKR's Jason Holder hit a massive 95-metre six in the 18th over, another bloody hoick over mid-wicket. Danny Morrison, adding the final flavour of irony to the mix, screamed at his microphone: "OHHH, I LOVE THIS GAME." Indeed, we all do.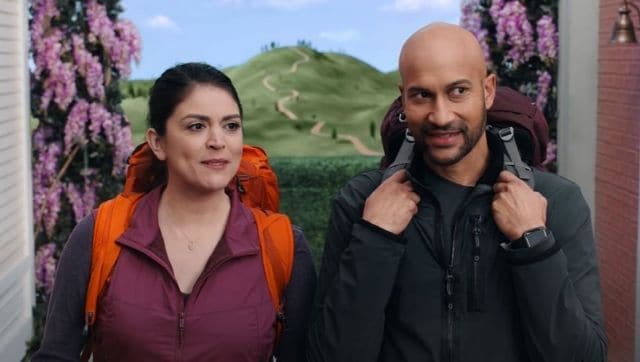 Entertainment
Though bumpy at times, Schmigadoon! is a feel-good comedy and a hat-tip to musicals, worth a slow-Sunday watch.
Entertainment
At times, Schmigadoon! can feel like a Simpsons parody that outgrew its segment, or a classic movie butchered in order to insert commercial breaks. Luckily, it's also too fun for most of that to matter.
News & Analysis
Albums from music artists including J Balvin, Ariana Grande, Maroon 5, The Weeknd, and more are available in lossless audio quality on the app.