From karting champion to youngest F1 race winner: All you need to know about Max Verstappen
The following is a factbox on Dutch driver Max Verstappen, who became Formula One's youngest race winner, aged 18, at the Spanish Grand Prix on Sunday
The following is a factbox on Dutch driver Max Verstappen, who became Formula One's youngest race winner, aged 18, at the Spanish Grand Prix on Sunday:
- Born: September 30, 1997 in Hasselt, Belgium.
- Father and former F1 racer Jos Verstappen is Dutch, mother and former karting racer Sophie Kumpen is Belgian. Max competes with a Dutch licence.
- Given his first go-kart at the age of four. Competes in first kart race at age of seven. A Belgian champion in the mini category at eight. He won all 21 races the following year to retain the title.
- Moves up to mini-max karting category in 2007. He wins every race on the calendar and also wins a Dutch title. In 2008 he won three karting titles and does it again in 2009.
- European and world karting champion in 2013.
- Moves into single seaters in 2014 and stands out in the FIA European F3 championship, qualifying fourth in his first race and winning his sixth. He also won the F3 Masters at Zandvoort.
- Signed by Red Bull for their junior programme in 2014 while still 16-years-old, with a seat at Toro Rosso for 2015. The governing FIA subsequently changes the rules to ensure nobody else can debut younger than 18.
- Makes Formula One debut with Toro Rosso in Australia 2015 as Formula One's youngest driver at the age of 17 years and 166 days.
- Becomes the sport's youngest points scorer with seventh place in Malaysia 2015 at the age of 17 years and 180 days.
- Ends the 2015 season with awards for Rookie of the Year, Personality of the Year and Action of the Year. Two fourth placed finishes.
- Starts 2016 season with Toro Rosso but after four races is promoted to Red Bull, while Russian Daniil Kvyat takes his place at the junior team.
- May 15, 2016. Becomes Formula One's youngest race winner at the Spanish Grand Prix, aged 18 years and 227 days. The previous youngest was Germany's Sebastian Vettel, who was 21 and 73 days when he won with Toro Rosso at Monza in 2008.
Sports
Chandhok is one of the only two Indian drivers to have made it to Formula 1 with the other being Narain Karthikeyan.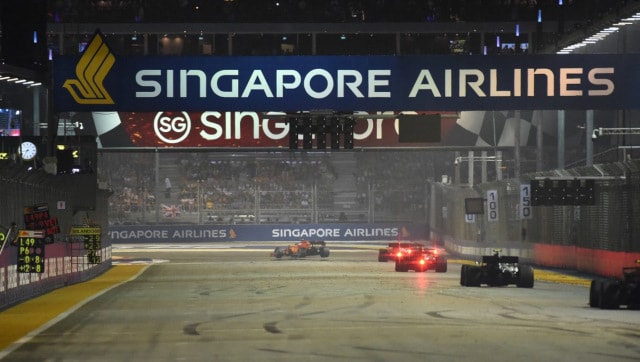 Sports
Races in Turkey (Istanbul) and China (Shanghai), postponed earlier this season, could replace Singapore, while the United States could also host a second race.
Sports
Cui Yuanpu, who has been karting since the age of six, joins several other potential F1 stars of the future in Mercedes' young driver programme.