Mary Kom wishes a day had 48 hours as she juggles between boxing and Rajya Sabha
New Delhi: Comparisons of her dual role with a certain Manny Pacquiao only evoke laughter from MC Mary Kom but the five-time world champion says being an active boxer and a Parliamentarian at the same time is no laughing matter as the twin jobs are exhausting and exhilarating in equal measure.
In an interview with PTI on Sunday, the London Olympics bronze-medallist, the first and only Indian woman boxer to have achieved the feat, spoke of her struggles to manage time during the just-concluded Budget Session of the Parliament, albeit jovially.
"I joined the national camp a fortnight ago and soon the Budget Session also started (from 31 January). So I would go for training at 7 in the morning to the IG Stadium, rush back to change and head straight to the Parliament because I didn't want my attendance to suffer," Mary Kom says.
"It was like racing against time and after hard training, you tend to feel very exhausted too. But then most of the times, the proceedings in the Parliament are so lively that there is no risk of being caught asleep. There is never a dull moment," she adds with a burst of laughter.
"But on a more serious note, I wish the day could be of 48 hours."
The 34-year-old, who is five-time Asian champion besides having a coveted Asian Games gold medal as well, was nominated to the Rajya Sabha last year.
Tell her that multiple roles make her comparable to Pacquiao, the Filipino boxing superstar who is a Senator as well as an active boxer, Mary Kom breaks into a giggle.
"But hey, I am managing a lot more being a woman. Training, Parliament and then doing my own chores at home and of course taking care of my children," she points out.
Speaking of her first love, which is boxing, Mary Kom has not competed since last year's World Championships in May where she could not qualify for what would have been her second Olympic appearance.
After a break, the Manipuri decided to change her weight category from flyweight 51kg to light flyweight 48kg, in which she won a majority of her international gold medals.
Her sabbatical is now over and Mary Kom is back in the mix in the national camp, where a new coaching team of 16 under former men's coach Gurbax Singh Sandhu has taken over.
"I am happy with how the camp is going so far. I have been doing light training mostly, spending about 3-4 hours in a day as of now. There are two training-cum-competition trips coming up in China and Kazakhstan next month. I have the option of going there if it works out," Mary Kom says.
"I am focussed on the Asian and Commonwealth Games next year. I am taking it year by year now. I will try to remain injury-free and there is no lack of fire in me. My hunger remains as strong as ever," she adds.
"There have been some changes in the international rules, now even women boxers have to compete in the format of three rounds of three minutes each. I have adjusted to all that though. That has been quite easy."
Sports
Gold medal winners from the championships will earn themselves a chance to represent the country at the world championships to be held in Serbia from 24 October to 6 November.
Sports
Defending champion Hussamuddin, who is representing Services Sports Control Board (SSCB), displayed smart and mature boxing and landed plenty of punches to secure a unanimous 5-0 win.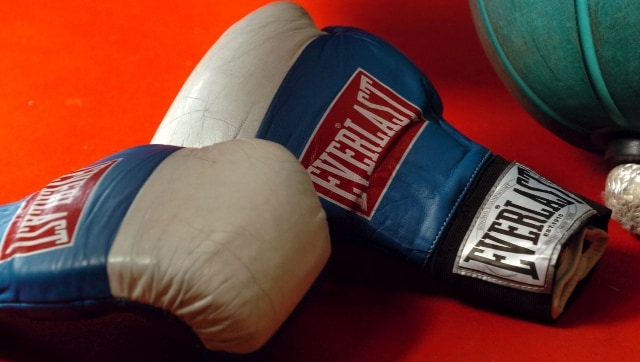 Sports
It is reliably learnt that the two High Performance Directors Santiago Nieva (for men) and Raffaele Bergamasco (for women) along with the national head coaches CA Kuttappa (men) and Mohammed Ali Qamar (women) are under intense scrutiny at this point.