Marlon Samuels vs Shane Warne: A flashback into the ugly past between two volatile cricketers
Marlon Samuels 'dedicated' his Man of the Match award in the World T20 final to old foe Warne, adding that he let his bat do the talking and not the mic.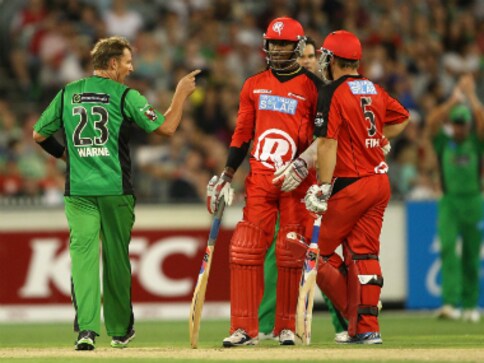 Marlon Samuels played yet another heroic knock in the final of an ICC World T20. He smashed an epic 85 off 66 deliveries in the finale of the sixth edition against England at Eden Gardens in Kolkata on Sunday to help his side become the first to lift the trophy for the second time.
Samuels finally took the spotlight in the tournament for once after the likes of Chris Gayle, Andre Fletcher, Samuel Badree and Lendl Simmons had their moment under the sun. However, his angsty knock was directed as much as helping West Indies win the title as shutting his critics up, especially one Shane Warne.
Samuels has been at loggerheads with the retired Australian spin wizard since the second edition of the Big Bash League, in which the two engaged in what turned out to be one of the most memorable on-field fights of all time. Warne followed it up with a string of harsh criticism of the West Indian batting all-rounder with the microphone in the commentary box.
Samuels however, had the last laugh when he 'dedicated' his 'Player of the Match' award to Warne, adding that he "answered with the bat, not the mic."
"I woke up this morning with one thing on my mind. Shane Warne has been talking continuously and all I want to say is 'this is for Shane Warne'. I answer with the bat, not the mic," Samuels said at the post-match presentation ceremony.
"I played a Test series in Australia (in Januarly 2016) and Shane Warne has a problem with me. Don't know why. I've never disrespected him. It seems that he has a lot inside him that needs to come out.
"I don't appreciate the way he continues to talk about me and the things that he keeps doing," Samuels blasted the Australian leg-spinner-turned-commentator.
Let us revisit the feud between the two volatile cricketers:
Melbourne Renegades vs Melbourne Stars, MCG, 6 January 2013:
The problems began when Marlon Samuels, who was playing for the Renegades, appeared to hold the shirt of Stars batsman David Hussey as the latter was about to go for a second run. Stars skipper Warne did not take kindly to the gesture, and was seen pulling Samuels's shirt rather aggressively and abusing him despite being live on the microphone that was connected to the commentators.
Warne provoked Samuels even further when he threw the ball back at the latter while fielding at short cover, throwing the ball back towards Samuels and hitting his torso in the process. Things got real ugly when an enraged Samuels threw his bat in Warne's direction, although it landed quite far away from the opposition captain.
Warne was slapped with a Aus$ 4,500 fine and a one-match ban, and later apologised for his behaviour. However, that would not stop him from targeting Samuels in the future.
Australia vs West Indies Test series, 2015-16:
Warne decided to shift his war against Samuels to the commentary box while commentating for Channel Nine during the rather one-sided Australia-West Indies Test series.
"Marlon Samuels is Mr Experience out there but he hasn't really given anything in this Test match so far. He's fielded on the boundary, hasn't shown any enthusiasm or any intensity," Warne was quoted as describing Samuels's presence during the first Test at Hobart according to a report on foxsports.com.au.
Samuels was involved in a rather disappointing run-out in the New Year's Test at Sydney, which only provided Warne more fodder to attack the West Indian all-rounder.
"Horrific running from Marlon Samuels there. He hit it in the gap and he was just sort of too cool for school when he took off...Sorry Marlon, it's all your fault," Warne said in the report on foxsports.com.au.
India vs West Indies, World T20 semi-final, Mumbai, 31 March 2016:
The feud then shifted to the sixth edition of the World T20, just one game before Samuels's epic knock. The No. 3 batsman disappointed his side when he was dismissed for a mere 8 for West Indies to lose their second wicket with just 19 on board while chasing a stiff target of 193.
"For your No.3, Marlon Samuels, in this situation in such a big game, that's an embarrassing dismissal. That's pretty poor. He's too cool to be schooled," Warne quipped according to a report on The Indian Express.
One can feel the emotions that the Jamaican must have felt before his stupendous innings in the final. It is only understandable for Samuels to give it back to Warne after leading his side to victory in the final against England.
Warne did congratulate him as well as Brathwaite aside from both teams in the form of a tweet, though it appears to have been posted before Samuels's epic acceptance speech.
Congrats to both teams on an amazing final. Well done to the WI, well played Marlon & great hitting Brathwaite. Bring on some dancing haha !

— Shane Warne (@ShaneWarne) April 3, 2016
Samuels however, was not exactly humble in the post-match press conference. In a demeanour that many would have perceived as cocky, Samuels put his legs on the table while addressing the journalists. After that display, he had one final jibe at Warne for the night:
"May be my face is real his is not...," he said in an apparent reference to Warne, who has admitted to using Botox according to a report on news.com.au.
Though it appears unlikely, let us hope things between Warne and Samuels calm down eventually over a period of time.
With inputs from agencies
First Cricket News
Skipper Bavuma ended a seven-year wait for a second Test century as the hosts extended their lead to 356 at stumps on Day 3 at the Wanderers.
First Cricket News
West Indies were bowled out for 106 after being set a mammoth 391 to win as South Africa completed a 2-0 Test series sweep in style.
First Cricket News
Shai Hope made a match-winning 128 as West Indies defeated South Africa by 48 runs in the second ODI.