Manchester United finish fifth with Bournemouth win, miss out on Champions League
Wayne Rooney, Marcus Rashford and substitute Ashley Young scored a goal apiece as Manchester United qualified for the Europa League group stage.
Manchester: Manchester United's absence from the Champions League for the second time in three years was confirmed on Tuesday after a 3-1 win over Bournemouth in an English Premier League game, hastily rearranged because of a bomb scare.
Wayne Rooney scored one goal and played a part in the other two, scored by Marcus Rashford and substitute Ashley Young, as United finished in fifth place to qualify for the Europa League group stage.
Qualifying for the Champions League — with its prestige and vast riches — was United's priority this season, meaning that manager Louis van Gaal has failed to meet his targets. David Moyes was fired in 2014 for that very reason, and Van Gaal will find out after the FA Cup final against Crystal Palace on Saturday whether he goes the same way.
"It is the highest level," Van Gaal said of the Champions League, "and a club like Manchester United has to play at that level."To do so, United had to beat Bournemouth by a minimum 19-goal margin to overtake fourth-place Manchester City. Even in the strangest season in the Premier League's 24-year history, that was never going to happen and United wound up behind City on goal difference.
There were some jeers from United fans as Van Gaal took to the microphone in the center circle after the game. The Dutchman thanked supporters for their "unconditional support," adding: "Now, we want to bring the FA Cup home to you."
That still might not save his job, although Van Gaal answered with a "yes" when asked if he would still be United manager next season. He has one year left on his contract.
United ended the league campaign with 49 goals, the team's lowest return since 1989-90 and a paltry total compared to the ones that United teams under Alex Ferguson used to deliver.
The original game on Sunday was called off after Old Trafford was evacuated because a fake bomb was discovered in the toilets of one of the stands. Police said hours later that the device was left behind by a private company following a security training exercise using search dogs.
It was not only an acutely embarrassing episode for United, it meant the team had to return two days later to play the game — disrupting preparations for the cup final. Van Gaal played a full-strength team against Bournemouth, and appeared to avoid any injuries. Bournemouth, meanwhile, had to make a second 500-mile (800-kilometer) round trip in three days from the south coast to the north, and couldn't even use its own training pitches in between times because they had been dug up in advance of preseason.
It was business as usual outside Old Trafford, with fans meeting with the same levels of security as previous matches here. Security was not oppressive, and the atmosphere was calm.
It was also business as usual on the field, at least until Rooney's 43rd-minute opener. United's build-up play was ponderous and the crowd — well short of the 76,635 capacity — was deprived of entertainment. The match had a preseason feel to it and Old Trafford was eerily quiet, save for the chanting of Bournemouth fans who were given a free bus ride to the game by their club as a gift.
By winning the Premier League title as a 5,000-1 longshot, Leicester delivered arguably the most unlikely storyline in the history of English soccer, but United might have even topped that if they had racked up the club-record 19 goals required to leapfrog City.
United had no hope of that but Rooney, playing as a central midfielder, provided a ray of sunshine.
The opening goal was one of the best seen at Old Trafford all season, with Anthony Martial playing a one-two, racing into the area, and supplying a low cross that was dummied by Rashford and sidefooted home by Rooney as he arrived late in the area.
Rooney was the supplier for the second goal by Rashford, and chipped the ball forward to Young, who beat the offside trap to score. Bournemouth's consolation came via an own goal by Chris Smalling.
United's win took away the potential for having to play in the Europa League's third qualifying round on 28 July. There wasn't too much else to savor.
Sports
United and Liverpool face off at Old Trafford on 23 October and 19 March at Anfield.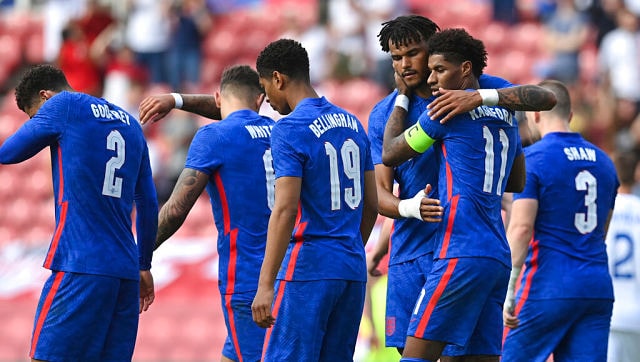 Sports
Among other routine wins for Euro 2020 teams, the Netherlands beat Georgia 3-0 with Wout Weghorst and Ryan Gravenberch, a teenage midfielder from Ajax, getting their first international goals.
Sports
Buendia, 24, won Championship player of the year this season, scoring 15 goals and providing 16 assists, as Norwich romped straight back to the Premier League.