Mallorca Grand Prix: Dmitry Jakovenko clinches title; P Harikrishna's decent run ends with draw
In a field as strong as this, where Harikrishna was the ninth seed, his performance was quite a decent one. He remained unbeaten against a field that included some of the best in the world.
The final leg of the FIDE Grand Prix series in Mallorca concluded in the most astounding manner one could have imagined. Levon Aronian had been the sole leader of the tournament since the fourth round, but a draw against Hikaru Nakamura cost him high as Dmitry Jakovenko not only caught him in the lead but also had a better tie-break. So in the end, it was Jakovenko who took home the trophy.
Maxime Vachier-Lagrave and Teimur Radjabov desperately needed to score high at the event as they had the chance to qualify for the Candidates tournament. It was a certainty that they would come out all guns blazing in the final rounds to make it into the next stage of the World Championship cycle.
For the only Indian at the event, Pentala Harikrishna, the Mallorca Grand Prix didn't offer much apart from a share of its €130,000 prize fund as he had already been knocked out of the run for the Candidates spot. Having scored only 80 Grand Prix points in his last two events, even if he had finished clear first at this event, he would not have been able to surpass the score of Alexander Grischuk – who is currently in second place – of 336.4 points as the winner of an event only gains 170.
Going into the final round, both Vachier-Lagrave and Radjabov were half-a-point behind Aronian and both needed to win desperately as they were tied with nine other players. As per the rules of the Grand Prix, Grand Prix points are shared between tied players. If this were to be the case, it would leave both players short of the required score.
Between Maxime and Teimur, even though Teimur had more Grand Prix points, it seemed Maxime will be the one making it into the Candidates. After all, Vachier-Lagrave had had a comfortable outing at the Mallorca Grand Prix overall. He had won his first game and was either joint first or joint second throughout the event until the last round.
Radjabov, on the other hand, was having an up-and-down event. After the sixth round, especially, when he lost to Evgeny Tomashevsky, it seemed only a miracle would help him keep his chances alive. And that's exactly what he did. Winning his games against Li Chao and Gelfand, he brought himself back into contention. Just one more win, and he would be on his way to Berlin, the venue of the Candidates.
But destiny had other plans. Radjabov was playing Richard Rapport in the final round. Rapport, who is otherwise known to be the first one to complicate positions, played in a much more pragmatic manner and did not allow Radjabov any chance to generate winning chances and the game ended in a peaceful draw.
Vachier-Lagrave was also in a similar situation in his game against Dmitry Jakovenko. But this was the first time Maxime had come so close to earning a spot at the Candidates and he, quite understandably, did not want to let it go. He tried hard to create complications and even succeeded in getting a promising position. But in the end, his nerves failed him and he blundered.
"Things didn't go as planned. Apart from the first game, I didn't manage to make the most of my chances," said Maxime after his game. "If I had been sharper and more accurate, I would have qualified," he added.
In Harikrishna's game against Peter Svidler in the final round, the players – as admitted by Svidler after their game – consciously tried to make the game as non-theoretical and sharp as possible.
"I think it's quite clear from the game that neither of us really played for a draw. But… pieces just get traded off," commented Svidler after the game. He also mentioned that he had completely missed that the white queen could take the c7 pawn on the 24th move and felt lucky he was able to draw after this.
Also, quite curiously, Harikrishna also mentioned that he missed black's response of taking a pawn on c3 after he had captured on c7 with his queen. "After 25…Qc3, black's queen is getting very active. "Even if I had played 26.Qd3, it would have been a draw since black is taking the a2 pawn. So I just decided to finish the game with 26.Qe8 and 27.Ne5," explained Harikrishna.
In a field as strong as this, where Harikrishna was the ninth seed, his performance was quite a good one. After all, he remained unbeaten against a field that included some of the best in the world. Besides, he was able to win a few rating points and a decent share of the prize money. So overall, he has every reason to be happy about his performance in Mallorca.
Final standings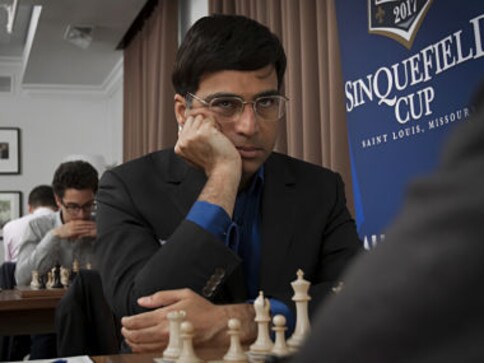 Sports
Though holding an initiative for most of the game, Viswanathan Anand could not make headway against co-leader Maxime Vachier-Lagrave's defence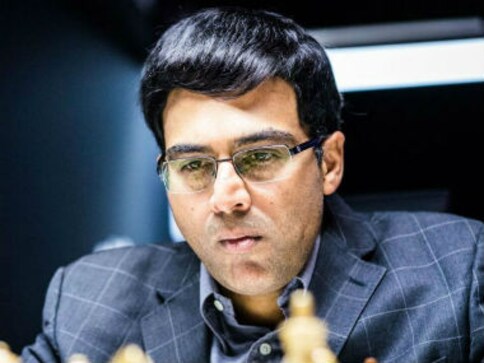 Sports
Playing black for the first time in the tournament, Anand was up against an English opening that got transposed to the Queen pawn game against Svidler.
Sports
Anand missed a better defence on the 38th move and blundered a pawn on the 40th move, landing himself into difficulties. However, pulling himself together and putting up his most stoic foot forward, he defended stubbornly to steer the game into a rook ending where he was down a pawn but the game being theoretically drawn.