Mahesh Bhupati available for Davis Cup tie against Serbia
Tennis ace Mahesh Bhupathi declared his availability for India's Davis Cup World Group play-off match at home against Serbia later in the year.
Tennis ace Mahesh Bhupathi on Wednesday declared his availability for India's Davis Cup World Group play-off match at home against Serbia later in the year, saying that doubles rubber could be crucial against a strong opposition.
"I am always available. I know the captain's (Anand Amritraj) talk about the same just like coach (Zeeshan Ali) has. I think it is important because the doubles will be pivotal in that match, so let's see how things pan out," Bhupathi said on the sidelines of a promotional event organised by leading tennis racquet manufacturer Wilson in Mumbai.
The 39-year-old winner of four men's doubles Grand Slam crowns held out some hope for India against the strong Serbians as the tie would be played at home.
"Any opponent is difficult in Davis Cup. Once teams come to India anything is possible I feel, so we are looking (forward) to play a home tie," he said.
"I hope he doesn't play," said Bhupathi with a laugh when pointed out the possibility of Novak Djokovic coming to India for the tie.
Bhupathi also hailed the victory of Somdev Devvarman-spearheaded India over South Korea in the away tie to gain a berth in the Davis Cup World Group play-off.
"It is very exciting. We have not beaten Korea in Korea before. I have been part of many teams that has been to Korea and have come disappointed because it is so hard to beat those guys there," Bhupathi said.
"I think Somdev and the boys did amazingly well and this a chance to play in the World Group," said Bhupathi, who has launched the IPL-style International Premier Tennis League which has signed up world number one and two Rafael Nadal of Spain and Serbia's Djokovic, among other top players.
On Tuesday, Leander Paes had hailed the last week's feat of the Indian squad, saying "Kudos to the boys for a job well done in Korea."
On India's chances against Serbia, Bhupathi said it was still a long way off and things were not clear about who all would be available for the tie.
"It is so far away, it's in September. We don't know who is playing for them and who is playing for us. Unfortunately, Yuki (Bhambri, India's other singles player) was injured during the last tie (and missed playing against Korea).
"Ideally we need to field a full strength team to have a chance to upset one of the powerhouses of tennis. Ideally for us if Novak doesn't show up I think life could become easier."
On India's prospects in the September-October Asian Games in Incheon, Korea, Bhupathi said the country had traditionally done well in these Games and he expected a good showing in the 17th edition of the quadrennial multi-sport event.
"We have always been a powerhouse when it comes to the Asian Games. I know when I played in Doha (2006) we won all the medals and also in Guangzhou (in 2010), we won all the medals (in tennis).
"When we go there we are always considered favourites to win a bunch of medals, so I am sure this time also, no matter what kind of team we field, we are always there in contention."
Bhupathi, however, declined to take any question about his proposed pro international tennis league which has also signed up Australian Open men's winner Stanislas Wawarinka and reigning Wimbledon men's champion Andy Murray along with top women players Serena Williams, Caroline Wozniacki and Victoria Azarenka.
PTI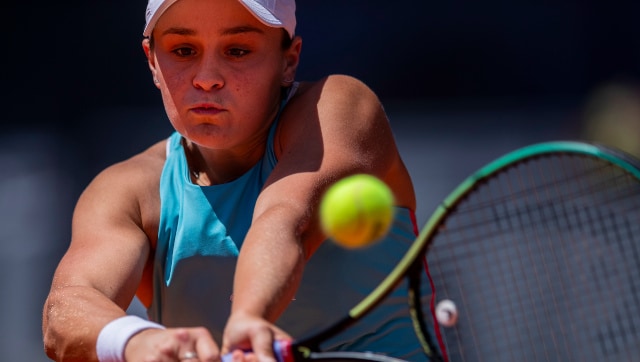 Sports
Barty overcame an early break of serve to see off Shvedova, a three-time Grand Slam quarter-finalist making her way back after giving birth to twins. 
Sports
Thiem won 3-6, 7-6 (7/5), 6-0 in two hours and 33 minutes against 44th-ranked Fucsovics in the clay-court tournament which acts as a warm-up for the French Open in which the Austrian has twice finished runner-up.
Sports
French tennis federation director-general Amelie Oudea-Castera said potential spectators at the 30 May - 13 June Grand Slam must demonstrate proof that they had a negative PCR or antigen test within 48 hours of attendance, or bear a certificate of vaccination.