Magnus Carlsen to face his toughest challenger in Fabiano Caruana for 2018 World Championship title
Of the two, Magnus Carlsen is surely the on paper favourite but, as mentioned earlier, Fabiano Caruana is the strongest challenger to the Norwegian so far.
The Kuelhaus (literally translating to "the cool house" in English) witnessed a significant heat as the final round of the Candidates tournament went underway in the historic building in Berlin, Germany. American Grandmaster Fabiano Caruana had led the tournament all the way through. Half a point ahead of his nearest rivals, Caruana defeated Alexander Grischuk of Russia to etch his name on the title prize. With this win, he has become the first American chess player since Bobby Fischer in 1972 to compete for the World Championship title. Later this year in November, Caruana will challenge Magnus Carlsen for the World Championship in London.
Despite being ahead in score in the final round, finishing first wasn't an easy task for Caruana. Both Sergey Karjakin and Shakhriyar Mamedyarov were to have an edge over the American had they succeeded in catching up for the first place. Karjakin had beaten Caruana in the twelfth round. Since the result of the head to head encounter between the players was the first tiebreak criterion, Karjakin would have been awarded the title in case of a tie between Caruana and Karjakin. In Mamedyarov's case, it was the third tie break, the Sonneborn-Berger method, that worked in his favour. Mamedyarov had the better Sonneborn-Berger score than Caruana and, therefore, would have been awarded the title.
But Caruana avoided all of these scenarios. He was half a point ahead of the field and simply dominated Grischuk in an endgame that arose out of the rather innocuous Petroff Defence in the final round and scored a win.
Interestingly, at one point in the round, both Mamedyarov and Karjakin had finished their games peacefully and a draw would have been enough for Caruana to clinch the title. But Caruana, in a Fischerean manner, went all out for the win nevertheless. "The position was just too good to agree to a draw," he said in the post-game conference.
After his win, Caruana said he was absolutely thrilled. "Coming in today, I wasn't sure what would happen; and things couldn't have gone better. A few days ago, I thought the tournament was already out of my hands, but somehow things just came together perfectly at the end. I really couldn't be happier."
For Carlsen, who will be defending his title for the third time this year, Caruana is the toughest challenger so far. Caruana is the third highest rated player in the history of the game behind Carlsen and Gary Kasparov. Further, if one discounts his dismal performance at the Tata Steel Masters, he has been in great form having won the London Chess Classic, ahead of Carlsen in December 2017 and then the Candidates this year. Furthermore, Caruana's universal style of play and excellent opening preparation ensures that he is hardly taken by surprise in the openings.
Carlsen's performances have also been quite heartening lately. At the Tata Steel, where Caruana performed poorly, Carlsen won the title prize for a record sixth time. Further, he won the unofficial World Championship with a score of 14-10 against Hikaru Nakamura, earlier this year. In contrast to Caruana, Carlsen does not delve too deep into opening preparation and prefers to get a playable position and, to quote Garry Kasparov "never lets go of that bulldog bite.
A large part of the preparations for such high profile matches also depends on the team of seconds one chooses. It's hard to say who has the upper hand on this front has given that there isn't much information on any of Caruana's seconds except Rustam Kasimdzhanov.
As for Carlsen, if he is to continue with his team of seconds from the previous World Championship match, the team will be a very strong one consisting of Peter Heine Neilsen, Laurent Fressinet, Jan Gustaffson and the surprise in the pack, Maxime Vachier-Lagrave. The presence of one of world's top ten players like Lagrave can be of a great advantage to the reigning world champion.
However, since neither side has declared their team of seconds, all of this is mere speculation.
Of the two, Carlsen is surely the on paper favourite but, as mentioned earlier, Caruana is the strongest challenger to Carlsen so far. Futhermore, with players of such high caliber, it can really be anyone's game. All that is assured is an exciting duel between two of the very best players of the world.
Find latest and upcoming tech gadgets online on Tech2 Gadgets. Get technology news, gadgets reviews & ratings. Popular gadgets including laptop, tablet and mobile specifications, features, prices, comparison.
Sports
The International Weightlifting Federation, though, has not commented on the situation and still lists Papandrea as interim president on its website.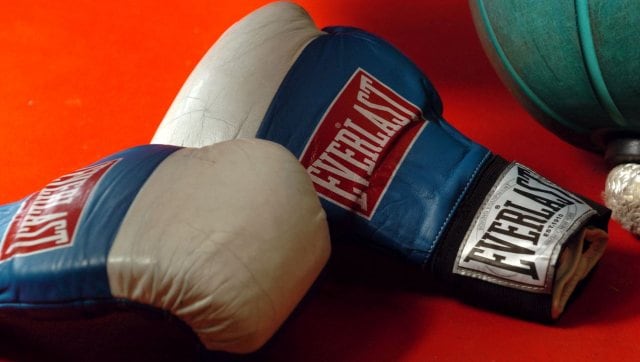 Sports
SAI also said "athletes who have to travel beyond 500 km will be provided with an air ticket while those athletes who are stationed less than 500 km may travel by Train in 3rd AC."
Sports
In the first week of October, controversy first came to light when a well known Chinese Dota 2 player Liu "Sylar" Jiajun was kicked out of the newly formed 4AM Dota 2 team less than a day after the team was first formed and announced. This incident apparently took place because 4AM had initially been interested in bringing onboard a different player originally, Zhang "Eurus" Chengjun who is also known as Paparazi灬.