Madrid Open: Three-time champion Roger Federer to make clay-court return in Spanish capital after two years out
The 37-year-old Federer didn't play in clay tournaments for two seasons, but said he will be back this year as he prepares for his first French Open appearance since 2015
Roger Federer will play at the Madrid Open as part of his return to the clay court

The 37-year-old Federer didn't play in clay tournaments for two seasons, but said he will be back this year as he prepares for his first French Open appearance since 2015

Federer is the second most successful player at the Madrid Open with three titles, behind five-time champion Rafael Nadal
Madrid: Roger Federer will play at the Madrid Open as part of his return to the clay court.
Organizers say the 20-time Grand Slam champion will participate in the tournament from 3-12 May.
The 37-year-old Federer didn't play in clay tournaments for two seasons, but said he will be back this year as he prepares for his first French Open appearance since 2015.
¡@rogerfederer will participate in the #MMOPEN! ❤️ ¡Welcome back, Rog! See you in May! https://t.co/iYRJRG4kOh pic.twitter.com/gfdZpKbZhB

— Mutua Madrid Open (@MutuaMadridOpen) February 20, 2019
Federer is the second most successful player at the Madrid Open with three titles, behind five-time champion Rafael Nadal. Federer's last Madrid title came in 2012.
Nadal and top-ranked Novak Djokovic are also expected to play in Madrid this year.
Find latest and upcoming tech gadgets online on Tech2 Gadgets. Get technology news, gadgets reviews & ratings. Popular gadgets including laptop, tablet and mobile specifications, features, prices, comparison.
Sports
For a creature of habit, Rafael Nadal overcame multiple new factors at an October French Open to triumph once again. For a staggering 13th time.
Sports
At the French Open, Rafel Nadal has a 6-1 advantage over Novak Djokovic, including wins in the 2012 and 2014 finals.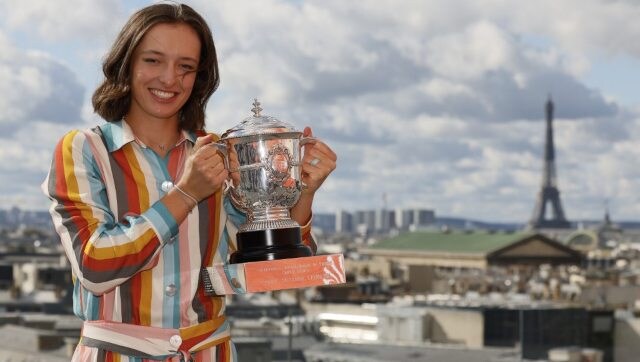 Sports
Argentina's Diego Schwartzman, who made the semi-finals in Paris, moves up six places to a career-high eighth and breaks into the top 10 rankings for the first time.