Long-time friends Anirban Lahiri, Gaganjeet Bhullar reunite to represent India at Melbourne World Cup of golf
Anirban Lahiri and Gaganjeet Bhullar are making their second appearances in the World Cup of Golf this week. Lahiri first partnered Bhullar in the team event in 2013.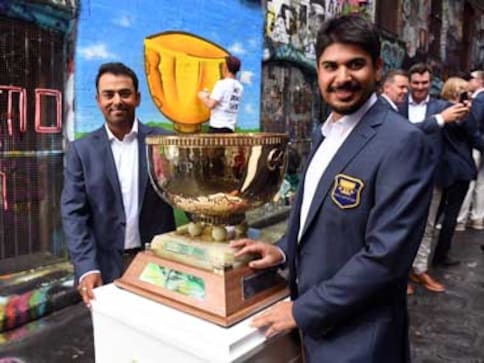 Melbourne: Anirban Lahiri and Gaganjeet Bhullar have just moved into their 30s, but have known each other since they were 11 years of age. This week, the duo, who are widely seen as two of India's best golfers, are looking to turn their friendly rivalry into a formidable partnership as they play for the tricolour at the ISPS HANDA Melbourne World Cup of Golf from Thursday.
Lahiri and Bhullar are one of six two-man Asian teams in the 56-man field hoping to hoist the famous trophy at the US$7 million event, won previously by many legends of the games.
Bhullar and Lahiri, contemporaries, who have known and played with and against each other since their junior and amateur days, also played for India at the Asian Games in 2006 and were part of the team that won a silver medal. They turned professional in 2006 and 2007 respectively, and since then have won a combined total of 16 titles on Asian Tour, three of which have also been co-sanctioned with the European Tour.
They have known each other since they were 11 years old and will be looking to turn that chemistry into a winning combine at The Metropolitan Golf Club. Japan (1957 and 2002) and Chinese Taipei (1972) remain the only two Asian nations to have won the prestigious event since its inception in 1953.
In the 59th staging of the World Cup of Golf this week, the first and third days of competition will be four-ball (best ball) format while the second and final days are foursomes (alternate shot) play.
Lahiri and Bhullar are making their second appearances in the World Cup of Golf this week. Lahiri first partnered Bhullar in the team event which was held at The Royal Melbourne Golf Club in 2013.
Lahiri said, "We're both very excited. The last time we were here in Melbourne was five years ago and both of us played well although it was a different format. I think that's the most exciting thing about being back. Also, playing this golf course, which is amazing. In an event like this, it's important to have the right kind of chemistry.  We've had a lot of team events since our junior days. We've had a lot of success together. It helps because we understand each other's games and we understand each other's strengths."
"More than anything else, it's also about understanding the way each of us thinks on the golf course. Both of us are aggressive players and we've had more than 23 years of professional playing experience between us, so we're both matured in that sense. We both need to play our best in order to be there in the hunt on Sunday afternoon.  That's the focus for both of us," he added.
"Gaganjeet's a really positive guy on and off the course.  It's great to be part of this team environment. It's much easier to pick yourself up if you're down because both of us are going to be egging each other on to play our best. I think the only kind of rivalry you have at 11 years old is who gets to eat the yummier food and, you know, simple things like that.  When we think back to when we were juniors, life was easy; it was all about getting away from school and just having fun," said Lahiri.
Bhullar said, "This is the first time we're playing in this kind of format.  We played yesterday and the day before. The golf course is in a great shape. We're still working on our strategy but we are really excited and looking forward to playing this format.
"The game's pretty good. I have been playing well over the last five to six months. The victory in Fiji actually gave me a lot of confidence.  Now I'm riding high on confidence and really excited to place myself in Europe next year.  As I said, I am feeling very positive this week," added Bhullar.
Speaking of the first time he met Lahiri, Bhullar said, "I met Anirban for the first time when we were like 11 years old.  We were in the junior team, we represented India as an amateur, we were together in the 2006 Asian Games and then the World Cup, and roomed so many times together on tour."
"So, I guess we know each other really well on and off the golf course, which is really important in this format, especially the format on Friday and Sunday.  It's very important to know your partner and to know each other's game.  I think that factor will definitely help us better," continued Bhullar.
"Golf in India right now is picking up and we need a few guys to go out there on the PGA TOUR, we need more faces on the European Tour. We need guys like Anirban, Shubhankar or myself to win on the PGA Tour," he added.
Lahiri, now a regular player on the PGA Tour, is a two-time International team member of the Presidents Cup and winner of the Asian Tour Order of Merit in 2015. Lahiri, 31, and Bhullar, 30, represented India in the Eisenhower Cup, Nomura Cup and Asian Games as amateurs. They then led Team Asia in the inaugural EurAsia Cup in 2013 and later that year also played the World Cup.
Bhullar holds the record for most number of victories by an Indian player on the Asian Tour after claiming his ninth career triumph at the Fiji International presented by Fiji Airways in August.
India's best finish of ninth place in the event was achieved by Arjun Atwal and Jyoti Randhawa in Portugal in 2005.
Sports
Xander Schauffele delivered the clinching point as United States triumphed 17.5-12.5 to take home the Presidents Cup .
Sports
USA, winners of the past eight editions of Presidents Cup, held off three of four late rallies by their global rivals in foursomes matches
Sports
US PGA Tour commissioner Jay Monahan said the idea of peace with Live Golf Series is 'off the table'.