After a fine victory in the second round of the London Chess Classic against Maxime Vachier-Lagrave, Viswanathan Anand was up against Hikaru Nakamura in the third round. Anand has had a pretty bad track record against Hikaru and their score was 7-1 in favour of the American.
All the top players usually come to the tournament with an assistant, in chess terms known as a second. These players are usually pretty strong and have significant achievements to their name. Anish Giri has the strong Dutch grandmaster Erwin l'Ami with him and Fabiano Caruana depends on former FIDE World Champion Rustam Kasimdzhanov. However, Nakamura is accompanied by the little known Kris Littlejohn. Littljohn is rated around 2100 which is way below the grandmaster level. What he lacks in chess level, is amply compensated by his computer expertise. He knows how to use computer engines to make the best preparation for the game. This shows the amount of reliance that Nakamura puts on computer-generated opening variations.
The game between Anand and Nakamura began as a Queen's Gambit Declined and Anand replied with his favourite variation beginning with 4…Nbd7. Hikaru was excellently prepared as he blitzed out the moves. But Anand was up to the task, and going into the middlegame, the Indian had equalized the game. Suddenly, Nakamura made a mistake, which meant that he was about to lose a pawn. Instead of taking the pawn which was quite an obvious move, Anand thought for 22 minutes and made a completely different move.
When a chess player misses an opportunity and realizes that after making his move, the rest of the game is not the same anymore. You need to have an extremely strong mindset to forget what has been lost and focus on the next moves. Anand was unable to do that and he had to throw in the towel after 43 moves. 8-1 score for Nakamura against Anand in classical games &mdahs; a completely unbelievable piece of statistic. However, this is quite normal in many sports. One player often becomes someone's nemesis and it is extremely difficult to perform well against him. Hikaru said after the game that he doesn't read too much into these numbers and thinks that having white in majority of the games against Anand has helped him score heavily. At the same time. he has been lucky to win a losing game on some occasions.
Read the full game analysis of Nakamura vs Anand on the ChessBase India newspage.
One thing that every chess player, or for that matter every sports player, has to do after a loss is to refresh himself. Players need to forget about the negative experience of losing and prepare for the next encounter. This is exactly what Anand did as he got ready to face British number one Michael Adams.
Adams and Anand have played each other on 88 occasions, including blitz and rapid, and the Indian has won 31 games as compared to Adams' nine. 48 games have ended in draws. On Monday, Anand had a clear edge out of the opening. He won a pawn and seemed well and truly on his way to victory. But then came a moment of hesitation — to take the pawn or not? Anand put in all his efforts and looked as far as he could. He saw six moves deep and rejected the variation, but the key idea was hidden just a move ahead. And thus even after playing a good game of chess, Anand could not take home the full point.
Read the full game analysis of Anand vs Adams on the ChessBase India newspage.
A draw meant that Anand now has a 50% score — 2.0/4 with five games to go. Wesley So still leads the tournament with 3.0/4. Nakamura won his second game in a row and is now in the second position with 2.5/4 along with Levon Aronian, Caruana and Vladimir Kramnik.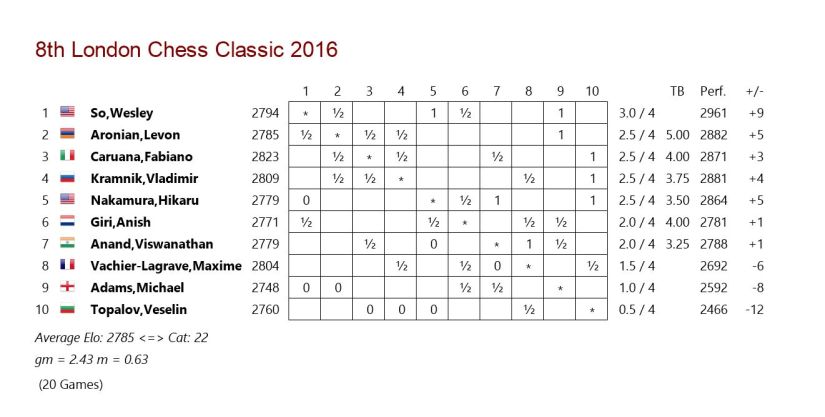 Although Anand is currently in the seventh position, the scores clearly show that a win or two will propel him right to the top. But he must do it on Tuesday, and what better way to start than by beating the leader of the tournament So.
You can watch the fifth round between So and Anand live at 21.30 hours IST here.
Sagar Shah, the author of this article, is the co-founder of ChessBase India.
Your guide to the latest cricket World Cup stories, analysis, reports, opinions, live updates and scores on https://www.firstpost.com/firstcricket/series/icc-cricket-world-cup-2019.html. Follow us on Twitter and Instagram or like our Facebook page for updates throughout the ongoing event in England and Wales.
Updated Date: Dec 13, 2016 18:56:09 IST