London Chess Classic: Is the Viswanathan Anand era coming to an end?
Every time he is down in the dumps, Viswanathan Anand rises from the ashes like a phoenix and gives a fitting answer to all his detractors who want him to retire from the game.
The London Chess Classic came to an end on Sunday with the Filipino-turned-American grandmaster Wesley So winning not only the tournament, but also the Grand Chess Tour 2016. Viswanathan Anand drew his last round game against Vladimir Kramnik and finished fourth. While his performance wasn't bad, the fact of the matter was that he never really had a chance to win this event.
India's Anand also finished fourth in the Grand Chess Tour, which meant that he doesn't have direct qualification in the 2017 edition. He also doesn't have a spot in the next Candidates that will determine the challenger to Magnus Carlsen. Is this the end of the road for Anand? Many experts and chess followers have been saying that the best days of Anand are behind him.
There is no doubt that Anand has been the best chess player that the country has ever seen and has enthralled an entire generation. But the question doing the rounds now is whether he should he retire or continue his astounding journey? Is the Anand era coming to an end? Let's discuss.
It was the year 2013. Anand had been the undisputed World Champion since six years. In between winning the World Championship in a Round Robin event in Mexico in 2007 and facing Carlsen in Chennai in 2013, Vishy had beaten three powerful opponents in 12-game matches – Vladimir Kramnik in Bonn 2008, Veselin Topalov in Sofia 2010 and Boris Gelfand in Moscow 2012. Chess fans had grown accustomed to seeing Anand as the undisputed world champion.
In November 2013 a huge challenge awaited the Indian champion in the form of the young and formidable Norwegian Carlsen. Until then, Vishy had battled against opponents in the World Championship matches who were nearly the same age as himself. But here was a youngster, 22 years old, exactly half of Vishy's age. To add to this pressure, playing in front of the home crowd in Chennai was not going to be easy.
Carlsen's youthful exuberance proved too much for Vishy to handle as the Indian slumped to a 6.5-3.5 defeat in just ten games. The match ended two days before its stipulated duration. It was such a disheartening loss for Anand that he almost decided to not play in the next Candidates. As the runner-up of the previous World Championship match, Anand had a direct entry into the Candidates 2014. However, he decided to keep his decision pending right until the very last moment.
When Anand confirmed his participation, a popular Russian journalist Evgeny Surov said, "If you asked me who would not win then I'd be glad to give you a clear reply: Anand. Let's agree on the following: if Anand wins the tournament I'll publicly admit I understand nothing about life or chess, and you'll never ask me to take part in such a survey again." Anand looked so out of sorts that there was absolutely no one who believed in his chances to win the Candidates and challenge Carlsen once again.
After 14 rounds of gruelling chess in the sub-zero temperatures of Khanty Mansiysk in Russia, in a tournament that involved eight of the best players in the world, Anand emerged victorious. Young and energetic players like Sergey Karjakin, Dmitry Andreikin and Shakhriyar Mamedyarov were left behind by a 45-year-old veteran who displayed tenacity of the highest level. Surov had to eat his own words, "I have to admit I understand nothing about chess or life," he said.
The World Championship match was due to take place in November. Anand had nearly nine months to prepare for this re-match. Fans were excited. Vishy had lost brutally in 2013, but now was his chance to redeem himself.
In between, the World Champion and the Challenger played against each other in the World Rapid and Blitz Championships in April 2014. They drew their game in the blitz format, but in the rapid section, Vishy was able to upset Carlsen after the World Champion blundered.
This video, from 3 minutes 50 seconds onwards, shows what a huge a blunder was made by Carlsen.
This was the first time that Anand had beaten Carlsen in quite some time, truly a confidence booster. This result was followed by a strong victory at the Bilbao chess festival where Vishy finished ahead of the Armenian genius Levon Aronian. Things looked bright as Anand began his match against Carlsen in Sochi in November 2014.
The World Championship started with a draw and Carlsen struck first blood in the second game. But this time Anand was better prepared. He struck back and won his first Classical World Championship game against Carlsen. Two draws followed after that and then came the battle in which Carlsen made the famous blunder with 26.Kd2.
Anand could have simply taken the pawn on e5 with his knight as Rxg8 would have been met with Nxc4 check. This could have changed the fate of not only this game, but the match and also chess history. But it was not to be. Carlsen won this game and after winning the eleventh duel he sealed the second World Championship in his favour with a score of 6.5-4.5.
From here on everyone started talking about Vishy's retirement. He silenced the critics by finishing first at the London Chess Classic. However, his performance in the Grenke Classic 2015 was very bad.
In a field where Anand was the second seed, he finished seventh out of eight players. What exactly was going wrong? No one could understand. But Vishy didn't give up. He kept working and in Zurich 2015 he won the Classical section of the event with 3.5/5 and wins over Aronian and Nakamura. The critics were silenced. Another set of powerful performances followed at the Gashimov Memorial and Stavanger in Norway where Vishy remained unbeaten and defeated world class opponents like Wesley So, Mamedyarov, Michael Adams, Maxime Vachier-Lagrave and none other than the world champion Carlsen. As always it was too early to write off the five-time world champion.
But towards the end of 2015, Vishy's form started to slip once again. In February 2016 he had the worst tournament of his life where he lost 22 Elo points at the Tradewise Gibraltar Festival. He lost to players rated nearly 200 points below him. Meanwhile Harikrishna Pentala was slowly climbing up the ranking ladder and for a day, even dislodged Vishy from the India number one spot on the live rating list. This was the first time Anand wasn't on the top spot in India in 30 years.
When the going gets tough, Anand has always believed in doing the basics right. He worked intensively on his game and fitness levels and got ready for a big challenge at the Candidates tournament 2016 in Moscow. I travelled to the Russian capital as a reporter for this event that would decide the next challenger for the World Championship match against Carlsen. The thing which impressed me most about Vishy's play was the way he would come back after every defeat. In the fourth round, he lost in uncharacteristic fashion against Karjakin. But Vishy retaliated with a mating attack against Peter Svidler. A loss to Caruana was immediately followed by a win over Karjakin. These wild fluctuations finally ended when Anand lost to Nakamura, and with it ended his chances to qualify as the next Challenger.
As a spectator, the mental strength that Anand displayed was unbelievable. He just never gave up. This is what Vishy is all about – he performs poorly, his fans lose faith in him. But one thing that never happens is, Vishy losing faith in himself. He is self-confident and well aware of his abilities. Every time he is down in the dumps, he rises from the ashes like a phoenix and gives a fitting answer to all his detractors who want him to retire from the game. Another thing which cannot go unnoticed is Vishy's temperament and modesty. A thorough gentleman, you can never see him losing his cool or storming out of press conferences, even when he has suffered the worst of losses. He is a perfect role model and an ambassador for the game of chess in India.
On 11 December 2016, Vishy Anand turned 47, and even at this age he shows this insatiable love for the game by finding new ideas and novelties which no one has ever thought of before. That's what World Champions are made up of and that's the reason why we cannot say that the Vishy Anand era has come to an end. The 'Madras Tiger' is still out there on the hunt and I won't be surprised if he wins the next Candidates in 2017, challenges Carlsen in 2018, beats him and becomes the World Champion once again.
Anand, for his part, is not ready to call it quits anytime soon and said at the London event,
Anand: "My ambitions are high. I'm going to play a lot of chess" #LondonChess #GrandChessTour

— Grand Chess Tour (@GrandChessTour) December 18, 2016
And might as well, because India's favourite chess grandmaster surely has it in him to still strike gold at the highest level.
Sagar Shah is an International Master and the co-founder of ChessBase India
India
COVID-19 impact on family planning: In the wake of the pandemic, ASHA workers had to shoulder additional responsibilities, which prevented them from creating awareness about family planning and distributing contraceptive pills and condoms
World
A mixture of scepticism and misinformation perpetuated on social media has slowed an already under-resourced vaccination campaign in Afghanistan.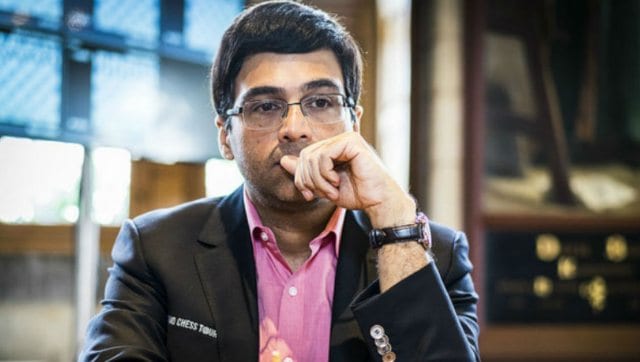 Sports
"I had help from the people analysing the game, computers... In hindsight, it was quite silly," tweeted Zerodha co-founder Nikhil Kamath after "beating" Viswanathan Anand in a charity chess match on Sunday