London Chess Classic: Ian Nepomniachtchi wins after Magnus Carlsen's tactical blunder; Viswanathan Anand held
Anand hasn't got much to play for in the final round. But as he said in his post-game interview, he can now forget the tournament more or less and play the last one as an individual game.
After a turbulent antepenultimate round, the London Chess Classic, which had begun at a glacial pace, is awaiting a thrilling finale. When the dust from the battles of round eight settled, Fabiano Caruana, who had been leading the tournament with a +2 score, was overtaken by the Russian Grand Master Ian Nepomniachtchi who registered his third consecutive win last night.
One might think luck has smiled on Nepomniachtchi in this tournament. Be it his game against Michael Adams in round six or this one, his position was far from winning. But his opponents fumbled inexplicably and conceded the full point.
Nepomniachtchi, in the penultimate round, was pitted against world champion, Magnus Carlsen, who has been struggling with his form since the last few rounds. Carlsen, who had the white pieces in the game, resorted to an off-beat opening yet again but after a transposition of moves, the game entered the waters of the Semi-Slav Defence. Carlsen had the better position out of the opening, but a missed tactic on move 25 that made his advantage evanesce.
Things went downhill for the world champion pretty quickly after this. He miscalculated and dropped a pawn soon afterwards. The game was a complete debacle after this. Carlsen lost a piece due to a simple oversight and resigned a couple of moves later.
"I missed everything. There is not much else to say. I failed to predict a single one of his moves. You saw what happened," Carlsen said in a dejected tone after the game.
Talking about his opponent's sudden breakdown, Nepomniachtchi said: "Clearly Magnus is a little bit sick and this surely this disturbs his play. It's hard, when you have this sore throat and so on. I mean, I know it from my experience, that you cannot show your best level when you're fighting with some illness instead of fighting with your opponents."
Carlsen's result was also important for Maxime Vachier-Lagrave – who drew against Viswanathan Anand in his game – as he's chasing the world champion for the overall Grand Chess Tour title. In the final round, the Frenchman will be paired against the tournament leader, Nepomniachtchi and will be in a must win situation.
In his eighth game in London, he also had an oversight of sorts in a game that opened with one of the topical openings of today, the Italian. Giving up his light squared bishop for Anand's central knight, he tried to grab the initiative. But it turned out that he had missed the fact that Anand could force a repetition in his calculations. At the right moment, Anand played his repetition card after which, Vachier-Lagrave had to choose between splitting the point by repeating moves or accepting an inferior position. Given his tournament situation, Vachier-Lagrave chose not to risk too much and accepted the draw offer.
In the final position, Anand also had a chance to trap Vachier-Lagrave's rook. Doing that, however, entailed a huge risk as Vachier-Lagrave could have sacrificed his rook for a strong attack against Anand's king. Talking about this possibility, Anand said, "It felt very uncomfortable because my king is really vulnerable. I didn't want to get into this. I simply couldn't see that I could be better with this exchange because my king is so weak that even if he doesn't have anything forcing, I felt that he will have a very comfortable compensation. I didn't see the upside of going for this."
Giving his perspective on the game, Vachier Lagrave said, "You know, Vishy is always very well prepared so I was hoping to find a way to get some play. It seems I did, but then I messed up very quickly. So, that was not very nice."
Talking about his crucial last game, Vachier Lagrave said it will be difficult to win with the black pieces but since he had won against Nepomniachtchi recently in St Louis, he is hopeful.
Hikaru Nakamura had been showing great creativity so far in London. But his penultimate round game against Fabiano Caruana turned out to be a theoretical slugfest. Out of a Nimzo-Indian defence, the players entered an equal looking endgame pretty quickly. Nakamura, who was on the white side of the board, had an extra pawn temporarily in the endgame but it was never really very serious. The players agreed to sign peace by the 43rd move.
Going into the final round, Nepomniachtchi will have the white pieces against Vachier Lagrave. If Nepomniachtchi win this game, he will surely finish clear first (if he draws, Caruana can win and catch up with him). If Vachier Lagrave, on the other hand, wins, he will not only have a shot at the title prize in the tournament but will also take the overall Grand Chess Tour title. Anand hasn't got much to play for in the final round. But as he said in his post-game interview, he can now forget the tournament more or less and play the last one as an individual game.
Crosstable after round 8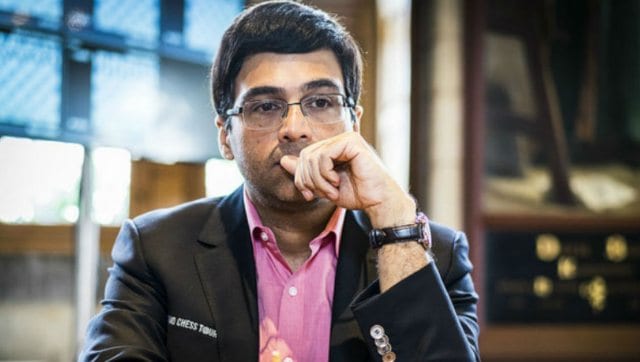 Sports
Anand said the level of "physical tension" is much higher these days as compared to earlier times and so players need to be physically fit.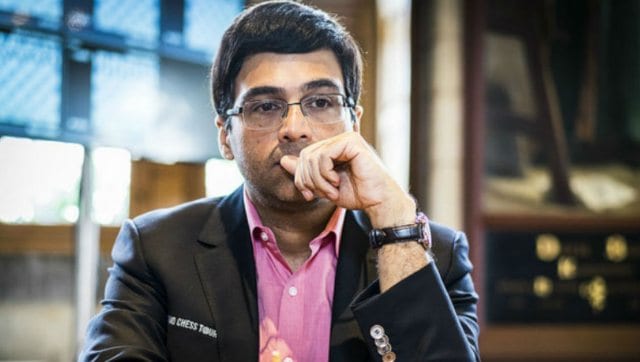 Sports
"I had help from the people analysing the game, computers... In hindsight, it was quite silly," tweeted Zerodha co-founder Nikhil Kamath after "beating" Viswanathan Anand in a charity chess match on Sunday