India vs England, 1st ODI Highlights: Hosts win by 3 wickets; go 1-0 up in the series
LIVE NEWS and UPDATES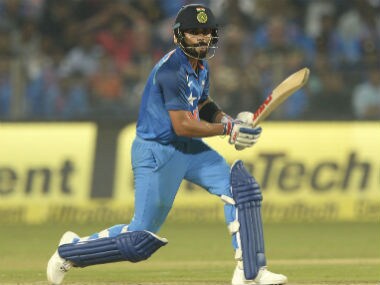 21:19 (IST)

22:38 (IST)

That's all from all from us here. It was a spectacular win for India. Virat Kohli proved again that he is the master of run chases. Kedar Jadhav impressed all and sundry with his knock under immense pressure. The 200-run Kohli-Kedar partnership was the need to of the hour when India were looking down the barrel at 63/4, having lost Yuvraj Singh and MS Dhoni. It couldn't have been a better debut for Kohli as the full-time Indian skipper in limited-overs.

We will be back with live scores and updates from the second ODI between India and England on 19 January at Cuttack's Barabati stadium.

22:31 (IST)

India vs England: Virat Kohli breaks Sachin Tendulkar's record in 1st match as full-time ODI captain}

Virat Kohli broke Sachin Tendulkar's record for most centuries in successful ODI run chases as India beat England by 3 wickets in the 1st ODI.

https://www.firstpost.com

22:12 (IST)

Top-3 successful chases for India:

360 v Aus, 2013
351 v Aus, 2013
351 v Eng, 2016

- Kohli scored centuries all 3. #IndvsEng

— Bharath Seervi (@SeerviBharath) January 15, 2017

22:06 (IST)

15 centuries in successful run-chases...nobody has more. Officially the Chase Master. #Kohli #IndvEng

— Aakash Chopra (@cricketaakash) January 15, 2017

22:04 (IST)

Kedar: It's a great feeling that I could win a game for my country. It feels special to be a match-winner in front of out home crowd and family. I could play this long because (I was inspired by) Kohli doing it so many times for the country, that too easily. Today was the chance to get runs and watch Kohli from other end.

22:02 (IST)

Kedar Jadhav adjudged the Man of the Match for a brilliant century, and putting together a 200-run partnership with Virat Kohli, that too at over 8 runs per over when the team was in dire straits.

21:57 (IST)

Kohli: This win is going to take a while to sink in. It took a special partnership to get us over the line. What a terrific innings by Kedar. Hardik finished really well in the end with Ashwin. I said (to Kedar) if we get to 150 they will press the panic button. Kedar was very calculative. I was in awe of some of the shots he played. The best learning you have is out in the middle. The only way you come out of a situation is counterattack. Once we got momentum we backed ourselved to the hilt. We bowled really well in the initial phase. England batted really well. We had a few consistency issues, which we van rectify in the next match.

21:53 (IST)

Morgan: We had the runs on the board. If you post 350 you would think you are in the game, especially after four early wickets. We didn't play to our best, but not all's lost. Credit to India; they bowled well.

21:45 (IST)

What a chase it has been. Watch our cricket expert Ayaz Memon analyse the match.

21:40 (IST)

Big, big match for @imVkohli as batsman and captain what with new responsibility. Come out with flying colours

— Cricketwallah (@cricketwallah) January 15, 2017

21:40 (IST)

To overhaul 350 after being 60-4 is a sensational run chase by India. England beaten today but also bruised for the remaining matches

— Cricketwallah (@cricketwallah) January 15, 2017

21:38 (IST)

Pandya: I am quite pleased, it was an amazing chase. Hats off to Virat. It gave me confidence that I can do it also. I was keeping it very simple while bowling. The batting which Virat and Kedar showed was quite amazing.

21:34 (IST)

THAT'S IT! INDIA WIN!

A six by Ashwin settles it for India. The hosts win the first ODI by 3 wickets to go 1-0 up in the series.

21:32 (IST)

Six! A huge hit by Pandya over extra cover into the stands and India need 1 run to win off the last two balls.

21:31 (IST)

A run out appeal against Pandya. Replays show he is in by the skin of his teeth. India wll on course for victory.

21:28 (IST)

India need 12 runs off the last 18 balls, and Adil Rashid has the ball.

21:20 (IST)

Four! Another boundary for Pandya. 22 runs needed off 28 balls now.

21:19 (IST)

Four! Pandya crunches a cover drive for a boundary. India 325/7 after 45 overs, needing 26 runs off 30 balls.

21:18 (IST)

OUT! Another short ball, another wicket. Jadeja holes out to Rashid at mid-on off Jake Ball. India are still the favourites, but can't count England out of the game yet. Ashwin the new man at the crease.

21:09 (IST)

Pandya gets a reprieve. A terrible mix up with Jadeja and he was almost halfway down the pitch and would have been out by a quite a distance had the throw hit the stumps. However, luckily for him, the throw is wayward.

21:07 (IST)

Four! Jadeja takes India that bit closer with a fine boundary.

21:06 (IST)

After 42 overs,India 305/6 ( Hardik Pandya 15 , Ravindra Jadeja 7)

India need 46 off 48 balls and are in command now. They can't thank Kohli and Kedar enough for putting them in the position that they are.

21:04 (IST)

Fewest inns for 27 ODI 100s
169 Virat Kohli
254 Sachin Tendulkar
308 Ricky Ponting
404 Sanath Jayasuriya#IndvEng

— Mohandas Menon (@mohanstatsman) January 15, 2017

21:01 (IST)

300 up for India in the 42nd over. They need 51 runs off 53 balls now. With Pandya, Jadeja and Ashwin still there, India have to be the favourites, and they don't need to do anything rash.

20:58 (IST)

Big shout for LBW against Jadeja off Stokes. Not out given. England review it. Replays show the ball would have bounced way above the stumps. The on-field decision stays. What a waste of a review by England.

20:55 (IST)

Four! Jadeja gets a boundary. India are in no way out of the contest, till Jadeja is in the crease with Ashwin to follow.

20:52 (IST)

OUT! Kedar pulls Jake Ball and holes out in the deep. A big wicket for England. Ravindra Jadeja could be the man for India now, with 60 runs needed in 61 balls and he is the new man in.

20:48 (IST)

India 288/5 off 39 overs, needing another 63 runs off 66 runs. A run rate of under six runs per over means India are very much in control.

20:46 (IST)

Four! Kedar goes after Stokes now and gets a boundary. He would be looking for big boundaries now, and avoid running too much, having hurt himself.

20:44 (IST)

SIX! Jadhav is unfazed and hits the last ball of the 38th over into the stands. India 277/5 after 38 overs.

20:43 (IST)

Kedar hits one in the air, but he has collapsed on the ground. He has been hobbling for some time and seems to have really hurt himself now. It would very bad news for India if he has to retire hurt, with no runners allowed.

20:42 (IST)

Kedar hits one in the air, but he has collapsed on the ground. He has been hobbling for some time and seems to have really hurt himself now. It would very bad news for India if he has to retire hurt, with no runners allowed.

20:39 (IST)

Six! Kedar comes down the track and hits one for the maximum, and his parents are ecstatic in the stands, as is the rest of India.

20:33 (IST)

DISASTER STRIKES FOR INDIA! KOHLI IS OUT. A well-made 122 for the Indian captain.

Hardik Pandya the next man in. India need 88 runs off 82 balls. Kedar will have to play the lead role now.

20:30 (IST)

THAT'S HUNDRED FOR KEDAR JADHAV! It's his second ODI century and has been an innings worth its weight in gold. India 262/4 after 36 overs.

20:27 (IST)

Four! Kohli finds the gap between mid-wicket and mid-on for another boundary. This man is simply unstoppable!

20:26 (IST)

After 35 overs,India 251/4 ( Virat Kohli (C) 117 , Kedar Jadhav 95)

Kohli and Kedar have brought the match firmly in India's favour. 100 runs needed off 90 balls. That's not much an equation in the age of T20s, is it? Kohli's wicket is crucial though.

20:23 (IST)

250 up for India in the 35th over. The fifth 50 the fastest - in just 33 balls.

20:18 (IST)

Four! Kedar moves into the nineties with a boundary off his legs.

20:17 (IST)

SIX! Woakes bowls short and just a short-arm jab by Kohli with hardly any follow through, sends the ball sailing into the stands. Phenomenal shot!

20:09 (IST)

Can you copy and save a tweet for constant use? I'm tired of repeating these century tweets for @imVkohli !! Eat.Sleep.💯.Repeat #INDvENG 👏👏

— jatin sapru (@jatinsapru) January 15, 2017

20:07 (IST)

THAT'S HUNDRED FOR THE MIGHTY VIRAT KOHLI AND HE BRINGS IT UP WITH A SIX!

Another big chase, another hundred by Kohli. It's his 27th hundred in ODI. What a player he has been for India!. India 229/4 after 32 overs.
India vs England, 1st ODI: Indian skipper Virat Kohli won the toss and opted to bowl in the first One-Day International (ODI) against England at the Maharashtra Cricket Association Stadium in Pune on Sunday.
India have rested batsman Ajinkya Rahane, medium pacer Bhuvneshwar Kumar and leg-spinner Amit Mishra for the opening ODI while for the visitors, pacer Liam Plunkett, batsman Sam Billings, Jony Bairstwow and Liam Dawson were rested.
The squads:
India: Shikhar Dhawan, Lokesh Rahul, Virat Kohli (captain), M.S. Dhoni (wicketkeeper), Yuvraj Singh, Kedar Jadhav, Hardik Pandya, Ravichandran Ashwin, Ravindra Jadeja, Jasprit Bumrah, Umesh Yadav.
England: Alex Hales, Jason Roy, Joe Root, Eoin Morgan (captain), Jos Buttler (wicketkeeper), Ben Stokes, Moeen Ali, Chris Woakes, Adil Rashid, David Willey, Jake Ball.
With IANS inputs.
Updated Date: Jan 18, 2017 21:19:20 IST