LISTEN: Full script of Episode 87 of Spodcast where we discuss India's defeat to Australia, FC Pune City's victory and more
Here's the full script of Episode 87, where we discuss India's defeat to Australia despite Dhawan's blistering knock, FC Pune City's victory over Jamshedpur FC and more.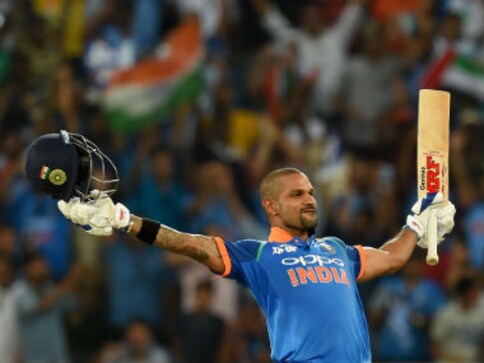 Viv Richards and Gordon Greenidge made their Test cricket debut in Bangalore; 20-year-old Mike Tyson became the youngest heavyweight champion in history when he stopped Trevor Berbick in the 2nd round to earn the WBC title at the Las Vegas Hilton; and OJ Simpson took to the stand as a hostile witness in the wrongful death lawsuit against him, a case that would go on to be dubbed the 'trial of the century.'
Those were just some of the events that transpired on the 22nd of November. On this day, the 22nd of November 2018, let's take a quick look at the sporting headlines making the rounds right here on Spodcast, your sports update on Firstpost.
Let's get to the news.
And we steer straight to the southern hemisphere for some cricket news.
Shikhar Dhawan scaled new peaks yesterday in the first T20 International in Brisbane, but his labours were in vain as India lost against Australia. A sloppy India failed to get an ideal start to the Australia tour, losing the rain-hit opening T20 International by four runs at the Gabba on Wednesday.
India first faltered in the field, letting Australia score 158 for four after rain shortened the contest to 17 overs a side. Glenn Maxwell was the star batsman for Australia, hammering 46 runs off 24 balls. Then came the rains, and Duckworth and Lewis with them, setting a revised target of 174 runs in 17 overs for India. Opener Dhawan smashed a sublime 76 off 42 balls in the run chase before Dinesh Karthik came up with a pulsating 30 off 13 balls towards the end, but India still finished agonisingly short on 169 for seven.
Dhawan got India off to a quick start, putting on 35 off 25 balls for the opening stand with Rohit Sharma (7). Rohit was caught at long on off Jason Behrendorff (1-43) in a bid to accelerate his strike-rate. In keeping with the strategy used during the T20I series in England, KL Rahul (13) came out to bat at number three. Dhawan and Rahul put 46 runs on the board together, but it was a Dhawan show all along as he hit ten fours and two sixes overall to reach his ninth T20I half-century off only 28 balls. He did, however, enjoy two breathers on his way to his 76 runs — Zampa should have scalped him but he dropped a return chance on 65. The batsman enjoyed another life at 74, when substitute Nathan Coulter-Nile put him down at square leg off Billy Stanlake (1-27).
When he did finally hole out to Stanlake, Rishabh Pant and Karthik were left with a mountain to climb, with Kohli already having exited for four runs. They did, at one point, almost seem like they would pull it off — 51 runs off 24 balls — before yet another loose and unnecessary stroke took Pant out. Karthik and Krunal Pandya were soon sent off on consecutive deliveries by Marcus Stoinis.
Australia's batting earlier was marked by a stunning performance by Maxwell, who put on 78 runs off 37 balls with Stoinis as Indian bowlers proved expensive even before the death overs began. Krunal gave away 55 runs in four overs, and took no wickets on what was certainly a forgettable day for him. Skipper Kohli had dropped Finch in the fourth over, a straight chance spilled at cover, and then misfielded later on as well. Ahmed too dropped Stoinis (33 not out off 19 balls) late in the Australian innings, while Maxwell should have been run-out.
Adam Zampa was declared the Man of the Match. The next match in the series will be at the MCG in Melbourne on Friday, the 23rd of November.
More cricket-related news, but this time off the field, and a follow up of a #MeToo claim.
The three-member probe panel investigating allegations of sexual harassment against Board of Control for Cricket in India (BCCI) CEO Rahul Johri dismissed all charges against him on Wednesday. The development comes as a massive relief for the beleaguered Johri, who went on leave purportedly to prepare his response to the accusations.
Johri had deposed before the probe panel on 13 November, following the deposition of two of the alleged victims. The CoA-appointed panel comprised of Allahabad High Court judge (Retd) Rakesh Sharma, former Delhi Commission of Women (DCW) chairperson Barkha Singh and lawyer-activist Veena Gowda.
The allegations against Johri were made by an unnamed person, who claimed to be his colleague during his stint at the Discovery Channel.
The anonymous account was posted on Twitter by an author, Harnidh Kaur, who later stated that she did not want the charges published nor her name used in the context.
Football news now, where we'll talk about the ISL.
FC Pune City defeated Jamshedpur FC 2-1 in a hard-fought match to register their first win of the ongoing Indian Super League football tournament on Wednesday.
Diego Carlos scored as early as the fifth minute for Pune but the lead was cancelled out by Sumeet Passi in the 10th minute. An end-to-end contest produced a match-winner in the 86th minute when Matt Mills gave Pune the much-needed three points.
The win pulls FC Pune City from the bottom of the league to eighth position with five points from eight matches. Jamshedpur, on the other hand, tasted defeat for the first time and are fourth with 11 points from eight matches. Goa, Bengaluru FC, and Mumbai City currently occupy the first three positions.
And finally, more football news. But again, off the field.
Disgraced former FIFA president Sepp Blatter called on Wednesday for the ethics body of world football's governing body to investigate his successor Gianni Infantino.
Blatter was speaking after the Football Leaks website alleged that Infantino had held meetings with Switzerland's Attorney General Michael Lauber, possibly to obtain privileged information about a probe into corruption within FIFA.
Lauber has dismissed the concerns, saying the meetings with Infantino were "normal and regular, especially in complex cases."
Blatter, who led FIFA for 17 years, was banned from football in 2015 at the height of a massive corruption scandal. Infantino took over, promising a new transparent era of governance.
Blatter told Agence France-Presse, "The FIFA Ethics Committee... must do something and open an investigation into Mr Infantino. Where is the transparency preached by Mr Infantino during his election? He should report himself to the Ethics Committee to show that he is transparent."
Blatter added, "Infantino met Mr Lauber several times, whereas I have been questioned by him just once since a procedure against me was opened in September 2015."
Sports
London hopes that pressure from sponsors will sway the International Olympic Committee (IOC), with a year and a half to go until the Paris 2024 games.
Football
Bayern are a point behind leaders Borussia Dortmund and the two sides set to meet in the next round of games on 1 April.
Sports
'The first chapter I studied in school in history was about Chhatrapati Shivaji Maharaj and the first time I held my bat was at this Chhatrapati Shivaji Maharaj ground,' Tendulkar said.