LISTEN: Full script of Episode 67 of Spodcast where we discuss Bajrang Punia's silver medal, Bengaluru FC's win and more
In today's episode of Spodcast, we discuss Bajrang Punia's silver medal at the Wrestling World Championships,, Bengaluru FC's win against FC Pune City and more. Here's the full script: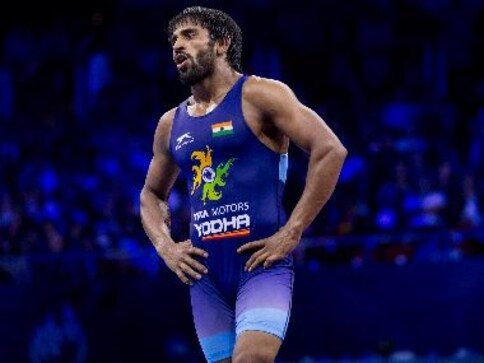 Welcome to Spodcast, the sports update on Firstpost.
Bajrang Punia won a silver in the 65-kg category at the ongoing Wrestling World Championships on Monday, losing to Japan's Takuto Otaguro in the final. In the attacking, high-scoring final, 19-year-old Otaguro got off to an early lead against the Indian wrestler. A step out followed by a four-pointer from a lift gave him a 5-0 lead. Bajrang responded with a takedown and reduced the margin to just one point. The score was 6-7 at the end of the first period.
Otaguro extended his lead once again with a take down and a step out, earning three points. Bajrang tried to attack but the Japanese wrestler managed to defend well, and won the final 16-9.
India's coach Jasminder Singh said after the match, "Yes, we all would have wanted him to win gold, but a silver medal is no mean achievement." Bajrang's silver is India's first medal at this year's Wrestling World Championships.
An update from the Indian Super League now. Bengaluru FC defeated FC Pune City 3-0 on Monday, with Sunil Chhetri scoring two goals.
Bengaluru were aggressive right from the start, nearly scoring in the 15th minute, when Venezuelan striker Miku's kick went above the bar by a whisker. The first half of the match saw both teams defend stubbornly. In the 40th minute, Chhetri came agonisingly close to netting a goal for Bengaluru, but sent the ball wide. Then, with less than five minutes left for half time, Bengaluru scored two quick goals.
Chhetri tackled Pune's offside trap to send a pass from Delgado into the goal. Just two minutes later, Miku pounced on a long ball that Pune failed to clear. He sent it to Chhetri who was in the box. Sunil ran past Sarthak Golui to score Bengaluru's second goal.
Miku, who had looked threatening all evening, finally scored a goal in the second half. 64 minutes into the match, he intercepted a long punt by Albert Serran and ran past Sahil Panwar of Pune City to slam the ball into the net.
This win moves Bengaluru FC to the top of the table with seven points.
Sri Lanka's left-arm spinner Rangana Herath has decided to call time on his 18-year-long career. The veteran bowler said the Test match against England at Galle, played from 6 to 10 November, will be his last. It will be his 93rd Test match. He made his Test debut against Australia in 1999 at the same venue.
A  Sri Lanka Cricket official said, "Herath had made a request to retire after the first Test in Galle. It is entirely up to him and we will respect his decision."
40-year-old Rangana Herath is one of Sri Lanka's all-time leading wicket-takers, with 430 Test wickets. He has been a Test match specialist, more so after retiring from limited overs cricket in 2016. He took 74 wickets in 71 ODIs and 18 wickets from 17 T20s. Herath is the last of the active Test cricketers to have debuted in the 1990s. He was overshadowed by Muttiah Muralitharan during the first half of his career. He found more success after Murali retired in 2010. Hearth's 430 wickets place him 10th in the list of highest wicket takers in Test matches.
Staying with Sri Lankan cricket, the island nation's fight against deep-rooted cricket corruption was dealt a severe blow after its Chief Financial Officer was arrested for alleged financial fraud on Monday.
Police told the media that SLC's CFO, Piyal Nandana Dissanayake, was arrested after a complaint by the cricket board to the Inspector General of Police. They said Dissanayake had siphoned off $183,000 that were due to the SLC from Sony TV for television rights for the recent South Africa series. They also claimed that the CFO was caught when attempting to steal another $5.5 million due to SLC from the sale of television rights for the current series against England. It came to light when an alleged attempt to transfer the amount to an offshore account connected to the broadcasting rights of the England tour was reported to the crime investigation department. The CFO had claimed his e-mail account had been hacked, and that he had not sent the request to transfer the money to an offshore account.
Meanwhile, former Sri Lankan captain, and current Petroleum Minister, Arjuna Ranatunga said, "India has specialized knowledge on the issue having taken action against many corrupt activities in match fixing. The Prime Minister and I made a special request to Indian Prime Minister Narendra Modi. He pledged assistance."
In tennis news, there were more upsets at the WTA Finals tournament in Singapore. World No 6 Sloane Stephens, last year's US Open winner, defeated the current US Open champion Naomi Osaka 7-5, 4-6, 6-1.
In a dramatic match that lasted two hours and 25 minutes, Stephens traded sets with Osaka before the Japanese sensation lost her way in the third set. Osaka committed 46 unforced errors in the match, and had her serve broken three times in the final set.
Before losing to Stephens, Osaka was in red-hot form, winning 14 out of 16 matches played. Stephens, who is seeded fifth in the tournament, said, "I competed really well and I knew I had to play good tennis to beat her. I just stayed tough and took my opportunities."