Listen: Full script of Episode 30 of Spodcast where we discuss Manjit Singh's 800m gold, 400m mixed relay silver and more
Manjit Singh's 800m gold, 400m mixed relay silver and more in our daily Spodcast.
Welcome to Spodcast, the sports update on Firstpost where we cover the important sports headlines of the day. More news from the 2018 Asian Games today.
India continue to do well in athletics at the 2018 Asian games. Manjit Singh, a little known athlete, grabbed the limelight yesterday after he finished first in the men's 800m event. Manjit finished ahead of national record holder, and pre-race favourite, Jinson Johnson, completing the 800m race in 1:46.15. Johnson had beaten Manjit in the National Inter-State Championships in June with a time of 1:46.35.
After the race, Manjit said, "I was very hopeful. I had prepared accordingly. I never thought of bettering the national mark. I just wanted to give my best. I had strategised to follow runners initially and then push towards the last 100-150m. I did it and won gold for my country."
This is the second time India has had a one-two finish in the Games. Ranjit Singh and Kulwant Singh had won gold and silver respectively in the 1951 Asian Games.
In the 400m mixed relay race, the Indian quartet of Muhammed Anas, MR Poovamma, Hima Das and Arokia Rajiv finished with a silver medal. Muhammed Anas grabbed an early 30-metre lead in the race but Poovamma lost that lead. She handed the baton to Hima Das. Hima was forced to change her lane and sidestep Bahrain's Oluwakemi Adekoya.
The Bahraini fell before Hima after passing on the baton, thereby obstructing her. India finished in second place behind Bahrain. They completed the relay in 3 minutes and 15.71 seconds while Bahrain completed it in 3:11.89. Anas, who had managed an early lead, said about Poovamma, "She ran fast, she is not slow. We can't blame her."
Kazakhstan took the bronze after finishing the race in 3:19.42.
Later, the Athletics Federation of India lodged a protest against Bahrain for obstructing Hima Das during the race. AFI President Adille Sumariwala told PTI, "It was clear obstruction and we have lodged a protest. It also caused a minor injury to Hima. It cost us some time. The jury is there to see what happened." Hima Das said, "I had to jump over her to cross her, and I thought I have committed a foul by going to lane 2. It played in my mind. I don't know (whether) she actually got off balance or fell deliberately to obstruct me."
Some disappointment in Badminton for India. PV Sindhu lost to Tai Tzu Ying of Chinese Taipei in the final of the women's singles event. Tzu Ying beat Sindhu 21-13 21-16 in 34 minutes.
Tai, the world number one, was in total control from the start against world number three Sindhu. She took the first five points with little trouble. Sindhu fought back to get to 4-6, but Tzu Ying eventually pulled away to a 17-10 lead. The Taiwanese player was deft with angles and Sindhu struggled to keep up. Tzu Ying took the first game 21-13 in just 16 minutes. In the second game, to counter Tzu Ying's drop shots, Sindhu tried to force her to play from the baseline but she committed too many unforced errors. Many of her shots were too long. She also missed her drop shots despite pinning Tzu Ying to the baseline. The world number one was soon leading the second game 15-10. Tzu Ying wrapped up the game 21-16 to win the gold medal for Chinese Taipei. Sindhu is the first Indian player to make it to the final of a badminton singles event at the Asian Games. She takes home a silver medal while Saina Nehwal finished with a bronze medal after her loss in the semifinal to Tai Tzu Ying.
The Indian men's table tennis team, which beat Japan 3-1 yesterday, lost to South Korea 0-3 in the semi-final and won a bronze medal in the team event. Sharath Kamal, Sathiyan G, and A Amalraj were outplayed by the South Korea's Young Sik Jeoung, Lee Sangsu, and Woojin Jang.
Sathiyan lost his match to Lee Sangsu 11-9 9-11 3-11 3-11 and India were down 0-1. World number 33 Sharath Kamal also lost to Young Sik Jeoung in the second match. Kamal took the match into the fifth game but eventually lost 9-11, 9-11, 11-6, 11-7, 8-11. In the third match, A Amalraj lost to Woojin Jang 5-11 7-11 11-4 7-11.
This bronze is India's first medal in table tennis at the Asian Games.
India's Pincky Balhara and Malaprabha Jadhav won a silver and a bronze respectively in Kurash. Kurash is a form of folk wrestling practiced in Central Asia. The objective in Kurash is to grab the opponent by the towel around their waist and throw them on to the ground on their back. Many of the 14 members in the kurash squad are from a judo background because the two sports are quite similar. Balhara and Jadhav have previously won judo medals in international competitions. This is the first time kurash is being played as a competition event at the Asian Games.
Pincky lost to Uzbekistan's Sulaymanova Gulnor in the final. Malaprabha had lost to Gulnor in the semi-final.
19-year-old Pincky Balhara is from a village outside Delhi while 19-year-old Malaprabha Jadhav is from a village near Belgaum. The two medals in the 52 kg category are a great result for India's Kurash contingent that did not have money to pay for kits. The Indian Olympic Association had said the athletes would have to pay for their own kits because the Kurash Association of India is not recognized by the Sports Ministry. That could change soon. KAI secretary Ravi Kapoor, who is with the team in Jakarta, said, "The Sports Minister (Rajyavardhan Rathore) met us in the morning and has promised to recognise us very soon."
Balhara said, "People in my village pooled in Rs 1.75 lakh to send me to training camp. They all have supported me a lot. I am forever indebted to them."
The Indian men's and women's compound archery teams won silver medals at the Asian Games after losing to Korea in the finals.
In a dramatic men's final, India's Abhishek Verma, Rajat Chauhan, and Aman Saini were a point ahead of Korea at the end of four sets. However, Korea received a point after a review. One of the Korean team's 9s in the final set was revised to 10, leaving the two teams level at 229 points each. A shoot-off followed, in which the Korean archers scored an inner 10, closest to the bull's-eye, another 10 and a 9. The Indian archers scored two 10s and a 9, to finish in second place while Korea took the gold.
The Indian women's team lost to Korea in their final event as well. Muskan Kirar, Madhumita Kumari and Jyothi Surekha Vennam scored 228 points and finished with a silver medal while Korea took the gold with 231 points. India were leading 59-57 after the first set, but Korea won the second set 58-56. Both teams scored 58 points in the third set. In the final set, Korea scored 58 points while India managed only 55.
Sports
Following is the schedule of Indian contingent on the eighth day of the Asian Games on Sunday that features Hima Das' 400m final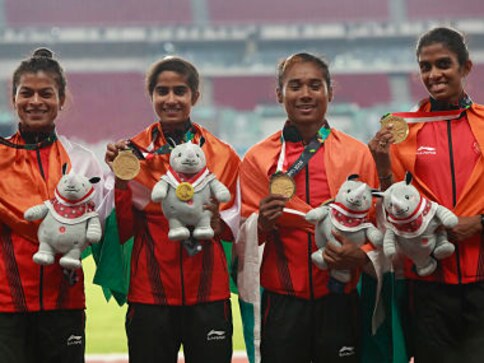 Sports
India's 4x400m women's and men's relay teams bag gold and silver, India crash out of men's hockey event— we discuss all this and more on Spodcast, Firspost's daily sports podcast.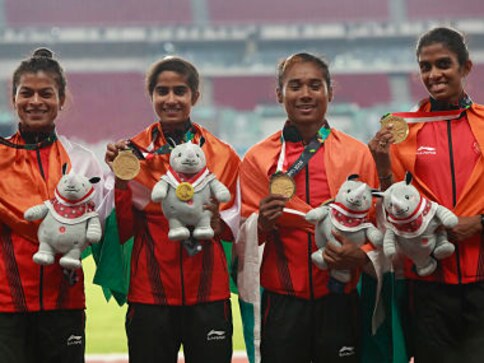 Sports
Today, on Firstpost Spodcast, we talk about the 4x400m relay team's gold and silver and the India men's hockey team's exit from the Asian Games 2018.