Listen: Full script of Episode 207 of Spodcast where we discuss Rafael Nadal's Rome win, Dutee Chand coming out of closet and more
In this episode of Firstpost Spodcast, we talk about Rafael Nadal's victory in Rome Masters final, Dutee Chand admitting to being in a same-sex relationship and more.
Rafael Nadal defeated Novak Djokovic 6-0, 4-6, 6-1 to win his ninth Italian Open title and a record 34th Masters 1000 crown on Sunday. World number one Djokovic produced an error-strewn performance in his 54th meeting with second-ranked Nadal, which handed the Spaniard the 81st title of his career.
Nadal dominated early with Djokovic losing a set 6-0 for the first time to a player he calls his "greatest rival". Nadal then missed four break chances in the second set which allowed Djokovic to win 4-6. But that fight back was brief - 31-year-old Djokovic dropped his serve immediately in the third set, smashing his racket in frustration. Nadal broke his opponent twice more to seal a third win over Djokovic in their Rome finals.
Following the title win, Nadal overtakes Djokovic at the top of the list for Masters wins. The two players were level at 33 each before Sunday's final. This win is a timely boost for Nadal ahead of his attempt for a 12th French Open crown in a week's time.
After three semi-final defeats in Monte Carlo, Barcelona and Madrid, Nadal has returned to his best form ahead of Roland Garros and lifted his first title of the season. However, Djokovic leads 28-26 in their 54 head-to-head matches.
In the women's final, Czech fourth seed Karolina Pliskova swept past Britain's Johanna Konta 6-3, 6-4 to win the Italian Open. Pliskova, the 2017 French Open semi-finalist, clinched her 13th career title in just 85 minutes. A break in each set was enough for the former world number one to get past Konta, sealing her win on her third match point.
This was her first final in five appearances at the Italian Open. Top seeds Naomi Osaka and Petra Kvitova pulled out injured during the tournament while Simona Halep crashed out in her opening round match.
Indian athlete Dutee Chand, who won two silver medals at the 2018 Asian Games, became one of the few athletes in the world to openly admit to being in a same-sex relationship.
During her training in Hyderabad, Dutee told PTI, "I am having a relationship with a 19-year-old woman from my village for the past five years. She is studying BA 2nd year in a Bhubaneswar college. She is a relative of mine and whenever I come home, I spend time with her. She is a kind of soul-mate for me and I want to settle down with her in future." Dutee is from Chaka Gopalpur village in the Jajpur district of Odisha.
A landmark judgement by the Supreme Court last year made same-sex relations between consenting adults a non-criminal act, though marriage between such individuals is still not legal in India.
Despite being a prominent athlete, she has faced some censure from close quarters. She said her parents have not yet raised any objection to her relationship but "My eldest sister kind of wields power and authority in my family. She has thrown out my elder brother from home because she does not like his wife. She has threatened me that same will happen to me. But I am also an adult who has individual freedom. So, I decided to go ahead with this and make it public...My eldest sister feels that my partner is interested in my property. She has told me that she will send me to jail for having this relationship."
She also asserted, "I will continue my athletics career. I am going to take part in the World University Games next month and hope to qualify for the World Championships later this year. My aim (is) to qualify for next year's Olympics, so I am training hard."
Interestingly, she mentioned another reason for coming out in the open- she did not want to be in a situation similar to sprinter Pinki Pramanik, who was accused of rape by her live-in partner. Pinki was a member of the 2006 Asian Games 4x400m relay gold-winning team. "We did not want this kind of situation happening in future," Dutee said.
Dutee gained prominence due to the ban by the International Association of Athletics Federations in 2014 for having higher testosterone levels than permitted for female athletes.
In badminton news, favourites China demolished Malaysia in the opening round while Indonesia got the better of England at the 2019 Sudirman Cup in Shanghai. A young Malaysian side, playing without badminton legend Lee Chong Wei, struggled to battle China on the opening day and fell way short.
Lee is one of the finest badminton players of all time but his career appears to be nearing a sad conclusion after he was diagnosed last year with early stage nose cancer.
The 36-year-old former world number one's absence is a severe blow to Malaysia's hopes of making an impact at the Sudirman Cup. But he was cheering his country - he posted on Instagram, "Play out the last bit of your sweat. Play for your pride, your team-mates, your family and the flag you wear at your chest."
In his place, 21-year-old Lee Zii Jia faced China's world number two Shi Yuqi. With Malaysia already trailing 2-0, Shi made short work of Jia, winning 21-12, 21-11 in just 35 minutes. China finished 5-0 in the tie.
Meanwhile, Indonesia began their campaign with a 4-1 win over England. South Korea and strong contenders Japan begin their campaigns on Monday. Only three countries have ever lifted the Sudirman Cup since it began in 1989 — 10-time winners China, current holders South Korea and Indonesia.
Veteran cricketer Yuvraj Singh, one of India's greatest limited-overs players, is contemplating retirement from international cricket and pursuing a freelance career in ICC approved foreign Twenty20 leagues.
PTI reported that the Punjab left-hander would take a final decision only if he receives permission from the BCCI. It has been learnt that Yuvraj has come to terms with the fact that he is unlikely to play in India colours again.
An anonymous source told PTI, "Yuvraj is thinking of calling it quits from international and first-class cricket. He would like to speak to the BCCI and get more clarity on plying his trade in tournaments like GT20 (in Canada), Euro T20 Slam in Ireland and Holland as he has offers."
Yuvraj played for Mumbai Indians in this year's IPL but didn't get many opportunities, which could have prompted him to seriously consider other options.
Most recently, Irfan Pathan submitted his application for the Caribbean Premier League. But Pathan is an active first class player who didn't seek permission from the BCCI and was told to withdraw his name from the draft.
MotoGP news now. Spain's defending world champion Marc Marquez won the French MotoGP at Le Mans on Sunday, bringing up Honda's 300th victory in the division and completing a memorable family double after younger brother Alex took the Moto2 race.
Sunday's first-place finish was Marquez's 47th top level Grand Prix win and the third of the season, finishing ahead of Italian pair Andrea Dovizioso and Danilo Petrucci of Ducati. Starting from pole, Marquez completed the race almost two seconds ahead of Dovizioso.
He now leads the overall standings, after five rounds, by eight points. He is 20 points ahead of Alex Rins, the Suzuki rider who was down in 10th on Sunday. Italian veteran Valentino Rossi of Yamaha — who finished fifth — is in fourth place in the points table.
Earlier in the day, his brother Alex won the Moto2 race ahead of fellow Spaniards Jorge Navarro and Augusto Fernandez while championship leader Lorenzo Baldassarri crashed out. It was 23-year-old Alex's fourth career win and first since 2017.
Marc Marquez said, "I'm happy to win but even happier because my brother won in Moto 2. When I saw that I said to myself 'you have to win too because it would be a great day for the family'. He has experienced hard times and it is not always easy to be 'the brother' as it always gives the extra pressure. It was important that he got another victory a year and a half after the last."
Tennis
Virat Kohli wrote that when your companions cry for you, you know what you've been able to do. After losing the match, Rafael Nadal broke into tears alongside Roger Federer.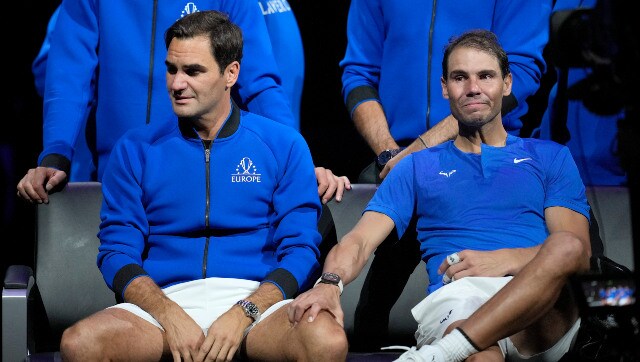 Tennis
Federer, who brought the curtains down on his glittering career in a doubles match at the Laver Cup in London, promised fans this wasn't the last they were going to see of him in the world of tennis.
Tennis
Roger Federer hogs the media attention ahead of the Ryder Cup-style Laver Cup team event that gets underway in London on Friday.