LISTEN: Full script of Episode 123 where we discuss Virat Kohli's long-term vision for Team India, results of AFC Asian Cup 2019 and more
In today's episode, we discuss Virat Kohli's vision of making Team India a superpower in Test cricket, Roger Federer, Rafael Nadal's progress to third round in Australian Open, India's good outing on first day of Malaysia Masters tournament and more.
Virat Kohli said India's brand of 'fearless' cricket helped them achieve success away from home

Roger Federer qualified for Australian Open third round after beating Dan Evans

South Korea defeated China 2-0 to finish at top of Group C in Asian Cup
Welcome to Spodcast, where we look at the big sports headlines of the day.
Roger Federer and Rafael Nadal made it through to the third round of the 2019 Australian Open while 2018 women's champion Caroline Wozniacki set up an exciting third round clash with Maria Sharapova.
Federer has now qualified for the third round 20 consecutive times. The 37-year-old Swiss defeated Dan Evans of Great Britain 7-6, 7-6 , 6-3 in a tough three-setter at the Rod Laver Arena. He has won the Australian Open six times, a record he shares with Novak Djokovic and Roy Emerson. Federer said after the match, "I think if I could have pulled away earlier in the match it might have been easier." He also praised his opponent, saying, "I think he played very well, it was hard to pull away to his credit."
Rafael Nadal, chasing an 18th Grand Slam win, won his match against Matthew Ebden of Australia 6-3, 6-2, 6-2. He said, "I played a solid match, I was happy with the way I served. I did a few things very well...It is an honour to play here. Was a great atmosphere."
In the women's draw, defending champion Caroline Wozniacki of Denmark defeated Johanna Larsson of Sweden 6-1, 6-3. 28-year-old Wozniacki, who was diagnosed with rheumatoid arthritis last year, will face off against a resurgent Maria Sharapova in her third round match. Sharapova won her second round match easily, brushing aside Rebecca Peterson 6-2, 6-1. The Russian is looking forward to the showdown with Wozniacki. She said, "It's a tough third round but I have set up the challenge and I'm ready to go out there and take it."
Badminton news now. Saina Nehwal, Kidambi Srikanth and Parupalli Kashyap qualified for the second round of the Malaysia Masters tournament in Kuala Lumpur on Wednesday.
Saina had a difficult match against Joy Xuan Deng of Hong Kong. The Indian star came back from a game down to win 14-21, 21-18, 21-18 in a contest that lasted one hour and five minutes.
Kashyap had a similar outing in his first round match against Denmark's Rasmus Gemke. He lost the first game 19-21 but bounced back to win the next two 21-19, 21-10. On the other hand, Srikanth had a relatively straightforward win over Angus Ka Long NG of Hong Kong. He took just 30 minutes to win the match 21-17, 21-11. Srikanth will face Hong Kong's Vincent Wing Ki Wong in the second round while Kashyap goes up against sixth seed Anthony Sinisuka Ginting of Indonesia. Saina, the only Indian in the women's singles event, will play against unseeded Pui Yin Yip in the second round.
News from the AFC Asian Cup now. Star South Korean footballer Son Heung-min, who also plays for the Tottenham Hotspur in the EPL, inspired his team to a 2-0 win over China on Wednesday as the Koreans finish top of their group.
Son's presence bolstered the South Koreans, who looked energetic in the field. Hwang Ui-jo and Kim Min-jae scored the two goals in the 14th and 51st minutes respectively as Korea dominated the match. Son, also serving as captain for the Korean side, took to the field for 87 minutes despite playing 13 games for Tottenham December onwards.
China, who are coached by Marcello Lippi, finished runners-up in the group, having already sealed their place in the last 16.
Meanwhile, Philippines lost to Kyrgyzstan, giving Kyrgyzstan a chance to progress as one of the best third-placed teams. Vitalij Lux had a fantastic game, scoring a hat trick for Kyrgyzstan while Stephan Schrock scored one goal for the Philippines.
Indian cricket captain Virat Kohli stated yesterday that he wants Team India to become a 'superpower' in Test cricket. Riding high after a historic Test series win in Australia, Kohli told the media, "I wouldn't say goal but I would rather speak of a vision, which is for India to be a superpower in Test cricket or a very, very strong side in Test cricket in the years to come."
The star batsman added, "If we focus too much on shorter formats - yes, they're important - but if we solely focus and look at them as an escape or an excuse to not be in the kind of situations that Test cricket presents to you, then I think there will start being a mental problem with the cricketers coming up...As long as you're willing to wake up every morning for five days and do the hard yards and go do the dirty work - if you're willing to bat for two hours and not score a run for the team - I think that is what people should prepare (for)..."
Kohli was also effusive in his praise for coach Ravi Shastri. He explained, "Because he's done so much commentary, and he's seen the game so much and has played so much himself - just watching the game - he knows where the game is heading...So just getting feedback from him constantly has been the biggest help for me, in terms of molding my own personality into captaincy. He's someone who has never tried to change me just to be able to fit into the captaincy mode. That was the most important thing and he's been the most amazing support for the team and someone who's backed the team through and through."
Kohli also said India's brand of 'fearless' cricket has helped them achieve success away from home.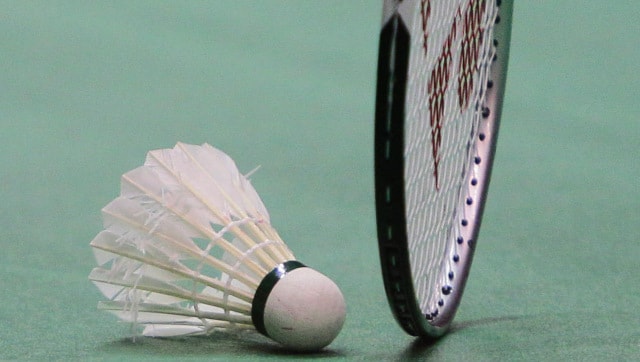 Badminton
'India is keen to host Sudirman Cup this year. We have written to BWF expressing our interest, we are expecting a positive response in a fortnight'
First Cricket News
Virat Kohli has roared back to form in ODIs and T20Is but is yet to score a ton in Test matches since November 2019
First Cricket News
Not only for Virat Kohli, but the Australia series is also a crucial assignment for the Men in Blue, as they seek a place in the World Test Championship Final.