LISTEN: Full script of Episode 119 of Spodcast where we discuss Harendra Singh's ouster as India men's hockey coach, Hardik Pandya's apology over remarks on TV show and more
Here's the full script of today's episode of Spodcast, where we discuss Hockey India's relegation of Harendra Singh to the position of coach of the junior men's team, Hardik Pandya apologising to the BCCI over offensive remarks made on Koffee With Karan and more.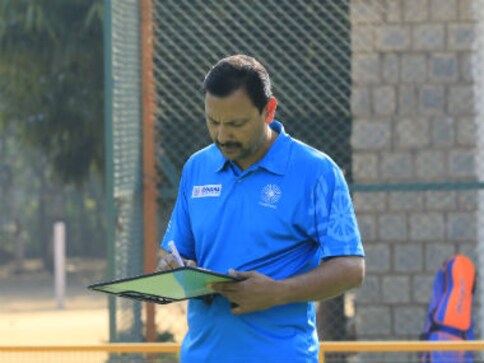 Welcome to Spodcast, the sports update on Firstpost.
The coach of the Indian men's hockey team — Harendra Singh — was sacked yesterday after a disappointing 2018. He was offered the position of coach of the junior team by Hockey India.
Being the coach of the Indian men's hockey team has always been tumultuous - coaches are changed often, and Singh himself was appointed only in May of 2018. Harendra had led the junior team to a World Cup win, which resulted in him being handed charge of the senior team after India's medal-less showing at the Gold Coast Commonwealth Games. But he was unable to change the team's fortunes. India, who were the defending champions at the 2018 Asian Games finished with only a bronze and also lost in the quarterfinals in the World Cup in Bhubaneswar.
Hockey India's press statement said, "Though the year 2018 was very disappointing for the Indian Men's Hockey Team with results not going as expected, Hockey India believes investing in the junior program which will reap long-term benefits."
The hockey federation said it will "...invite applications for the position of the Chief Coach of the Indian Men's Hockey Team which will be returning to training camp in February 2019 for the Sultan Azlan Shah Cup scheduled to commence from 23 March 2019."
Meanwhile, the team will be overseen by Performance Director David John and Analytical Coach Chris Ciriello.
Indian cricketers Hardik Pandya and KL Rahul had kicked off a controversy after making inappropriate comments about women on the TV show Koffee With Karan. The BCCI had taken exception to remarks by Pandya and Rahul who had appeared on the show hosted by filmmaker Karan Johar. It issued show cause notices to both cricketers and gave them 24 hours to offer an explanation.
Pandya has apologized for his remarks. He said, "I made an appearance on the chat show where I have made certain statements without realising that these could be disrespectful and offend sensitivities of viewers for which I am sincerely regretful. I would like to assure you that there was no malice or any sort of ill-intent on my part to offend anyone or portray any section of the society in bad light."
He added, "I made these statements in the flow of the show and had not comprehended the extent to which my statements would be found offensive. Rest assured I hold the BCCI in highest regard and will exercise complete discretion and prudence to ensure that such incidents are never repeated in future...After reflecting on my comments on Koffee with Karan, I would like to apologise to everyone concerned who I may have hurt in any way."
KL Rahul has neither responded to the show cause notice nor reacted to the massive criticism the two cricketers have received.
There is now speculation that the outrage might even prompt the BCCI to bar players from such appearances. The Chairman of the Committee of Administrators that runs the BCCI, Vinod Rai, said, "I will have to check their explanations. At this point, I cannot commit what action will be taken."
Some good news from table tennis now. Veteran player Sharath Kamal won a record ninth national men's title following an intense final match against G Sathiyan. With this win, Sharath broke the long-standing record for most national titles held by former player Kamlesh Mehta.
Sharath, ranked 30th in the world, played a grueling final against world no 31 Sathiyan, eventually prevailing 4-3. It was Sathiyan's third national final. Befitting of a final between the two friends, the score line read 11-13, 11-5, 11-6, 5-11, 10-12, 11-6, 14-12 in favor of Sharath. Sathiyan won the first, fourth and sixth games, making more than one come back in an epic match but Sharath managed to win in the extended final game after three match points.
After the win, Sharath said, "...this final was by far the best in terms of quality. That explains the ferocity and seriousness with which Sathiyan attacked from both flanks and kept me engaged...The pressure was on both of us. But whatever I did to take the ninth title off my mind, it was coming back again and again with everyone remembering me. Similarly, Sathiyan was going for his first title and he was equally pressured."
The women's title was won by 18-year-old Archana Kamath who defeated Krittwika Sinha Roy 4-2. The score line read 12-10, 6-11, 11-9, 12-10, 7-11, 11-3.
An update from the I-League, where the action is hotting up. Mohun Bagan's new has coach Khalid Jamil got off to a winning start after his team defeated the defending champions Minerva Punjab 2-0.
Jamil was appointed coach after the sacking of former coach Shankarlal Chakraborty following Mohun Bagan's humiliating loss to debutantes Real Kashmir in their last match.
Jamil made five changes to the side that lost to Kashmir. He brought in Dipanda Dicka over Henry Kisekka, and included Azharuddin Mallick, Darren Caldeira, Gurjinder Kumar and Dalraj Singh in the starting line-up.
This Mohun Bagan side dominated the game against Punjab, who failed to create a single scoring opportunity in the first half. Omar Elhussieny scored for Mohun Bagan in the 30th minute while Cameroonian forward Aser Pierrick Dipanda Dicka scored the second goal in the 69th minute.
The win over Punjab keeps Mohun Bagan's title hopes alive, if only just. They remain at sixth place in the points table, with 18 points from 12 matches.
In news from the Ranji Trophy, Bihar spinner Ashutosh Aman broke a long-standing record set by Bishan Singh Bedi to become the highest wicket-taker in a single Ranji season. He has now taken 65 wickets in the current season, overtaking the record of 64 wickets set by Bedi in the 1974-75 season.
32-year-old Aman picked up seven wickets in the second innings as Bihar defeated Manipur by three wickets. He has had an astounding season, picking up 68 wickets at a stunning average of 6.48.
Entertainment
Kareena Kapoor and Aamir Khan will be seen together in Laal Singh Chaddha, which is the official Hindi remake of the iconic Hollywood drama Forrest Gump. Directed by Advait Chandan, the film also stars Naga Chaitanya, in his Hindi debut, as well as Mona Singh and Manav Vij in key roles.
Sports
Achanta Sharath Kamal and G Sathiyan defeated the Australian duo of Nicholas Lum and Finn Luu in the semifinal 8-11, 11-9, 10-12, 11-1, 11-8 to reach the final of the men's doubles at Commonwealth Games.
Sports
s Achanta Sharath Kamal and G Sathiyan settle for silver as Paul Drinkhall and Liam Pitchford successfully defend their men's doubles title with a back-to-back gold medal. It's consecutive silver for Indian duo as well.