LISTEN: Episode 128 of Spodcast where we discuss India's win against New Zealand in first ODI, Serena Williams' shock defeat in Australian Open and more
Welcome to Spodcast, where we cover the big sports headlines of the day. Today, we discuss India's eight-wicket victory over Black Caps in first ODI, Serena Williams' shock defeat in Australian Open and more
Welcome to Spodcast, where we cover the major sports headlines of the day.
India began their series against New Zealand on a positive note, defeating Black Caps by eight wickets in the first ODI at Napier. Despite the hype that it would be a cracker of a contest between the second and third ranked ODI teams, the match proved to be pretty one-sided, with India dominating from start to finish. Fast bowler Mohammed Shami led the way for India as he wrecked New Zealand's opening pair and gave nothing away. He bowled both openers to reduce the Kiwis to 18/2 in the fourth over. Captain Kane Williamson played a characteristically gritty innings, making 64 runs from 81 balls, but received no support from any of his teammates. India's wrist-spinners Kuldeep Yadav and Yuzvendra Chahal took four wickets and two wickets respectively. The Black Caps looked completely at sea against their bowling, and were all out for 157 in just 38 overs.
In an unusual turn of events, the Duckworth-Lewis method was used for the first time after an interruption that was not caused by rain, but instead of the sun.
India were cruising at 44/1 when players walked off the ground after dinner because The setting sun was in the line of sight of the batsmen, making it difficult for them to spot the ball. That led to a delay of almost half-an-hour and India's target was revised to 156 in 49 overs. India's batsmen barely broke a sweat in their chase of the paltry total. Shikhar Dhawan top scored with 75 while skipper Virat Kohli chipped in with 45 as India chased down the target in 34.5 overs.
The second ODI will be played on 26 January.
Virat Kohli will play only the first three of the five ODIs against New Zealand and will skip the subsequent T20 series entirely.
The BCCI released a statement that said, "India Captain Virat Kohli will be rested for the fourth and fifth ODI against New Zealand and the subsequent T20I series. Considering his workload in the last few months, the team management and Senior selection committee is of the view that it would be ideal for him to get adequate rest ahead of the home series against Australia."
The board added, "There will be no replacement for Mr. Kohli in the squad for the New Zealand series. Rohit Sharma will captain the side in the final two ODIs and T20I series."
Kohli's last break from international cricket was in November, when he sat out of the T20I home series against the West Indies.
Some interesting updates from the Australian Open now. Serena Williams suffered a shock defeat in the quarterfinals while Naomi Osaka qualified for the semifinals.
In the men's draw, Lucas Pouille stunned Canada's Milos Raonic to qualify for the semis.
Serena was the overwhelming favourite to win the tournament after the exit of World No, 1 Simona Halep, Angelique Kerber and Caroline Wozniacki in the earlier rounds. But her hopes for a 24th Grand Slam win were dashed as she lost to seventh seed Karolina Pliskova.
The Czech player won 6-4, 4-6, 7-5 in a tough match that lasted two hours 10 minutes. She fought off four match points in a roller coaster third set that Williams led 5-1 before collapsing to defeat.
26-year-old Pliskova said after the match, "I was almost in the locker room, now I'm standing here as the winner. It's a great feeling...I wasn't playing very well in the third set but I thought let's try, this game at 5-2. She got a little bit shaky in the end so I took my chances and I won." Her win now takes her to a semifinal clash with Naomi Osaka, who won her quarterfinal match against Elina Svitolina. But Pliskova was unfazed. She said, "She's dangerous but nobody is more dangerous than Serena."
Osaka defeated Svitolina, who was struggling with an injury, 6-4, 6-1 in a one-sided quarterfinal. Svitolina received treatment for a neck or shoulder injury in the second set but never fully recovered to put up a fight. 21-year-old Osaka, the 2018 US Open champion, is now in her second straight Grand Slam semifinal. She said, "I tried to be consistent, it's unfortunate that she got injured but playing against her even when she was injured was still really tough. "
In the men's event, Lucas Pouille, who is ranked 31 in the world, inflicted a shock defeat on 17th ranked Milos Raonic to qualify for the semifinal. That makes him the first Frenchman to reach the semi-finals of the Australian Open since Jo-Wilfried Tsonga in 2010. Pouille fought back from a break down in the first set to win 7-6, 6-3, 6-7, 6-4 and reach his first major semifinal. After his win, he said, "I'm very happy. I was trying to forget the start of the year. I just kept working hard. All the matches I decided to take step by step, give everything on every point and here I am." Pouille recently recruited 2006 Australian Open women's champion Amelie Mauresmo as coach after splitting from long-time coach Emmanuel Planque. He explained, "Last year I lost a bit of joy being on the court. I started a new adventure with my team, with Amelie. I enjoy being on the court again and that is the most important."
The International Weightlifting Federation revoked on Wednesday the provisional suspension on weightlifter Sanjita Chanu for a failed dope test. It is a major reprieve for the Commonwealth Games gold-medalist who has stated repeatedly that she is innocent.
The case dragged on for almost a year and even made headlines following an "administrative" goof-up in Sanjita's sample number. Yesterday, IWF's legal counsel Eva Nyirfa sent an email to the national federation and Sanjita that said, "On the basis of the information at its disposal, the IWF has decided that the provisional suspension of the athlete (Khumukcham Sanjita) shall be lifted as of Tuesday...The IWF Hearing Panel will render its decision on the athlete's case in due course."
25-year-old Sanjita, who won a gold in the women's 53kg category at the 2018 Commonwealth Games, had tested positive for anabolic steroid testosterone in 2017. Her urine sample was taken prior to the World Championships in United States in November 2017, and she was placed under provisional suspension from 15 May 2018. Sanjita said her assertion of innocence has been vindicated. She said, "I am relieved and happy. I am innocent and I have never taken any banned substance in my career. I am vindicated now..., I experienced mental trauma during these past 8-9 months due to the mistake of the international federation. I hope nothing like this happen to any athlete in future. An athlete's reputation is very precious."
She added that the Indian Weightlifting Federation had asked her to join the national camp immediately if she wants. Sanjita said she intends to compete this year to make up for lost time. She said, "I missed the Asian Games and World Championships in 2018. I want to compete in the World Championships this year and qualify for 2020 Olympics. For any athlete, Olympics is the ultimate."
Tennis
Australia has a long history of strong doubles teams. This pair was the 16th all-Australian team to win a Grand Slam men's doubles title in the Open era.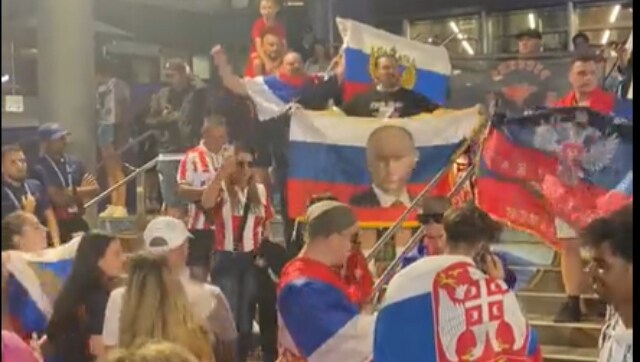 Tennis
Footage posted online showed at least one man on outside the Rod Laver arena holding a Russian flag with President Putin's face on it.
Football
Fifth-seeded Sabalenka is the highest remaining seed left in a women's singles draw at Australian Open that has been upended by shocks.