'Lewis Hamilton one of the greatest ever': Sporting greats applaud British racer after 4th world title
Hamilton's former teammate and 2016 champion Nico Rosberg also congratulated Hamilton on his win.
Mexico City: Former world champion Damon Hill on Monday hailed Lewis Hamilton as "one of the greatest" drivers ever after the Briton wrapped up a fourth world championship in Mexico.
Hamilton, 32, clinched the title in unexpected but dramatic fashion on Sunday when, after a first lap collision with title rival Sebastian Vettel, he finished ninth in the Mexican Grand Prix.
He is the first Briton to be a four-time champion, lifting him clear of Jackie Stewart, and alongside Vettel and Frenchman Alain Prost. Michael Schumacher leads the way with seven titles, ahead of Juan Manuel Fangio, who won five.
"Lewis Hamilton is certainly one of the greatest, most talented drivers ever to compete in Formula One," Hill wrote in Britain's Times newspaper. "He is one of the fastest, and has managed the conditions that he has needed to fulfil his ambition in such a way that he can take a lot of credit."
Hill, who won the title with Williams in 1996, said there were "very few drivers" who could be considered Hamilton's equal. "I would look to the multiple world champions, certainly the triple world champions. I would maybe say my dad (Graham Hill), who won in multiple disciplines.
But certainly the likes of Juan Manuel Fangio, Michael Schumacher, Ayrton Senna and Alain Prost — those are the names that spring to my mind."
The British athlete Mo Farah, who recently announced his retirement at IAAF World Athletics Championships, also praised Hamilton for his victory.
🏆🏆🏆🏆😃 #LH4 @MercedesAMGF1 #4TheTeam #StillWeRise pic.twitter.com/XFe4gwQJbK — Lewis Hamilton (@LewisHamilton) October 29, 2017
Hamilton's former teammate and 2016 champion Nico Rosberg also congratulated Hamilton on his win.
Congratulations Lewis 👊🏼 Well deserving champion! Also brilliant for Team Mercedes to clinch both titles 🏆🏆 https://t.co/aEHzGc5qZb

— Nico Rosberg (@nico_rosberg) October 29, 2017
Despite Hamilton's achievement, Hill stopped short of naming him unequivocally as the best British driver ever.
"What you have to say is there were conditions that applied in the past that don't apply now," he wrote.
"There are now more races per season, the racing is safer, drivers' careers go on longer, there is better reliability than there was with cars back in the day, so I don't know how you compare him, statistically."
"I think you would have to weigh it somehow against the 50s, 60s, 70s and 80s because it's not like for like. So you have to be a little bit cautious about declaring him the best-ever driver."
Hill said one of the reasons for Hamilton's success is that he has a life outside the F1 bubble.
"He has a work-life balance," said Hill. He has created a way of life outside Formula One so that he can come to the sport and do his job and it doesn't consume him."
"But it's not entirely about that. I think he's got an artistic temperament, he's not a heavyweight slugger. He's someone who, when he feels good, knows his talent can come out."
"If conditions are not so good it affects him. I think you can see that -- at times he has found it hard because he's imagined or felt it's a hostile environment."
Find latest and upcoming tech gadgets online on Tech2 Gadgets. Get technology news, gadgets reviews & ratings. Popular gadgets including laptop, tablet and mobile specifications, features, prices, comparison.
Sports
The Black Lives Matter movement has been supported by football players in Germany, Italy and England taking a knee before and during games.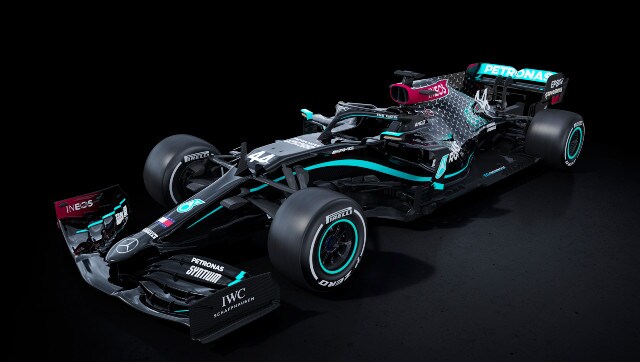 Sports
Mercedes confirmed they will be switching to the black-liveried cars from their usual silver ones in support of the 'Black Lives Matter' movement starting with the Austrian Grand Prix.
Sports
Six-times world champion Hamilton, who has launched a commission to help motorsport engage more young people from black backgrounds, said the "ignorant and uneducated" comments highlighted "exactly what is wrong".