Leander Paes and Mahesh Bhupathi must behave in a mature manner, says AITA
AITA Secretary General Hironmoy Chatterjee said the federations's efforts are now centered around bringing Mahesh Bhupathi and Leander Paes together and sort out the issues.
Denouncing the way Mahesh Bhupathi and Leander Paes publicly sparred over Davis Cup selection, AITA on Monday said it expects the veteran players to behave in a mature manner.
Bhupathi made public his chat with Paes on Sunday to counter accusations that he used his position to exclude him from the playing squad.
"We expect these senior pros to be more mature. The way they are going about it, we don't appreciate it. We have to talk to them and make sure they behave in a much more mature manner," AITA Secretary General Hironmoy Chatterjee told PTI.
Chatterjee said Paes should have avoided making comments on his exclusion during the tie.
"Leander should not have spoken when the tie was on. Mahesh did the right thing by speaking after the tie was over," Chatterjee felt.
The senior AITA official said he has seen the WhatsApp chat between Paes and Bhupathi and their effort now is to bring them together and sort out the issues.
"I have seen it and discussed it with Leander. I am going to sit and talk to both of them when I get time since they are both travelling.
"I do intend to bring them together. They will settle it out. They are mature people but the reactions they have given could have been much better," he said.
Bhupathi, in his Facebook Post, had mentioned that he has the backing of establishment in implementing his ideas as he strives to get the team back to World Group. Chatterjee endorsed the non-playing captain's view.
"Well whatever he wants to do and whatever he has said, definitely he has been interacting with the Federation and there is no doubt about that. He has discussed everything with us. There are no issues with that," he said.
After Bhupathi claimed that personal agenda was not behind Paes' exclusion, the latter issued a statement that he was never categorically told that he will not be in the playing four and that's what he found disrespectful.
The Lee-Hesh saga goes back to late 1990s and their acrimonious relationship has forever been a talking point in Indian tennis.
Find latest and upcoming tech gadgets online on Tech2 Gadgets. Get technology news, gadgets reviews & ratings. Popular gadgets including laptop, tablet and mobile specifications, features, prices, comparison.
Sports
Naomi Osaka wore different masks honoring victims of systemic racism and police brutality in the United States in each of US Open's seven rounds.
Sports
The Japanese 2018 US Open champion brushed aside the 27-year-old American 6-3, 6-4, in 1hr 20min inside Arthur Ashe Stadium.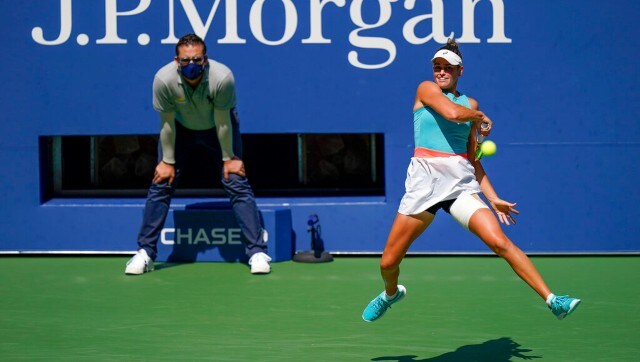 Sports
Brady, seeded 28th, beat her 23rd-seeded opponent Yulia Putintseva 6-3, 6-2, in just 1hr 9min inside Arthur Ashe Stadium.