League Cup: Manchester City ride on Pep Guardiola's clinical planning to outclass Arsene Wenger's listless Arsenal
City's conquest was the result of careful planning. The harmony and consonance are of a Guardiola design, all intertwined and leading the entity that come to embody and combine the finest traits of football: aesthetic excellence and winning.
At last, the heaven is sky-blue. At the end of the 90 minutes, Pep Guardiola watched from the touchline and beamed with paternal pride. Victory had materialised at last, the League Cup offered palpable silverware and perhaps a launchpad for an-all conquering second half of the season.
On a crisp afternoon in the English capital, Manchester City steamrollered Arsenal, who, with their innate touch for melodrama, imploded in diabolic fashion. The scene was Dantean for Arsenal: the London club were visibly in a mortal combat, somewhere on the outer rings of hell. In Gary Neville speak: 'Why are you walking at Wembley. You're an absolute disgrace?'
Not that Manchester City were proffering vintage football. Their ad for exhilarating football that has become so associated with the Guardiolan brand of football of pressing, possession and positioning was diluted somewhat by wayward passing and inaccuracies across the pitch. City's great harmony and the cosmos were not aligned. Where were the passing finesse and the everlasting triangulations?
Still, they dominated the entire game and opened the scoring in the 18th minute. After enforced pressure, Claudio Bravo, for long the number one enemy of UK pundits, hocked the ball long with an accuracy hitherto unseen and rout one, so uncharacteristic in the City universe, proved all too much for Arsenal's papier-mâché defenders.
Everything about the goal was appalling from Arsenal's point of view: the lead-up, the defending, the goalkeeping and the rippling of the net. Not even VAR was consulted to address Shkodran Mustafi's lamentable, self-proclaimed injustice. From times gone-by Sir Humphrey Appleby smirked at such behaviour.
The German had gotten it all wrong. He wanted a foul after minimal contact with Sergio Aguero. Plainly, it wasn't a foul. The Arsenal defender had been on the wrong side of the Argentinean striker. Aguero ran through on goal and delivered an accomplished finish. A weighted lob was too much for David Ospina, who found himself in no-mans' land. Feeling aggrieved, Mustafi complained.
What followed was an implosion of the highest order from Arsene Wenger and his team, taking the idea of defeat and submission to new, satirical levels. They jogged and ambled on the pitch. They walked and sauntered. They did everything, except playing football and applying a game plan. Jack Wilshere demonstrated with his slowness and sloppy application that he can't be entrusted with much responsibility in Arsenal's midfield. Did Gareth Southgate take note? Mesut Ozil was invisible.
Then, when all hope had faded from Arsenal's world and when eternal doom was looming, one turned, in despair, to new recruit Pierre-Emerick Aubameyang, but the Gabon international was upstaged by City's Vincent Kompany. The Belgian defender easily contained Arsenal's number fourteen, who did little right. His movement off the ball was one-dimensional and when he did get a good chance, he lacked the sharpness and foresight to pounce.
Playing Kompany was bold from Guardiola. His captain is with 41 injuries in his City career the walking catalogue of an unfit player, but through commitment and hard work, Kompany gained his starting place in City's eleven, even if encountering Arsenal's £55.5 million January signing was challenging.
Kompany blocked Aubameyang, and more. At the other end, he doubled City's lead in the second half with an instinctive striker's goal, diverting a low cross from Ilker Gundogan into the net. His celebration was palpable relief.
By now, Arsenal were no longer imploding. They had simply capitulated — in a very graphic manner. Their body language was moribund. They had foregone the notion of playing on a major stage in a big final and simply disconnected in a strange world of all-encompassing misery and drama, where work rate, belief and luck had long evaporated.
This anti-performance almost made the 10-2 aggregate at the hands of Bayern Munich last season in Champions League acceptable. In barren times, Arsenal always had one riposte: We can play the beautiful game in the plenitude of its meaning. We can thrill and exhilarate. We can delight and excite, but that last-bastion defence is now gone. There was nothing soul-stirring about Arsenal's game against City. There hasn't been in a while. Pity is all that remains for self-inflicted incompetence.
City were ruthless and David Silva scored with an angled finish to complete a comfortable 3-0 win. City's brilliance was also a measure for Arsenal's overall paucity, but that mattered little. City's conquest was the result of careful planning. The harmony and consonance are of a Guardiola design, all intertwined and leading the entity that come to embody and combine the finest traits of football: aesthetic excellence and winning.
Football
The Nations League ties were the last match for the World Cup-bound teams before the competition starts in Qatar on 20 November.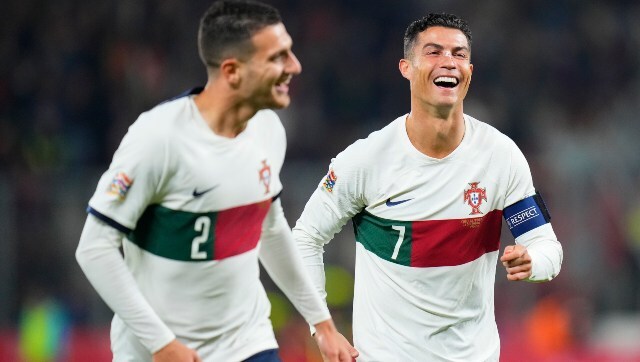 Football
After beating the Czech Republic in Nations League, Portugal moved two points ahead of Spain in Group A2 before the neighbours meet in Braga on Tuesday in a winner-take-all clash to see who advances to the tournament's final four next June.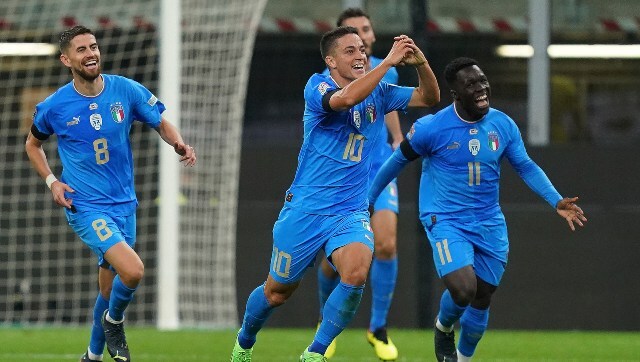 Football
Hungary host Italy with both teams fighting to finish first in their group and qualify for the Final Four of Nations League in June next year.