Laureus World Sports Awards, Best Sporting Moment December nominees: Motiva College's amazing gesture
Motiva College's amazing gesture to raise funds and allow the Caiçara to travel for a basketball tournament is one of the nominees for December's Laureus Best Sporting Moment.
A school team of 12- to 14-year-old basketball players from a tiny city of Caicara, Paraiba, in the north-east of Brazil secured a place in the Brazilian Youth School Championships in Curitiba following their win over Motiva College Team in the State Youth School Games. However, the celebrations were cut short as soon as they learned that the local government could not provide sufficient funds to allow the boys to travel to the games.
It would have taken three days to travel by bus from Paraiba to Curitiba in the State of Parana. So Caicara, a social project for public school students, offered their place to the private school Motiva College. Instead of taking them up on the offer, Motiva refused, and parents and students of Motiva College started a campaign to raise funds to allow the Caicara team to travel.
The campaign gained national and international support. Lucas Bebe from the Toronto Raptors in the NBA supported the appeal. In total 36,000 reals were raised (just over $11,000). Through the solidarity and generosity of the supporters, the Caicara boys travelled by plane, many taking their first ever flight, to Curitiba on 17 September, to play against the current runners-up in the championship. Caicara lost by 59 to 20, but the support, excitement and the experience were worth far more than the result.
"When we found out that we could not go, there was a kid who could not sleep, I had his mother calling me," coach Edynho Nash, nicknamed after his idol, former NBA superstar Steve Nash, said. "Sport is not just a game. It is not just a question of competing for a medal, a trophy or a status. It can go much further with solidarity!"
Laureus World Sports Awards have been in existence for the last 17 years, with the first Laureus Awards held in 2000. Other than the Laureus Best Sporting Moment, Laureus announces its awards in eight different categories, some of them being: Laureus World Sportsman of the Year, Laureus World Sportswoman of the Year, Laureus World Team of the Year.
To vote for your favourite video, visit myLaureus.com.
Sports
Beal will miss the Olympics after being placed into health and safety protocols and USA Basketball said Thursday it will replace him on its roster at a later date.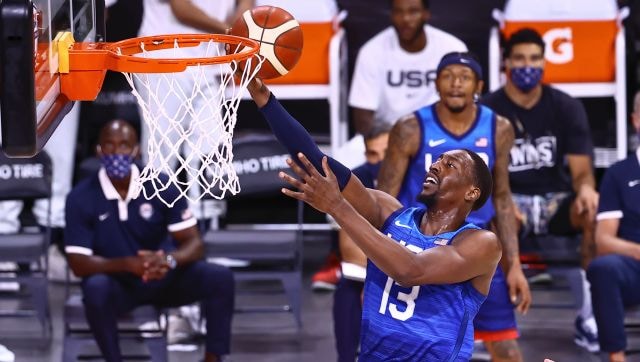 Sports
Americans shot 51%, scored 33 first-quarter points to get off and running and beat Argentina for the 10th consecutive time
Sports
Middleton scored 40 points, including 10 straight for the Milwaukee Bucks down the stretch to send them past the Phoenix Suns, 109-103 on Wednesday night to tie the series 2-2.