Laureus 2018-19: Here are the November nominees for Best Sporting Moment of the Year
The Laureus Sporting Moment of the Month campaign for November has been launched with four engaging and emotional Moments: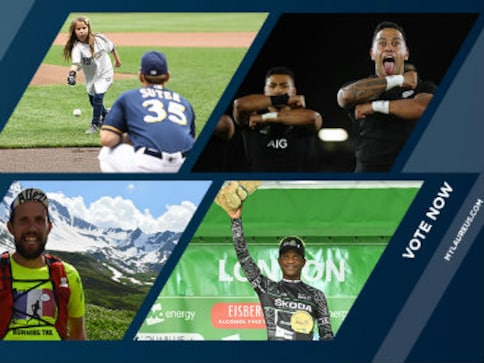 The Laureus Sporting Moment Award demonstrates qualities such as fair play, sportsmanship, drama and dedication, and looks beyond the scoreboard or podium. They are emotional and inspirational moments, symbolising the true value of sport and bringing to life the message that sport has the power to change the world.
Each month, from March to December, the public can select their favourite Moment from a shortlist of four videos, chosen with oversight from the sporting legends of the Laureus World Sports Academy. Monthly winners will then go head-to-head in a final public vote, with the winner being announced at the 2019 Laureus Awards Ceremony.
The Laureus Sporting Moment of the Month campaign for November has been launched with four engaging and emotional Moments:
An emotional haka (New Zealand, Rugby)
The haka, New Zealand's traditional Maoiri war dance, is performed by the All Blacks before matches. However, after winning his first cap for his country, Te Toiroa Tahuriorangi was treated to a second, emotional haka in the stands.
The 23-year-old's fiancee, father and father-in-law performed the war dance as a nod to his achievement after he made an appearance from the bench in New Zealand's 46-24 win over Argentina in Nelson in September.
Speaking after the match at Trafalgar Park, Tahuriorangi said: "For them to make the trip all the way down from Rotorua, it just makes the debut extra special. It was just an awesome feeling. To get that kind of haka personifies where I come from, a little area where not many people make it out."
Theme: Respect
Hailey's journey to 30 (USA, Baseball)
Inspirational eight-year-old baseball fan Hailey Dawson was born with Poland syndrome, a genetic condition which restricts the development of a pectoral muscle. As a result, Hailey was born without three fingers on her right hand, but she was determined prove to the world that her disability doesn't hold her back.
With the help of a 3D printed prosthetic hand designed by engineers from the University of Nevada in Las Vegas, Hailey embarked on a 'Journey to 30' – a bid to throw the first pitch at every Major League ballpark. Starting with the Baltimore Orioles, Hailey had a particular prosthetic hand made for each of the 30 teams she visited, wrapping up her challenge by throwing the first pitch at Angel Stadium, to Mike Trout of the Los Angeles Angels.
"It took this community of people to help a then five-year-old build her confidence and self-esteem to where she is now at eight," said Yong Dawson, Hailey's mother. "Hailey's confidence and positive spirit will continue to grow and the possibilities are endless for this kid born with Poland Syndrome."
Theme: Overcoming adversity
King of the mountains (South Africa, Cycling)
Nicholas Dlamini grew up in Capricorn Park, a Cape Town township with high rates of crime and increasing levels of unemployment. The chances of making it out are slim.
However, aged 12, Nicholas got his first bike, started riding and hasn't looked back since. He rode for two years in the Team Dimension Data for Qhubeka Continental (feeder) team, and in 2018 he stepped up and was recruited for the World Tour team.
In January, Nicholas became the first black South African to wear a leader's jersey at a World Tour race by donning the King of the Mountains jersey at the Tour Down Under in Adelaide. In September, he won the overall King of the Mountains jersey at the Tour of Britain.
Nicholas is a role model within his community, and he hopes to pave the way for greater opportunities in his sport for the next generation. 'One day, I'd like to see all the kids in Capricorn riding bikes," he said.
Theme: Inspiration
Tour de force (UK, Running)
The Tour de France takes 23 days and this year snaked through 2,082 miles, including arduous climbs through the Alps and Pyrenees. It's a brutal challenge for cyclists, but this year Britain's Peter Thompson, 34, decided to step up the degree of difficulty by trying to match the feat of American Zoe Romano, who was the first to run the entire route in 2013. Peter succeeded, finishing on July 26, after 68 days of running, three days before the Tour de France peloton arrived on the Champs Elysees in Paris. He raised £20,000 for his mental health awareness programme Marathons for the Mind. To prepare, a year earlier he had run 44 marathons in 44 straight days.
Theme: Mental health
To view these emotional and engaging clips and VOTE for your favourite, visit myLaureus.com.
also read
India
101-year-old Man Kaur aka 'Miracle from Chandigarh' looks forward to win her next sprint
Sports
As Laureus World Sports Awards' India partners, Firstpost brings you the five final nominees for Best Sporting Moment of the Year Award for the 2018 edition:
Sports
Among the Laureus Academy members who have already confirmed are Franz Beckenbauer, Boris Becker, Sergey Bubka, Cafu, Nadia Comaneci, Luis Figo, Cathy Freeman, Edwin Moses, Alessandro Del Piero, Steve Waugh among others.