LaLiga: League president Javier Tebas expects more player swaps instead of big payments in transfer window
Tebas said he did not expect the Spanish league's transfer market to move more than 800 million euros ($908 million), compared to 3 billion euros ($3.4 billion) last summer.
Barcelona: Spanish clubs are going to consider more direct swaps of players instead of big transfer payments given the economic impact of the coronavirus crisis, the league president says.
Javier Tebas said on Thursday he expects Europe's major football leagues to align their transfer windows to start in July and finish in mid-October before the likely delayed start of next season's Champions League.
"The transfer market will be subdued. It is clear that there will be fewer direct cash transactions. There will be more player swaps," Tebas told media in video conference.
Tebas said he did not expect the Spanish league's transfer market to move more than 800 million euros ($908 million), compared to 3 billion euros ($3.4 billion) last summer. He ruled out blockbuster moves such as the world record 222 million euros ($262 million) Paris Saint-Germain spent to pry Neymar from Barcelona in 2017.
"There will be a few big moves, but nothing like we have seen before," he said, pointing to the huge hole clubs will have in their budgets for not playing with fans and the overall economic blow from the public health emergency.
LaLiga is resuming on Thursday after three months when Sevilla and Real Betis meet in a hotly contested derby. Players will continue to undergo regular tests and maintain strict safety and hygiene measures. Games will be played without fans.
Tebas said that even salvaging the season by playing the remaining 11 rounds at an accelerated rate, Spanish clubs are going to lose 700 million to 800 million euros if there are no fans in the stadiums this year.
He said he was hopeful that around "10 to 15% of fans could be back in the stands" this summer, but Spain's government has ruled that out.
Tebas said the loss of revenues from tickets, stadium food and on-site merchandising, combined with the risk that television clients could still demand money back if the matches don't entertain the same public, will force clubs to maintain efforts to reduce player salaries.
Several squads, including Lionel Messi's Barcelona, agreed to pay cuts.
In any case, he said he did not fear for a talent flight from Spain to other leagues in search of better pay.
"I don't see it because the crisis caused by COVID-19 is worldwide," Tebas said. "All the big clubs in Europe have to handle their own problems."
As for next season, Tebas said he wants to start the 2020-21 campaign on 12 September, roughly three weeks later than its usual start. The current season is scheduled to run until 19 July.
'Stick to rules or face closed camps'
Tebas warned players they could be made to attend closed training camps if the league's protocol on social gatherings is not adhered to after Barcelona defender Nelson Semedo became the latest player to flout the rules.
Semedo was caught on Spanish television at a gathering of more than 20 people on Monday, with Barca saying on their website he did not train on Thursday due to the league's protocol, which provides strict rules on players' activities.
Tebas said Semedo would have to test negative for COVID-19 before he was allowed to be named in the squad for Barca's match away to Real Mallorca on Saturday.
Four Sevilla players flouted the rules last month by attending a large gathering where social distancing was not observed and Tebas said if the problem persisted the league might have to take action.
The league had initially proposed keeping squads in training camps when matches returned but dropped the demand after protests from the players' union.
"If players keep breaking the rules we'll have to consider having obligatory training camps. We hope it doesn't come to that but if people keep going to barbecues and parties we might have to," Tebas said.
"We wanted to do this a few weeks ago but we saw that players were complying with the protocols. But if we start to see three or four players at each club disobeying these rules then we'll have no other remedy."
Spain has been one of the hardest hit countries by the pandemic, which has claimed more than 27,000 lives and crippled the economy. Tebas said players needed to show more responsibility.
"We all have a responsibility to keep this industry going and taking any step back carries big risks. I call on all the clubs to tell their players to please comply with the rules because anyone who breaks the rules damages us all," he added.
"La Liga has shown a lot of faith in the players by not enforcing the closed camps so please, return that confidence and do not break it. Flouting the rules not only harms La Liga, it also harms people's health in general."
(From The Associated Press and Reuters)
Football
Paulista will miss Sunday's game versus Girona in LaLiga and the following round's match against Athletic Bilbao.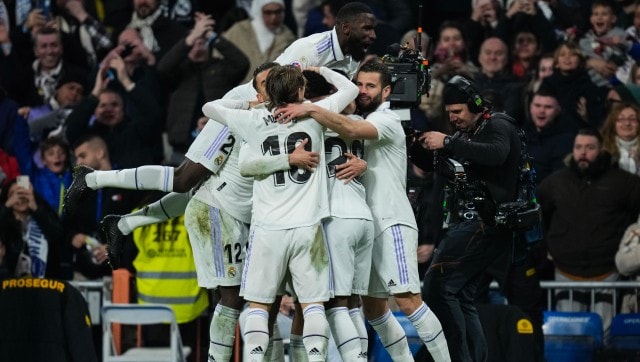 Football
Real Madrid stay within five points of LaLiga leaders Barcelona at halfway stage in the LaLiga season.
Football
Pedri netted the only goal from close range after an hour at an icy Montilivi on his 100th appearance for Barcelona, after replacing the injured Ousmane Dembele.