Lack of time and major titles led to split from Amelie Mauresmo, says Andy Murray
Rome: Andy Murray confirmed on Tuesday that a failure to win a third Grand Slam title was among the factors which finally caused him and coach Amelie Mauresmo to end their relationship on the eve of the French Open.
The Scot world number three is now playing a final Roland Garros tune-up at the Rome Masters this week without two-time Grand Slam winner Mauresmo in his corner.
Murray, the first major men's player to choose a female as coach when he and Frenchwoman Mauresmo got together in spring, 2014, said the pair made it work through the end of last season.
The Scot, who turns 29 at the weekend, said he was at a low ebb in his game when Mauresmo began helping him in 2014. The relationship produced seven ATP titles and a pair of Australian Open finals.
"When she first came into the team, I was really struggling. I was not doing well, my confidence was low and I was going the wrong direction," Murray said.
"For two years, I think the results that we had were good. But unless I win a Grand Slam, then ultimately that's how people judge whether it worked or not.
"When she came on board, my results really picked up. The time we spent together was positive. It's just a shame I wasn't able to win one of the major events, because that's what both of us wanted.
"Obviously in Australia (January final) it started well, but between the Australian Open and Rome, we only spent 10 days together, in Miami.
"It became difficult with the amount of time required to do the job and the amount of time we were able to work together."
"It (the post-Australian period) was just such a long period of the year, an important period where I was struggling, as well, where we weren't getting to work through that together.
"It's unfortunate but those things happen."
Murray arrived in Rome after losing the Madrid final as defending champion against Novak Djokovic.
The Scot was quick to add that Mauresmo's sex had nothing to do with the parting of ways.
"It's nothing to do with Amélie being a woman. It just takes a lot of time to do the job (as an ex-player) well and properly. It's not easy to do that for four, five years in a row.
"We certainly could have tried through to the end of Wimbledon, but longer term and medium term the same thing was going to continue happening. It just made more sense to to stop now.
"I haven't really thought too much about a new coach. But it's something that I will speak to my team about over the next few weeks and try and, you know, find something that works."
Sports
Osaka, the star of the opening ceremony, defeated China's Zheng Saisai 6-1, 6-4 and said she felt "refreshed" after taking an eight-week break for mental health reasons.
Sports
World number one Djokovic continued his bid for a calendar Golden Slam by defeating 34th-ranked Alejandro Davidovich Fokina of Spain 6-3, 6-1 to extend his winning run to 21 matches.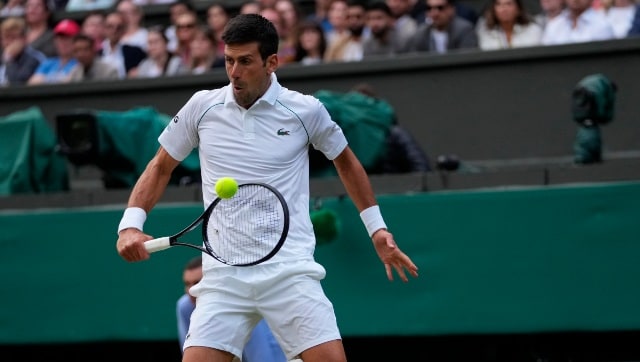 Sports
Djokovic stated he was not overjoyed with no fans being present inside the stadiums and the various limitations on movement but focused on winning a medal for his country.