La Liga: Real Madrid captain Sergio Ramos admits he wants Neymar to leave Barcelona for PSG
Spanish defender Sergio Ramos believes it would be better for Real Madrid if Neymar leaves Barcelona for Paris Saint-Germain.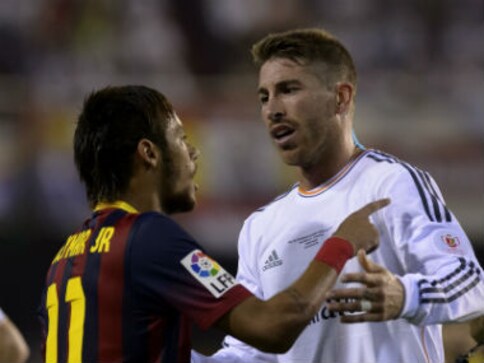 Real Madrid captain Sergio Ramos hopes that the much-anticipated transfer of Neymar to Paris Saint-Germain gets finalised in this transfer window, adding that the Brazilian would be doing a huge favour to the Madrid outfit by leaving Barcelona.
On Saturday night, Ramos swapped shirts with Neymar following Barcelona's 3-2 win over Real in a friendly Clasico in Miami. While Gerard Pique scored the winning goal for the Catalans, it was Neymar who provided two assists in a fixture which also saw Lionel Messi and Ivan Rakitic find themselves among goals.
"I have a good relationship with him. We changed shirts at the end and I hope that's the last time I get a Barca one from him, that wouldn't be a problem for us at all," he told Marca.
According to reports in Brazil and Spain, Neymar is on the verge of pursuing a world record £190 million (€222 million) move to Paris Saint-Germain. What fanned the flames further was a recent video in which he can be seen getting embroiled in a heated row with Barcelona's new signing, Nelson Semedo, during a training session before the Real friendly.
The move will put a huge dent to Ernesto Valverde's preparations for the forthcoming season, and Ramos would not be mourning his departure.
"He didn't tell me anything. Everyone is free to decide their own future. I think he is a great player and a key man for Barcelona and it's up to him to decide his future," he concluded.
In recent days, everyone from Barcelona legend Ronaldinho to Neymar's current teammate Andres Iniesta have weighed in on the move. While Brazil compatriot Ronaldinho urged Neymar to 'follow his heart', former Barcelona teammate Dani Alves said he hoped the 25-year-old will join him at Paris Saint-Germain but insisted he won't using his personal friendship to sway the Barcelona forward's decision.
Meanwhile, Spain's football league chief Javier Tebas lashed out at the French club and said he will file a complaint with UEFA for financial fair play breaches against PSG over their pursuit of Neymar. Even as the rumour mills went overboard over the 'move', Neymar's Barca teammate Gerard Pique said the forward "doesn't know what to do".
Sports
What's at stake in Europe's top five football leagues with 2021-22 season drawing to a close.
Sports
Mbappe revealed he had talked over his potential transfer to Real Madrid with Emmanuel Macron, saying he appreciated the 'good advice' of the French president, who wanted him to stay in France.
Sports
Karim Benzema has now scored 323 goals for Real Madrid and is only behind Cristiano Ronaldo.