Kulbhushan Jadhav sentenced to death: Verdict reveals Pakistan's irresponsible side; all eyes on Modi's reaction
Pakistan's unprecedented act of awarding death sentence to Kulbhushan Jadhav presents one of the biggest diplomatic challenge to Prime Minister Narendra Modi, and the people of India would be watching his reponse to the situation.
Pakistan has yet again proved that it couldn't be taken as a responsible nation and trusted as a nation which has the slightest inclination to improve relations with India.
While one does not really know of the judicial process in Pakistan, terror fountainheads like Hafiz Syed, Maulana Masood Azhar, Syed Salahudeen, Dawood Ibrahim roam free under state patronage but people like former Indian Navy officer-turned-businessman Kulbushan Jadhav are abducted illegally, tortured, held in captivity, denied consular access in violation of the international norms despite 13 requests being made by the Indian government and then sentenced to death in a pre-meditated trial by Field General Court Martial (FGCM) under the Pakistan Army Act (PAA).
The verdict announced to the world by Pakistan Army's Inter Services Public Relations (ISPR) sent shock waves in India and inflamed passions, as it naturally would.
Pakistan's unprecedented act of awarding death sentence to Jadhav presents one of the biggest diplomatic challenge to Prime Minister Narendra Modi, and the people of India would be watching his reponse. As this shocking news was breaking, Modi was busy holding pre-scheduled engagements but then the sternness with which the Ministry of External Affairs reacted to the situation makes it more than clear that India would fight it out in whatever way necessary.
Consider the wordings of the demarche issued by Foreign Secretary S Jaishankar to Abdul Basit, Pakistan High Commissioner in New Delhi. Indian government used harshest ever word in a diplomatic parlance to describe the trial of Jadhav as "farcical" and his death sentence as "premeditated murder". By doing this the Modi government echoed not just popular domestic sentiments but also conveyed to the word that Pakistan is a rogue state, which has scant respect for the due process of law and international norms.
Here is what the demarche handed over to Pak High Commissioner Basit by Foreign Secretary Jaishankar said:
1. We have seen the ISPR press release today regarding Shri Kulbhushan Jadhav, an Indian citizen, who has been awarded a death sentence by a Pakistani military court martial.
2. Shri Jadhav was kidnapped last year from Iran and his subsequent presence in Pakistan has never been explained credibly. The Government of India, through its High Commission in Islamabad, has repeatedly sought consular access to him, as provided for by international law. Requests to that effect were formally made 13 times between 25 March 2016 and 31 March 2017. This was not permitted by the Pakistani authorities.
3. The proceedings that have led to the sentence against Shri Jadhav are farcical in the absence of any credible evidence against him. It is significant that our High Commission was not even informed that Shri Jadhav was being brought to trial. Senior Pakistani figures have themselves cast doubt about the adequacy of evidence. The claim in the ISPR release that Shri Jadhav was provided with a defending officer during the so-called trial is clearly absurd in the circumstances.
4. If this sentence against an Indian citizen, awarded without observing basic norms of law and justice, is carried out, the Government and people of India will regard it as a case of premeditated murder.
Jadhav would be given an opportunity for appeal but given Pakistan's track record it can't be said that he would get a fair trial in appeal. It's a matter of speculation if an engagement between Modi and his Pakistan counterpart Nawaz Sharif could have an impact. What is clear is that the issue rests with Pakistan Army, and in Pakistan, it is the army not the civilian authority which calls the shot, or, perhaps, the civilian authority conveniently passes on its responsibilities to the army to be in office.
What is known for fact is a statement by Sartaz Aziz, foreign policy adviser to Pakistan prime minister in December, last year where he had emphatically said there was no conclusive evidence against Jadhav. A Geo TV report attributing Aziz, as told to a full Senate chamber of Pakistan Parliament, had said: "The dossier on Indian spy Kulbhushan Jadhav contained mere statements. It did not have any conclusive evidence... What the dossier contained was not enough. Now it is up to the concerned authorities how long would they take to give us more matter on the agent," Aziz said. Hours later, the Pakistani establishment issued a counter statement to Aziz's views, claiming that was "absolutely incorrect". That speaks volume of the way Pakistani establishment under military control works.
Incidentally, Pakistan Army or Field General Court Martial's verdict "under section 59 of Pakistan Army Act and Section 3 of its Official Secrets Act" to pronounce Jadhav "guilty of charges to organise espionage/sabotage activities aiming to destabilise and wage war against Pakistan... in Balochistan and Karachi" came a day after India rolled out a red carpet welcome to Bangaldesh Prime Minister Sheikh Hasina.
All eyes are on Modi as to how will he respond to Pakistan. This time around he will be facing pressure too from the security forces and thus has to respond suitably.
Find latest and upcoming tech gadgets online on Tech2 Gadgets. Get technology news, gadgets reviews & ratings. Popular gadgets including laptop, tablet and mobile specifications, features, prices, comparison.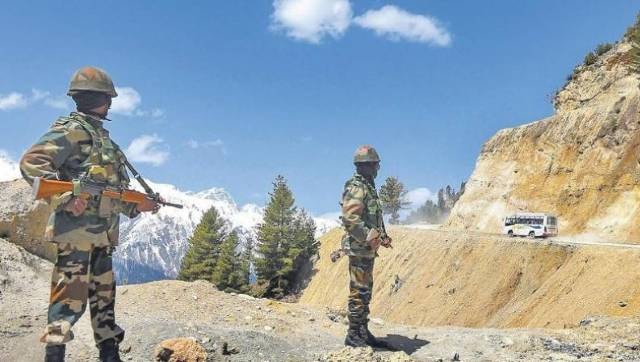 India
MEA Spokesperson Anurag Srivastava said disengagement would require mutually agreed "reciprocal actions", and the way ahead will be to refrain from making any attempts to unilaterally change the status quo at the LAC
India
If Umar, Safoora and Sharjeel become political leaders in the future, who gains the most?
F Pedia
No farmer has been rendered any worse-off pursuant to these farm bills. They can not only continue availing benefits under the old system, but can also simultaneously engage in direct trade