Kudos to Pranav Dhanawade, but his innings is symptomatic of what ails school cricket
The non-declaration during Pranav's innings of 1009 showed a lack of sportsmanship. It is important to win, but it is more important to win gracefully.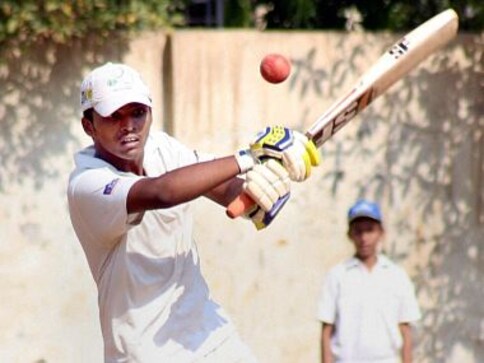 Congratulations to Pranav Dhanawade. This is a feat of gargantuan proportions. The pitch, opposition or anything else doesn't matter, the achievement is staggering.
Enjoy the moment, kid. You deserve it. But don't let this be the last great achievement of your life. Use this innings as a stepping-stone to achieve greater things. You probably wont get a thousand in an innings again, but go for ten thousand in your career.
The match, on the other hand, has done more damage than good to the game of cricket.
No one described the state of school cricket in India better than Rahul Dravid when he spoke recently at the MAK Pataudi Memorial lecture. In his speech Dravid talks a lot about how cricket participation is decreasing and losing ground to sports like football, which allows more participation and makes it easier to love the game.
Speaking about an Under 14 KSCA match, Dravid had this to say:
"In one game the score was some 325 for 1, there were 2-3 double hundreds and a few more big hundreds in that tournament. I want to ask AB de Villiers if he scored double hundreds in one-day games at 12-13?..... At that under-14 match where the score was 325-1, ask yourself what did the eight other players on the batting team do all day? At age group tournaments of this level, there need to be strict guidelines to allow more children to participate, rather than have the more accomplished kids to rack up big centuries. Those are important, yes, but in selection matches or zonal games. In school and club cricket, there should be some rules to even out the game-time available to everyone."
The exact opposite of what Dravid suggested has happened in this match. The decisions made by the coach of KC Gandhi not to declare his innings or not to force Pranav to retire are the ones that are hurting cricket.
This match signaled a prevailing problem of going for individual accomplishments over the interest of the team and the sport. What was the coach of KC Gandhi thinking? Did he not think a lead of 700 runs was enough? Why did he need 700 more? When Sachin and Kambli made their famous record breaking partnership they were supposed to declare the innings. The naughty side of their youth and absence of Coach Ramakant Achrekar from the field made them bat on.
The story goes that when the coach Achrekar heard that they had not declared he was fuming and made them declare even though Kambli was on 349, one short of 350. That is how the game should be played, at least this level.
Most sportsmen who have succeeded in their sport have done so because they love playing the game. You can see the enjoyment in their eyes when they are on the field. This love is deep rooted from a very young age. Once diminished, it is very hard to rekindle.
Now imagine what the eleven kids from the Arya Gurukul school must be going through after that match. Look at the bowling figures - 0/284 in 20 overs, 2/350 in 23 overs. How does a child enjoy the game after a match like this?
As a child, all you want to do is play and have fun. As a team member of Pranav's you are happy for him, but if you are a middle order batsmen or on the bench you are pretty sure you could go the whole season without getting to bat or bowl. Where is the fun in that?
On the other hand if you are a bowler then you are more inclined to hang up your cleats and say, this sport is just for batsmen, I need to have my head examined if I want to be a bowler.
Damage done.
The non-declaration showed a lack of sportsmanship. It is important to win, but it is more important to win gracefully. This is a lesson that young sportsmen must be taught. What are we teaching the youth? Embarrass the opposition? Go for your own personal glory at the expense of everyone else? The coach of KC Gandhi went for individual glory, embarrassed and shattered the confidence of twelve and fourteen year old boys and did some damage to the sport of cricket along the way. He is the coach of a school team, how dare he embarrass the opposition children like this?
The state of Indian cricket at the school level is in a dire situation if matches like this continue to happen. The rules at the school level must be changed. Everyone must get to play; mandatory declarations and retirements must be implemented. If we truly want to build love for the sport, spot talent and encourage the youth then deep rooted changes in rules are the need of the hour.
This is not to take anything away from Pranav's innings.
But from here on out, Pranav is going to have his hands full with expectations beyond belief. To become a global sensation - Sachin Tendulkar tweeting about him, BBC and The Guardian covering his achievement -  isn't easy to handle. Sure, Tendulkar went on to fulfill his destiny but, in Dravid's words, Sachin was a freak, an extra-ordinary talent backed by an incredible support-system.
"The history of Indian cricket is littered with stories of young exciting talent falling by the way side due to a lack of support and guidance," said Dravid.
For a short while Pranav's every innings is going to be documented, every match is going to have the press and every move is going to be tracked. It isn't right to do this to such a young man and his family but it is going to happen. A few more days of fame is fine, but then let him grow on his own. Let the press not be a parasite on his every success and failure. Let not every corporate feed off him and milk him dry till he crumbles under the pressure.
Let him play, leave him alone.
First Cricket News
The Chetan Sharma-led selection panel was sacked by the Board of Control for cricket in India (BCCI) and fresh applications were invited
First Cricket News
Langer walked away from his job in February after failing to secure the public support of key players and following acrimonious contract talks with Cricket Australia.
First Cricket News
As per the FICA report, "49% would consider rejecting a central contract if they were paid more to play in domestic leagues".