Kirti Azad turns to acting: Bollywood films 'Kirket' and 'Kirket2' to expose cricket's dark underbelly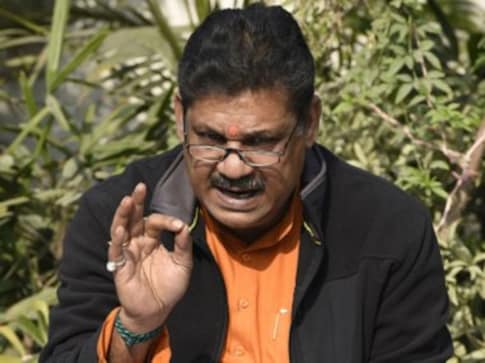 Tired of what he claims is a stoic silence to his clarion call in India to clean cricket's dirty underbelly, a former World Cup winner has sought the best route to attention: Bollywood.
Suspended BJP Member of Parliament (MP) Kirti Azad will now act in two back-to-back films to highlight woes in Bihar cricket, and troubles in the beleaguered Board for Control of Cricket in India (BCCI), the world's richest cricket board.
Titled Kirket and Kirket2, the movies will hit theatres across India and abroad in February 2017 and be listed for international film festivals. Yogendra Singh of Bollywood fame, who helped veteran actor Sunny Deol direct Ghayal Once Again, will be directing the film. Vishal Vijay Kumar, who scripted Ghayal Once Again and some popular Ekta Kapoor serials, has worked on the script that has open digs at alleged cricket officials against whom Azad has been campaigning for long.
"This is my story, my journey to get recognition to my state Bihar from the BCCI. And also about my fight against corrupt cricket managers. Bollywood is the best way to get into the hearts of Indians," says Azad who will essay a real life role in the film that will also have some cameos from cricketers, ranging from former Indian skipper Bishen Singh Bedi to Maninder Singh, Atul Wassan, Surinder Khanna and even Manoj Prabhakar.
Azad says Kirket2 will focus on his fight against corruption in the Delhi and District Cricket Association (DDCA) that is currently the subject of probe by the Central Bureau of Investigation (CBI) for misappropriation of funds running into hundreds of crores.
Those producing the film say there are characters who are similar to senior managers in the DDCA blamed for the mess in the cricket board with charges ranging from creating false companies, setting up false accounts to misappropriate cash and accepting bribes for selecting over aged players to represent Delhi.
An important element of the second part — sequel — of the movie Kirket would showcase how former Indian skipper Bishen Singh Bedi used a proper system to make profits from ticket proceeds in a single test match against corrupt managers showing losses in more than 30 matches of the Indian Premier League (IPL).
"I will show what can be done if you stay away from corruption," says Azad.
An estimated 5,000 prints of the movie will be released all over India, claimed Azad in an interview. He said he hopes the movies will make many in India sit up and take notice, even create a movement of sorts and eventually, root out corruption from cricket.
Within seconds, he admits its a tall claim but says everything is doable in India only if someone fights to the last. Azad says he was inspired by movies like Ghayal, a Sunny Deol-Meenakshi Seshadri starrer which highlights the plight of a young boxer Ajay Mehra (Deol) and his fight against a powerful industrialist Balwant Rai (Amrish Puri). "I also want to fight to the last," says Azad.
Azad's producers have — probably deliberately — picked up the writer of Ghayal Once Again to get the best mix of Bollywood masala and sentiments, but with a stern message that the movie will have no heroines, no raunchy title songs.
The veteran cricketer, a MP from Bihar's Darbhanga district, says he was pained when his state Bihar was neglected by the BCCI after it got bifurcated and Jharkhand was created and got a full BCCI membership because its capital was Jamshedpur, home to all cricket activities in the state. "That was wrong, evident from the recent ruling of the Supreme Court following Justice RM Lodha's recommendations. My movie will bring the truth to the living rooms of millions of people in India, especially Bihar where cricket is spelt as Kirket."
He says though he was suspended by the BJP for targeting finance minister Arun Jaitley over alleged irregularities in the Delhi and District Cricket Association (DDCA), he did not violate any party discipline and wrote a three-page letter, a six-page copy of Lok Sabha proceedings, an 8,000-page document and four CDs, highlighting his point of view. The BJP has not responded, Azad says he has even written to PM Narendra Modi.
Azad, often described as the lone ranger against corruption in the DDCA and alleged malpractices in the world's richest cricket board, says he hopes the movie will send a strong signal to his party that suspended him without any "genuine reason".
He calls himself the 'Last Man On Cricket's Burning Deck', akin to the sharp archer Ekalavya who was silenced by his guru Dronacharya because warrior king Arjuna felt slighted by the pace of Ekalavya's powerful arrows.
"Highlighting corruption is not a crime, we must get rid of corruption, especially in a game which impacts the nation very strongly," says Azad. He reminds how the Supreme Court is still silent on the envelope containing names of 12 top cricketers, Azad says it pains him that despite Delhi Police's claims that it had a water tight case against corrupt cricketers in the 2013 IPL spot-fixing and illegal betting scandal, a lower court threw the case out of the window.
"The court has exonerated the cricketers, the BCCI continues to ban them. When (former Indian skipper) argued the BCCI ban in a Hyderabad Court, the BCCI did not send its lawyers and it was too easy for Azharuddin to get free from match-fixing charges," says Azad.
"So where do we stand? It is for the BCCI to come clean, if it doesn't the world of cricket will not take India seriously," argues Azad.
He has a point that cannot be ignored.
First Cricket News
Amid stark contrast in achievements in domestic cricket, Madhya Pradesh and Mumbai will lock horns in the Ranji Trophy final.
Politics
Kishor said the exercise should not become a bone of contention among the ruling NDA partners in Bihar, where electoral politics is largely driven by caste-based equations
India
In the video, the officials were seen counting the bundles of notes of all denominations between Rs 100 and Rs 2,000 piled up on the table and bed