Kidnapped Mexico footballer Alan Pulido escapes after fighting captor
Mexican football player Alan Pulido was rescued after he untied himself, punched one of his kidnappers and took away his phone to call police hours after his abduction
Mexico City, Mexico: Mexican football player Alan Pulido was rescued after he untied himself, punched one of his kidnappers and took away his phone to call police hours after his abduction, authorities said Monday.
Pulido, 25, cut his right wrist when he punched a glass pane on a door as he tried to flee before police found him at a home in his northeastern hometown of Ciudad Victoria late Sunday, Tamaulipas state prosecutor Ismael Quintanilla said.
Pulido, who plays for Greek giants Olympiakos and was part of Mexico's 2014 World Cup squad, was kidnapped late Saturday by four armed men as he returned from a party with his girlfriend in the crime-plagued region.
The woman was allowed to leave, while Pulido was taken to a two-story house, where he eventually unbound his hands and found himself alone with one of his abductors on the first floor, Quintanilla said.
"They traded blows. (The phone) belonged to the criminal. He takes it and calls (emergency number) 066," Quintanilla told Imagen radio.
"It all happened very quickly."
The police swooped in within minutes and detained one suspect.
When officers heard the glass break, "they thought it was gunshots or something, and he thought that it was the other (kidnappers) who were coming back," the prosecutor said.
Pulido had a bandage around his right hand when he appeared briefly at a news conference in the early hours of Monday.
Wearing a multicolor sleeveless shirt and shorts as he stood alongside Governor Egidio Torre Cantu, Pulido told reporters that he was "very well, very well, thank God."
Officials said the injury was not serious.
Pulido later took to Twitter to thank the authorities for their help and to people for their prayers, which "helped us a lot during this terrible experience in our lives which we don't wish upon anyone."
Thousands missing
The abduction put a spotlight on the murders and kidnappings afflicting the state, where thousands of people have disappeared and drug cartels have fought brutal turf wars for years.
The suspect who was arrested was from the neighboring state of Veracruz and was a member of one of the gangs operating in Ciudad Victoria, Quintanilla said.
The kidnappers had called Pulido's family twice to demand a six million peso ($325,000) ransom.
Federal police chief Enrique Galindo told Radio Formula that there was no violence during the rescue and that no ransom was paid to kidnappers who thought they could have made a "nice profit."
The dramatic rescue is a major success for the authorities in a state where the population is regularly terrorized by kidnappings and gunfights in the streets of large cities.
Some Tamaulipas roads are so dangerous that the federal police sometimes escort travelers in protective convoys.
More than 5,500 people have disappeared in Tamaulipas, out of a total of around 28,000 reported missing across Mexico.
Olympiakos thankful
Pulido's kidnapping shocked his current and former clubs.
"We thank each and everyone of you for your concern and prayers in these difficult times," Olympiakos said on Twitter after Pulido was rescued.
The striker played in the Greek Cup final on 17 May -- his team lost to AEK, 2-1 -- before leaving for Ciudad Victoria.
He signed a four-year contract with Olympiakos last season, and scored four goals in six matches this season.
Pulido previously played for Mexican club Tigres of Monterrey.
He did not see any playing time in the 2014 World Cup in Brazil, and was not called up for the Copa America Centenario tournament, which starts this week.
His abduction brought back memories of the kidnapping of Argentine manager Ruben Omar Romano in Mexico City in 2005. Romano, who was coaching local club Cruz Azul at the time, was rescued after 65 days of captivity.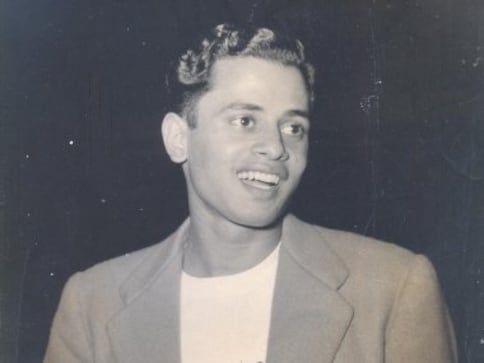 Sports
Nandu Natekar's matches through the 1950s at the CCI and Bombay Gymkhana had salivating spectators queuing up for tickets overnight, with several having to be turned away because there was just no more space in the playing hall.
Sports
The 21-year-old Hungarian, who smashed Michael Phelps's world record in 2019, hit the wall in a new Olympic record time of 1min 51.25sec.
First Cricket News
Hasan, since his comeback to the Pakistan team early this year after a spate of injuries, has impressed greatly with the ball but at times his hard-hitting in white ball games has also helped Pakistan.