Kidambi Srikanth's success story: How a farmer's son took to the badminton court and emerged champion
Kidambi Srikanth would have been growing paddy every kharif and rabi season in Guntur district of Andhra Pradesh, if his parents had not decided to let him pursue his dreams on the badminton court.
Picture this. It is remotely possible that in their free time, Kidambi Srikanth and Kidambi Nandagopal would have been supervising agricultural operations, growing paddy every kharif and rabi season at their fields back home in Guntur district of Andhra Pradesh, if their parents had not decided to let them pursue their dreams on the badminton court. Hailing from an agricultural family, with land given out on lease for tilling, the Kidambi family played a part in sowing the seeds of success for Indian badminton instead.
It has been 16 years since Nandagopal, the elder of the two, left home for Visakhapatnam when he was selected by the Sports Academy of Andhra Pradesh. A year later, Srikanth followed suit, with the two sharing a room at the hostel. A few years later when their coach Sudhakar Reddy, a former Andhra state champion, moved to Khammam, the two brothers shifted location as well.
Father KVS Krishna says badminton took flight in their life after the construction of a brand new municipal stadium near their home in Guntur around 2000. The brothers would go to play at the new facility and their interest in the game took root.
Having played cricket at the district level in Guntur, Krishna believes sports plays an important role in character-building. But instead of a team sport like cricket, he decided to give both his sons to an individual sport.
"It was one of the toughest decisions but now I say it was the finest decision I took 16 years back," beams Krishna.
It was a courageous decision given the Indian middle-class mindset to focus on academics. "Courage, yes and also money," says Krishna. "I would not say it was a gamble. We thought if he is not suited for the sport, we can stop just before class 10 and then let him focus on academics."
Coach Pullela Gopichand's mantra always has been that single-minded focus is essential to achieve success. He does not approve of multitasking — no juggling between academics and playing the sport at the Academy, and no party-hopping or keeping irregular hours. Srikanth and Nandagopal's mother Radha Mukunda agrees. "Only thing I told my sons was if you choose the sport, do it seriously. If you choose books, do it seriously. Do not put your legs in two boats otherwise you will sink," she says.
Having stayed together for years together, the two brothers share a special bond. Srikanth says he is grateful to Nandu, pointing out that "he has been by my side through my difficult times". The mind of a sportsperson is a very lonely place and more than conquering the rivals on court, vanquishing the demons in the mind is far more challenging. The emotional angst of staying away from parents, living a regimented life, coping with injuries, and coming to terms with first-round losses are all the more difficult if a player does not have an anchor alongside. For Srikanth, his elder brother is that support system.
Initially, while Nandagopal who is a doubles player for India, was known to be focused on the game, Srikanth had the reputation of being a slacker, not bothering about diet or exercises that tired him out. The turning point was Nandagopal's admission to the Gopichand Academy, where Srikanth did not get through initially. For six months before he also got through, he went into a shell, skipping his sessions at the Sports Authority academy, even losing to junior players.
Srikanth played doubles through his years in the junior circuit before Gopichand spotted a singles player in him and moved him out of the comfort zone of covering half the court or playing only at the net. This meant making huge technical adjustments. Doubles players hit a lot to the centre of the court to confuse the rivals while in singles, the trick is to probe the lines and the flanks. Srikanth had to also learn to play more from the back of the court and change his footwork. Srikanth was unsure what this change will do to his game and here again, Nandagopal who was moved from singles to doubles, stepped in.
"If Gopi Sir trusts your ability so much, why don't you," he asked. In hindsight, Gopichand's decision is the best thing that happened to Srikanth.
A constant with sporting families is that they need to learn to coexist with failures and success. To inculcate the belief that even if you lose today, you can win tomorrow.
"We must trust the children and they must believe in themselves. That is important," says Radha. Success on court is the only balm to soothe the pain of being away from their children. "If they win, we will forget all the pain. If they lose, we obviously feel bad," says Krishna.
While Srikanth is now being spoken of as world champion material and endorsements are coming in, the family understands that Nandagopal has not tasted the same level of success. "Keeping everything aside, forgetting that he is my brother, I admire Srikanth," gushes Nandagopal. Krishna says the doubles game depends on two players performing in tandem at the same time and there are bound to be more ups and downs. Nandagopal has had his share of international titles but the big moment has eluded him so far.
Born into a Brahmin family, initiation into non-vegetarian fare was not so easy. Not surprisingly, dal and aloo fry still remains the favorite for both brothers. That simple fare is what Srikanth will be enjoying this week while he takes a break from badminton and rests at home in Guntur.
Sports
The world number seven Indian will next play Hong Kong's world number 34 Cheung Ngan Yi in the group stage.
Sports
The soft-spoken Indian ace was not known for her aggression till five years back and it was chief national coach Pullela Gopichand, who had transformed her into an aggressive player ahead of the Rio Games.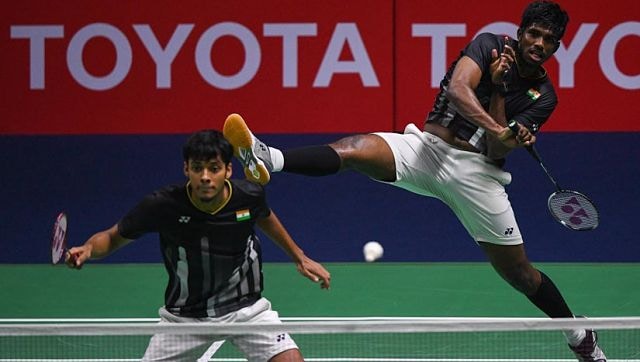 Sports
"In April, when the situation was pretty bad in India, seeing so many people die because of COVID was tough. In my family, I lost my maternal grandfather, it was a difficult time," he said.