Khabib Nurmagomedov will not be stripped of UFC lightweight belt despite post-match brawl, says Dana White
UFC fighter Khabib Nurmagomedov will not be stripped of his belt, despite inciting a brawl after his match with Conor McGregor, said UFC president Dana White
Los Angeles: Unbeaten Khabib Nurmagomedov will not be stripped of his UFC lightweight title despite his role in a post-match brawl Saturday, UFC president Dana White said in a website posting.
The 30-year-old Russian kept his crown with a fourth-round submission victory over Ireland's Conor McGregor in Las Vegas, improving to 27-0 in his professional career and 11-0 in UFC bouts.
McGregor was issued a 30-day competition suspension by the Nevada Athletic Commission (NAC) after the bout, among several short-term bans for fighters on the card in what is a common move after MMA bouts, with no contact allowed until 28 October before McGregor's ban expires 6 November.
Nurmagomedov had barely released his hold after McGregor tapped out when he launched himself over the Octagon fence, apparently targeting McGregor's training partner, Dillon Danis, as security tried to quell the chaos in the crowd. Nurmagomedov was hustled out surrounded by security officers as a pro-McGregor crowd jeered and threw drinks at him.
While UFC president Dana White did not present Nurmagomedov the title belt, fearing arousing the crowd's ire, he told TMZ in video posted on the UFC website that the Russian would not be stripped of the title and any punishment for the melee after UFC 229 would likely come from the NAC not the UFC.
"He absolutely keeps his title," White said, adding, "and he's going to get suspended (by the NAC), so maybe you give him a four-to-six month suspension."
White said the NAC has not given Nurmagomedov his prize money pending an investigation of the situation and could impose a fine for his actions. "(The NAC) took his whole purse right now and they are talking about keeping his purse. I do not think that that should happen," White said, adding, "you should not be able to keep his whole purse."
White said he thought the NAC should take a $250,000 fine. White told TMZ pay-per-view record MMA sales numbers above two million buys for the show made him "a little giddy" but he added that Nurmagomedov made the wrong decision to enter the crowd after a heckler from McGregor's camp.
"I don't think there's too many people who don't understand why he did it, but he shouldn't have done it. He's the world champion. He just beat Conor in front of the entire world. Stand up, get that belt wrapped around you. You won. The guy who's yelling at you means nothing," said White.
White wasn't sure what the future held for Nurmagomedov as far as opponents. McGregor says he wants a rematch but the NAC must rule first on just when the undefeated champion can return to the Octagon.
"We have to see how this stuff plays out with Khabib," White said.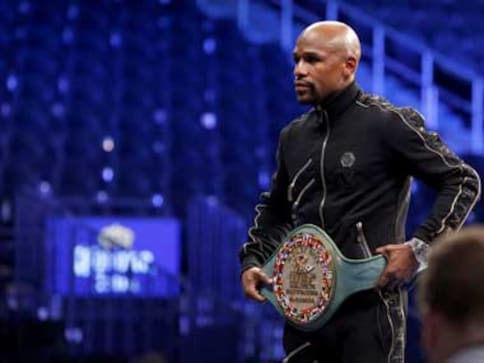 Sports
Floyd Mayweather has stated that a fight between him and UFC champion Khabib Nurmagomedov is quite likely to happen if both parties are willing to come to an agreement.
Sports
The possibility of a duel between boxer Floyd Mayweather and mixed martial arts star Conor McGregor got another boost Friday as Ultimate Fighting Championship (UFC) boss Dana White said he'd pay each $25 million to meet.
Sports
The 32-year-old McGregor had been an overwhelming favourite to register a winning return after a year away from the octagon.