Karpov Poikovsky International Chess: India's only representative Vidit Gujrathi joint-second in Siberian event
This is the first time that Vidit has been invited to be a part of such a strong closed event. If he performs well here, this might attract him invites to more such closed events.
The 19th edition of the Karpov Poikovsky International began on 27 May, 2018 in Poikovsky, a small Siberian town in Russia. The 10 player round-robin is being played with a time control of 100 minutes for 40 moves, followed by 50 minutes for 20 moves and then 15 minutes until the end of the game, with a 30-second increment from move 1. The field is headlined by the Russian star, GM Ian Nepomniachtchi and includes a strong line-up of players like Dmitry Jakovenko, Anton Korobov, Boris Gelfand and so forth.
The only Indian representative in the field is India's rising star, GM Vidit Gujrathi. This is the first time that Vidit has been invited to be a part of such a strong closed event. If he performs well here, this might attract him invites to more such closed events.
In the first round, Gujrathi's game against Victor Bologan was the first one to finish. By rating, Vidit was, of course, the favourite, with almost 100 points over the Moldovan GM. But Bologan's experience could not have been discounted. Besides, unlike Vidit, who is playing the tournament for the first time, Bologan is no newcomer to Poikovsky; he has played and won this event more than once.
The game began as a Queen's Indian where Vidit, after a slight misplay in the opening by Bologan, began mounting pressure on black's position. Planting a knight deep into enemy lines on c6, Vidit conjured up an elegant kingside attack. The highlight of the game was Vidit's exchange sac on move 25 which was very reminiscent of the positional sacrifices of the twelfth world champion in whose honour the tournament is conducted.
Five moves later, Bologan resigned. It seemed at first that the resignation might have come too early. But a closer look at the final position reveals that black is utterly paralyzed and playing on would only delay the inevitable.
After his amazing first round win, Vidit Gujrathi looked a little ambitious in the second round as well. With the black pieces, he essayed the Sicilian Najdorf. But his opponent, Vladislav Kovalev, decided to keep things solid and went for the 6.g3 line.
Kovalev seemed to have had the advantage out of the opening but wasn't able to find the best continuations. By the 30th move, Vidit had achieved complete equality with a tactical shot. In the exchanges that ensued, Kovalev was down an exchange but all his pieces were ideally placed to force a draw by perpetual checks.
This round also saw the top seed of the tournament, Ian Nepomniachtchi, speed past his rivals. While all the other games of the round were drawn, 'Nepo' conducted an excellent kingside attack against the tournament's defending champion, Emil Sutovsky, in a French Defence game to bring down the Israeli GM.
The third round of the event witnessed a faceoff between Gujrathi and the tournament leader, Ian Nepomniachtchi. Having won back to back games in the last two rounds and with an almost 40 point rating advantage over Vidit, Nepomniachtchi was surely the favourite to win the game.
But Vidit also had certain trumps in his favour. For starters, Vidit had the white pieces. Also, Vidit's opening preparation has always been top notch and it wasn't an easy task for Nepomniachtchi to achieve a trifecta with the black pieces in hand. Moreover, these are only the early stages of the tournament and there was no need for Nepomniachtchi to push too hard for a win. One rash move is all it would take for Vidit to turn the tables in his favour.
Vidit opened with the non-committal knight move 1.Nf3. The Russian GM answered by moving his queen's pawn two squares and soon a Queen's Gambit position was reached. Nepomniachtchi tried unsettling his young Indian opponent by thrusting his king knight pawn two squares forward on his 8th turn, thus uncorking a novelty. Vidit reacted well by stopping any further advance of the g pawn and then breaking open the queenside.
Neponiachtchi answered this with a pawn break in the center and this led to a complete liquidation. Having exchanged queens and two sets of minor pieces, an equal endgame was reached by move 20 and players agreed to a draw at this point.
Meanwhile, the second seed of the tournament, Dmitry Jakovenko benefitted from the endgame error of Emil Sutovsky in the third round to win his second game of the tournament. With this win, he was able to join Nepomniachtchi in the lead.
With a score of 2.0/3, Gujrathi still remains half-a-point behind the leaders, Ian Neppomniachtchi and Dmitry Jakovenko. But there are still six more rounds to go. Vidit has not only remained undefeated so far but has also played some really strong chess in Poikovsky. If he could carve out a few wins in the remaining rounds whilst keeping up his solid style of play, he is sure to finish atop the leaderboard of this prestigious event.
Sports
The fifth-seeded Bencic won the semi-final 7-5, 6-4 to set up a meeting Sunday with the winner of the other semi-final between former world number one Victoria Azarenka and qualifier Liudmila Samsonova.
Sports
Swimming Australia has pledged to set up an independent female panel to investigate after complaints last week about "misogynistic perverts" by dual Olympic silver medallist Maddie Groves.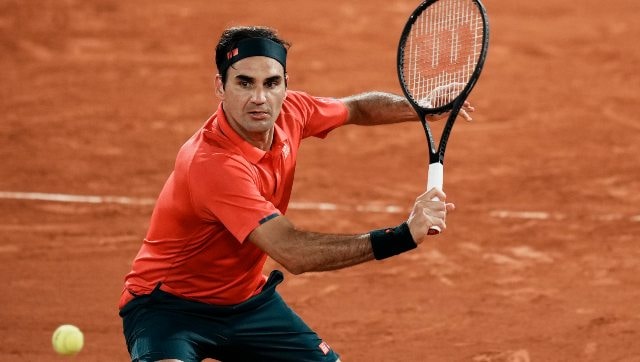 Sports
The 39-year-old Swiss star was playing in his first Grand Slam since reaching the semi-finals of the Australian Open in 2020, and made it into the last 16 with a gruelling four-set win over Dominik Koepfer on Saturday.