On the eve of its debut on the Indian sporting scene, Firstpost caught up with the founder of 'The Arena' by TransStadia – the venue for the Kabaddi World Cup 2016 – to know more about him and his eight-year journey in the industry.
Is this the biggest day of your life? We ask Udit Sheth, founder and managing director of TransStadia, whose nine acre venue called The Arena in Ahmedabad, will host its first event – the Kabaddi World Cup – starting Friday night.
"I wouldn't say that but it is an extremely exciting day, a project we have worked hard on for almost a decade…it's time has come," Sheth replied, pacing with us at the reception.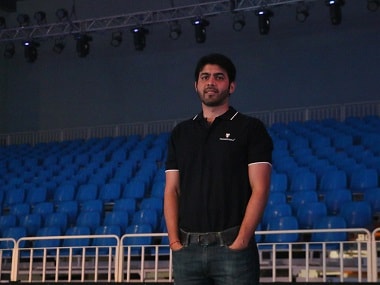 That Sheth was at the helm of the public-private partnership (PPP) project from scratch, since 2008, means that on the eve of the event his phone is incessantly ringing with requests and demands from bureaucrats, politicians and business partners. Yet, in the quarter of an hour he gave us before stepping out and zooming away in his black Jaguar car, he shared some tales from his journey.
The Narendra Modi push
Having worked in his father's auto component manufacturing business for eight years, Sheth decided that it was time to fly out on his own. "I was 29, I felt it was the right time to do something on my own. I got support to do something diametrically opposite to the family business," Sheth said.
After connecting with the UK-based company StadiArena, he returned back to India inspired, and wrote to many chief ministers in the country.
"I only got an encouraging response from Narendra Modi (the then chief minister of Gujarat), who immediately called us to his office," Sheth recalls.
Soon, a memorandum of understanding (MoU) for the unique PPP was signed at the Vibrant Gujarat Summit, a feasibility study was undertaken, project reports were filed, and after intense cabinet scrutiny, the construction finally began. With Modi rising to the post of prime minister, this project was given a 'Make in India' spin and now it's ready for a sport that's made in India.
The X-factors
It would be difficult to point out a single USP for The Arena (named so to accommodate a naming rights sponsor). The multi-sports facility overlooking the Kankaria lake has a FIFA-standard football turf, a members-only club, a sports-science testing facility that is currently being used for the Kabaddi WC and a 2,200-seater swanky indoor stadium featuring Swiss T-Box technology – a portable seating arena that can be altered or moved after a game/show is over.
"I would say it's the cosy environment," Sheth said, on being asked about the most exciting aspect of the indoor arena. "It's easy to get in and out of, you're at the edge of play wherever you are…it's like a big empty shell, we fit it out as we like for different sports."
With its environment-friendly structure, wheelchair accessibility, sports rehab centre and hospitality boxes, The Arena promises to be a stadium that Indian athletes and fans have deserved for long but never actually got.
What the future holds
Just over a week back, the stadium wore a completely different look than what you will see in Friday's inaugural encounter. Some flooring jobs were undone, the entry to the football turf side was patchy and a few ceilings had iron rods peeking. But like in most desi weddings, where last-minute marathons get work done, The Arena's indoor stadium has miraculously made itself fit for its debut on the international sports scene.
"Event management always works that way – a lot of the things get done at the last minute," Sheth explains. "That said, it would be a while before the stadium becomes entirely functional. The northern side is still nearing completion, it should be done in 40 days," he adds.
What's in store after the completion is a prospect we're excited about. With its capabilities, The Arena looks set to give the Indian sporting map an unlikely centre in Ahmedabad, and with franchise-based leagues hotting up, we can expect much action in the years to come.
The goras at UK's Stadi Arena are considering this as their foothold in Asia, while Sheth is focusing on taking this model to other Indian cities. "I want to see 10-12 of these across India…once we do that, we're going to blow the market away!" he said.
On Friday, the Kabaddi World Cup 2016 begins what can be called a new legacy for the sport but even before its finals, we should see an iconic winner – the venue.
Read more: Full schedule, when and where to watch, live coverage on TV, online streaming
Updated Date: Oct 07, 2016 18:26 PM