Kabaddi World Cup 2016: India's cup of glory follows familiar script
As Anup Kumar lifted the Kabaddi World Cup trophy on Saturday, the theme song blared from the speaker saying 'Jeeta dil India ka, ab jeetni hai duniya.' It wasn't supposed to be any other way; it was India's cup all the way.
As India captain Anup Kumar lifted the World Cup trophy on Saturday, the team was showered with golden streamers and confetti. The World Cup theme song blared from the speaker, 'Jeeta dil India ka, ab jeetni hai duniya.' It wasn't supposed to be any other way; it wasn't going to be any other way.
This was going to be India's cup of glory. Their show.
And over the two weeks, that's exactly what it was. India's game going out to the world, newbies trying their hand at it, but the hosts emerging proven masters. Though they started with a stutter, against Korea, they finished strong, with a 38-29 win over their nearest competitors, Iran, in the finals.
"In kabaddi, no one can beat us. We are the best," exclaimed Ajay Thakur. He was India's player of the tournament and of the final. He scored 12 raid point in the final against Iran, including a two-point raid that turned the game in India's favour in the 25th minute. Thakur, whom Kumar has insisted is the best raider in the country, also finished top of the world: 64 raid points in seven matches made him the highest scoring player in the tournament.
Against Iran, he squared off against the best defensive unit at the World Cup and broke their spirit down, point by point. Even a experienced and quality player like Fazel Atrachali, Iran's left corner, was rushed into making mistakes in the second half.
That has been a major part in India's success. While their defence is not exactly a weak link, their raiding strength is unmatched. They had a wealth of talent in that department; so good were Thakur and Pardeep Narwal early on in the event that India could afford to leave Pro Kabaddi's poster child Rahul Chaudhuri on the bench.
"Technically, our raiders are the best," Kumar had said on the eve of the final. That chests-puffed confidence is what we have come to expect from our kabaddi stars, and that's what they delivered.
The game, which until two years ago was seen as a rural pastime, has given Indian sport an explosive, athletic edge. Indian sport is mainly seen as skill-based but here is a game that plays on sheer competitiveness and physicality of the practitioners. But it's a sport that hasn't, yet, grown far from its roots.
As the World Cup showed, not all countries have picked it up soon or well. The lack of competitive nations in kabaddi will go some way is washing off the sheen of any success this team brings. And that was one of the bigger challenges this World Cup had to overcome.
They had about three teams out of 12, with India still runaway leaders of the pack, which could be seen as title contenders. Teams like USA, Australia and Argentina were hastily formed with an express purpose of sending a 14-man squad to Ahmedabad. And expectedly, the teams struggled to grasp the nuances of the game and translate them to results. That inexperience from other teams, even though they took on the challenge with gusto, affected the quality of play.
The game is already robust of nature, and the inexperienced players from the newer kabaddi countries made it seem chaotic. It was a good mess. It was entertainment. But not worthy of a World Cup.
Korea injected an element of enthusiasm and surprise into the tournament. They started off with possibly the biggest win of their young kabaddi life, beating India 34-32 at World Cup's first day, first show. They went through the group stages unbeaten and gave Iran a run for their money in the semifinal as well. Their young star Jang Kun Lee was adjudged the player of the tournament. On his own, he was the most effective player at the World Cup, bailing Korea out of trouble against traditional kabaddi powerhouses India and Bangladesh.
The kabaddi script returned to all too familiar lines as India and Iran made the title clash. Four times in the past India had squared up against Iran in the final. All four times they had overcome the stong challenge of the West Asian nation. Though Iran looked like finally breaking that jinx when they led at half-time, India's quality at the crunch became all too apparent in the final 15 minutes of play.
"Each one of us will go down in history as world champions," a delighted Kumar told the media after the match.
They had already won the first two editions of the Kabaddi World Cup, held in 2004 and 2007. But this edition, with the game being brought up to date by cutting edge television production and a social media overdrive, suddenly seemed to have a lot more importance. With a million eyes watching, it somehow had greater meaning. The gold dust will take some time to settle.
India
The advisory signed by Subrat Tripathy, CEO of APSEZ (Ports) said that it will apply to all terminals operated by APSEZ and including third party terminals at any APSEZ port till further notice.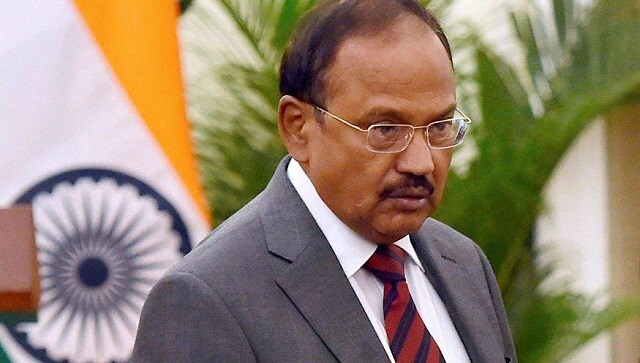 India
The conference will be in a format similar to the regional security conference held earlier in Iran in 2019, reports ANI
World
Israeli Foreign Minister Yair Lapid said both he and Antony Blinken, "as sons of Holocaust survivors", know there are moments when nations must use force to protect the world from evil