Kabaddi World Cup 2016: How captain Anup Kumar planned India's title win in final 10 minutes
Last night, in the Kabaddi World Cup final against Iran, Anup was at his wily best, which eventually earned him the biggest title of his life.
While we are at the edge of our seats or tweeting furiously in the final ten minutes of a kabaddi match, here's what Indian captain Anup Kumar would be doing:
1. Ensuring that his best raiders are in play so that a small lead can be built.
2. While his top-form raider of the night is on the job, Anup himself would go in a non-do or die raid and steal bonus points, mostly from his favoured left corner.
3. Once there is a lead of at least seven to eight points, Anup would instruct his raiders to only attack in the do-or-die raid to slow the match down.
4. He would again go in, this time to assert his control over the match and often smile at the opponents, walking about the mid-line for the whole 30 seconds in an empty raid.
5. If there is a pending review, he would use it to challenge the opponent's raid or bonus claim. If successful, he tightens the screws and if not, he breaks momentum.
If experience is a comb that life gives you after you go bald, Anup is nearly there with his receding hairline. Indian kabaddi's biggest star from Gurgaon, who will turn 33 next month, has in the past decade been part of hundreds of kabaddi matches that have been decided in the last ten minutes.
The 10-minute factor
Last night, in the Kabaddi World Cup final against Iran, Anup, at his wily best, led India from 21-20 at the 30-minute mark to an eventual 38-29, earning him the biggest title of his life. He got most of the above things right, discreetly controlling the match and making his in-form raider Ajay Thakur the star of the show.
Since 2014, Anup has played in six big finals, five as captain, and all of them barring one have been decided in the final ten minutes:
Pro Kabaddi League (PKL)-1 final at 30 minutes: U Mumba trailed Jaipur Panthers 15-27.
Asian Games 2014 final at 30 minutes: India led Iran 22-21.
PKL 2 final at 30 minutes: U Mumba led Bengaluru Bulls 22-17.
PKL 3 final at 30 minutes: U Mumba trailed Patna Pirates 21-24.
South Asian Games 2016 final at 30 minutes: India led Pakistan 9-7.
World Cup 2016 final at 30 minutes: India led Iran 21-20.
In all the finals where his team was in the lead by even a single point at the 30-minute mark, Anup has ensured a win. Of course, no kabaddi final is like any other and Anup's 10-minute tactics depend upon various factors such as form and fitness of his team and his own state of mind. But if we were to see a pattern, the man has consistently tried to use his calm temperament to control matches.
His performance last night
India were in the lead at the 30-minute mark, but more importantly, they had momentum and crowd support after having trailed Iran 13-19 in a tough first half where the physically stronger Iranians overpowered the finest of our men, including Manjeet Chhillar.
In the final 10 minutes, Anup ticked most of the boxes and emerged victorious. With his trusted weapon Pardeep Narwal not firing, he sent in fresher legs in the form of Rahul Chaudhari and Nitin Tomar to raid and while they were at it, he wouldn't stop talking to his boys or while returning from his own raid. He used India's review opportunity too, although unsuccessfully. That the desperate Iranians, many of whom had tasted last-minute defeat at the hands of these very men at the Incheon Asian Games in 2014, began to make errors only helped India.
When we asked Anup last night if his PKL final experiences counted, he agreed, but credited his coaches for the World Cup final win. "I think experience mattered a lot. I was following the instructions of the coaches from the dugout and I passed them on to my players... he asked us to keep calm and not worry much about the lead... because we made a lot of mistakes when we rushed. I think the coach's tactics worked and helped us win," he said, adding that overcoming a lead of five to ten points in kabaddi is not a big task for this team now.
Times when he failed
Anup not having a 100 percent win record in big finals only tells much about the freak nature of kabaddi that ensures no team is perfect, however shrewd its leader may be. In season four of the PKL. U Mumba only managed seven wins out of 14 before getting eliminated. With his own defence being inconsistent, Anup would regularly lose control of the final 10 minutes and appear to lose his famed calm.
Earlier this year, in a high-octane final of the third season of the PKL, he made all the moves in the dying moments before tripping out of his lobby in his own raid and losing vital points, a silly error which haunted him for many nights.
That said, thanks to last night's heroics, Anup would always be etched in memory as the captain who won India a World Cup using others' brawn and his own brain.
Sports
Pacquiao accepted the nomination of his PDP-Laban party at its national convention on Sunday, pledging to honestly serve the Filipino people who he said have been waiting for a change of government.
First Cricket News
MI head coach Mahela Jayawardene said Rohit was kept out of the game as a precautionary measure.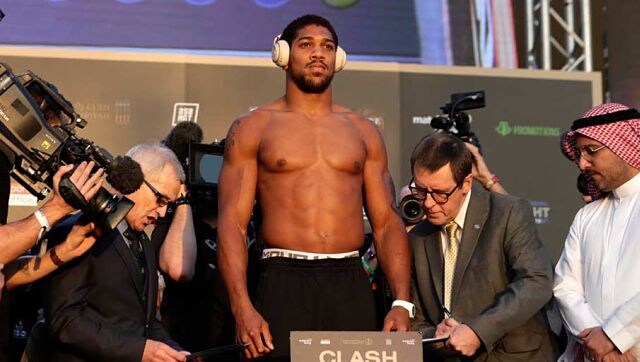 Sports
Talks of a unification 'superfight', which went on for months, appeared to be on the brink of ending in an agreement earlier this year only for a United States arbitrator to rule Fury had to fight Deontay Wilder for a third time.