Junior World Wrestling Championship: Anshu Malil clinches bronze in 59kg category; Mansi inches closer to medal
Anshu Malik ensured that India do not endure a medal-less day at the Junior World Wrestling Championship as she grabbed a bronze in the 59kg category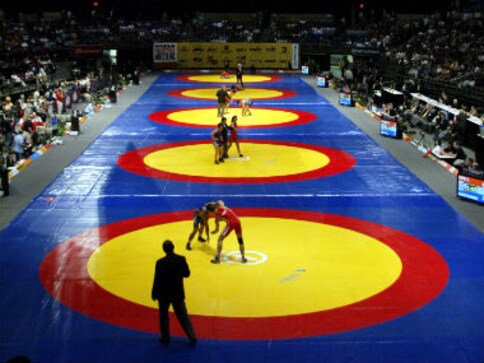 Trnava: Anshu Malik ensured that India do not endure a medal-less day at the Junior World Wrestling Championship as she grabbed a bronze in the 59kg category on Thursday.
In the 57kg category, Mansi will fight for a bronze.
Anshu beat Russia's Alina Kazymova 11-5 in the bronze-medal bout after losing her semifinal by technical superiority to Sae Nanjo of Japan.
Mansi had an impressive run till the semifinals in the women's 57kg category, winning both her bouts by technical superiority but lost by the fall to Andoriahanako Sawa from Japan.
She will now fight it out with the winner of the bout between Germany's Serena Boelke and Hannah Fay Taylor of Canada.
Karuna still has a chance to make it to the bronze medal round. She has to beat Poland's Kamila Czeslawa Kulwicka in the repechage round. She had a poor start, losing by technical superiority to French grappler Koumba Selene Fanta.
The other Indians struggled on the mat as Swati Shinde lost her 1/8 round 3-14 to Russia's Mariia Tiumetekova in the 53kg.
In the 62kg, Radhika was outplayed 2-8 by Russia's Daria Bobrulko in the quarterfinals.
Jaspreet Kaur could not even go beyond the qualification round, losing by fall to Turkey's Asli Demir.
Sonika Hooda lost her quarterfinal 1-5 to Korea's Hyeonyeong Park.
Sports
Vinesh downed two tough Chinese rivals on her way to the 53kg gold medal bout in which she overpowered Ecuador's Luisa Elizabeth Valverde 4-0.
Sports
Grappler Deepak Punia on Wednesday became India's first junior World Champion in 18 years after he claimed a gold medal at the junior worlds with a win over Russia's Alik Shebzukhov at Tallinn, Estonia.
Sports
In absence of Vinesh Phogat, Anshu Malik leads the pack with a silver medal as women wrestlers grab five medals at the Asian Wrestling Championships