Johan Cruyff and Total Football: The Dutch legend's legacy will live as long as the beautiful game does
Johan Cruyff was the Jan Vermeer of football. A Dutchman who on the pitch used fine brushstrokes and vivid colours to portray his image of the game.
Johan Cruyff was the Jan Vermeer of football.
A Dutchman who on the pitch used fine brushstrokes and vivid colours to portray his image of the game. An innovator, a re-inventor, an icon. Cruyff played for two great teams and began the legacy of another.
As in the wake of another cultural godfather's passing, David Bowie, Cruyff's death prompted delving into his back-catalogue to understand this universal reverence.
It starts in Amsterdam in the mid-1960s. Ajax had suffered their worst season in the Dutch top flight and in 1965 brought in former player Rinus Michels as new coach.
Local boy Cruyff was given his first-team debut at the age of 17 by English coach Vic Buckingham in that forgettable season but then found himself a regular under new man Michels. In that campaign, Ajax won their first Dutch league title in five years.
Between 1965 and 1970, the club picked up four league titles and two Dutch cups. Cruyff was the catalyst in their attack. He was the oft-dictatorial Michels's voice on the pitch.
An attacking midfielder who conducted play, directed teammates, provided the ammunition and was fully loaded himself. Cruyff played forward and dropped deep to confuse opponents. And like Brazil's Ronaldo and Argentina's Lionel Messi, he had this sudden change of pace to burst past defenders. The complete package.
Cruyff achieved wider recognition when between 1970 and 1974 he helped the Amsterdam club to a remarkable three successive European Cups and won three Ballon d'Or titles.
He scored both goals in the 1972 final against Inter Milan and then left Juventus chasing shadows in the impressive 1-0 victory a year later.
Cruyff and his teammates were exponents of Total Football. Implemented by Michels, it asked of the players to be able to fill in any outfield position on the field. The reason why Juve were unable to cope with Cruyff was because he dragged his marker around the pitch.
But while that symbolised Ajax and then the 1974 World Cup Netherlands side under Michels, Cruyff needed his own signature.
In the 23rd minute of the 1974 World Cup group match against Sweden, Cruyff found himself on the left wing. Edging the ball away from the bye-line and with velcro-like defender Jan Olsson stuck against his back, the Dutchman used his right foot to turn the ball back on himself and move towards goal with the Swede still looking the other way.
Fans in Borussia Dortmund's Westfalenstadion gasped as did viewers at home watching this brightest of Oranje on their new colour TVs. They had just witnessed the Cruyff Turn.
The Dutch got to the final where they faced Germany. The 'Total Football' team featuring Johan Neeskens, Arie Haan, Johnny Rep, Ruud Krol and Cruyff took the lead from the penalty spot in the second minute after Cruyff had been brought down in the area.
However, having been a clear second best for 20 minutes the Germans recovered with a penalty of their own before scoring what proved to be the winner just before the break through the great Gerd Muller.
In a 2014 interview Cruyff was asked about losing the final.
He said: "There's a very important sentence I learned from disabled people.
"The disabled people that do sport don't think about what they don't have but try to get better with what they do have.
"That is the same for me. We lost the game, but just forget it and look at the beautiful things."
Cruyff by this stage was a Barcelona player and had already endeared himself to the fans having helped the club win their first league title in 14 years.
After brief spells in the United States and at Italian club Levante, the Dutchman returned to his first love Ajax, where he won two more Dutch titles before a tiff saw him leave for rivals Feynoord, who he also helped win the Eredivisie in 1984 - his farewell season.
Another Netherlands great Ruud Gullit, who was a youngster in that successful Feyenoord side, tweeted on Thursday: "Thank you Johan for being my biggest inspiration and teacher. Thank you for paving the way for our generation."
Cruyff wanted to teach this next generation what he had learnt, so the natural next step was coach. And it was his mentor who would influence his style.
"There is no one I learnt more from than Rinus Michels. I often tried to imitate him, and that's the greatest compliment one could give," he said.
After helping Ajax to two domestic cups, Barcelona came calling and arguably made the most important signing in their recent history.
Cruyff focused on an attacking Barca, playing a midfield-heavy 3-4-3 instead of the traditional 4-4-2 or 3-5-2, bringing in players like winger Txixi Begiristain and Julio Salinas and developing academy stars Pep Guardiola, Sergi and Albert Ferrer.
The latter three were not imposing physically but were confident with the ball at their feet. That philosophy of bringing through ball-playing footballers from the club's La Masia academy remains today.
Add forwards Romario, Michael Laudrup and Hristo Stoichkov and you have a "Dream Team" which went on to win the club's first ever European Cup in 1992.
During his time at the Nou Camp, Cruyff helped Barca win four consecutive La Liga titles and the biggest honour in club football.
"Johan Cruyff has been my biggest influence," Guardiola said in 2011, while he was still coach of Barcelona. "I spent six years with him and learned an awful lot."
Former Barca midfielder Xavi, who won five league titles under Guardiola, said: "Cruyff established the team's philosophy 30 years ago and since then it has not changed."
To be such a huge influence at arguably the greatest club side in the history of football is some epitaph.
Cruyff died from lung cancer on Thursday, having only been diagnosed last October. He was a heavy smoker until he stopped after undergoing open-heart surgery in 1991.
Only last month, he said in a statement through his management company: "I have the feeling that I am 2-0 up in the first half of the match that has not finished yet. But I am sure that I will end up winning."
Sadly it was not to be.
Sports
Man City's win is an expression of their potency. At long last, Pep Guardiola, City, and Abu Dhabi are within reach of what they have longed for all these years.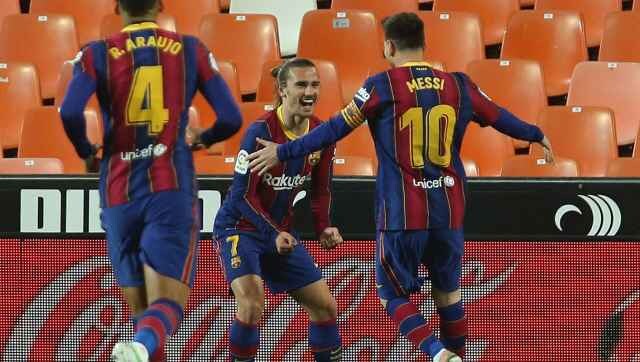 Sports
Messi scored a double to take his LaLiga tally to 28 goals for the season, seven ahead of Karim Benzema and even more remarkable given his relatively slow start.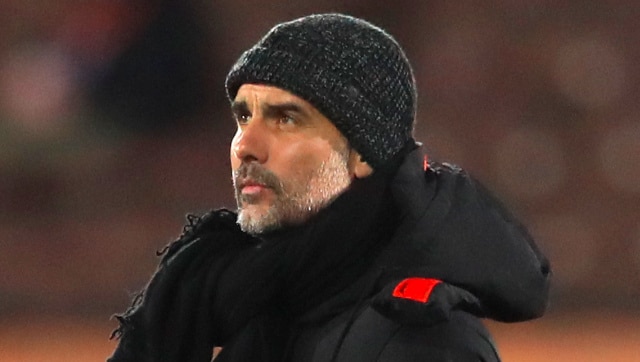 Sports
City moved to the brink of sealing a third Premier League title in four years at the weekend and Guardiola urged his side to maintain the same focus they have all season to see off PSG on Tuesday.