Javelin thrower Neeraj Chopra becomes first Indian athlete to win world championships
Javelin thrower Neeraj Chopra created history on Saturday when he became the first Indian to win a gold medal at any world championship in athletics.
Javelin thrower Neeraj Chopra created history on Saturday when he became the first Indian to win a gold medal at any world championship in athletics. On the way to the gold at the U-20 World Championships in Bydgoszcz in Poland, the 18-year-old set a World U-20 and senior national records with a throw of 86.48m, reports the Indian Express.
Chopra had won the South Asian Games gold in Guwahati earlier this year with a personal best of 82.23m and has often been hailed as a javelin sensation in India.
Chopra's 86.48m throw is a monumental effort – the eighth best among all javelin throwers this year, putting him ahead of the reigning defending Olympic gold medalist, Keshorn Walcott of Trinidad and Tobago, whose best in 2016 is 86.35m.
"When the spear left my hand on that second throw, I had a feeling that this was a special throw. I don't think I expected it to go over 86 meters but since the last couple of months, I have worked hard on my fitness, my technique and it all paid off today," Chopra was quoted as saying by Indian Express after his world record performance.
Chopra started off with an effort of 79.66m that put him in second place after the first round. But the Indian came up with the world record throw on his second attempt. The previous record of 84.69m was set by Latvia's Zigismunds Sirmais in 2011, says a report by the Times of India.
South Africa's Johan Grobler (80.59m) finished second while Grenada's Anderson Peters (79.69m) came third.
The 18-year-old comes from Khandra village in Haryana and back in 2015, he set a world leading distance of 81.04m to win the Inter-Varsity Championship gold in Patiala, continues the report.
However, the world record holder will not be able to represent India the Rio 2016 Olympics. Back in May, he had produced his best form since the SAF Games to clinch the silver medal at the Zygmunta Selesta Memorial in Warsaw, Poland but had fallen short off the qualification mark. The Olympics qualification standard for men's javelin is 83 metres and so far Chopra has performed 82.23 metres at SAF, 79.52 metres at the 1st Indian GP and 79.51 metres at Rehlingen Gemany Weltklasse meet respectively this season.
His effort at the U-20 World Championships would have given him a direct entry to Rio, however it has come too late as the last date for Olympic qualification is over.
"It is an incredible feeling. I was feeling strong and confident before the event and after the first throw I was sure I could go farther," he was quoted as saying on the JSW Sports website.
A beneficiary of the JSW Sports Excellence Program, Chopra has been training under Australian coach Garry Calvert at the Olympic Training Centre in Spala, Poland for the last two months. He said that it was the hard work put in by his coaches and the support of his family that proved to be instrumental in his success. "I have worked hard for this. Garry sir (Calvert) has been a huge source of knowledge and help. JSW have provided excellent support and my parents have always backed me to push myself to be the best in whatever it is that I do," he was quoted assaying.
Previously, two Indian women discus throwers, Seema Antil (bronze, 2002) and Navjeet Kaur Dhillon (bronze, 2014) had won medals in the World junior championship. Long jumper Anju Bobby George is the only Indian to have won a medal in the senior World championship, with a bronze in 2003, according to a report by The Hindu. 
Watch the world record here:
THE MOMENT! #JSW's Neeraj Chopra creates a new World U20 record with a throw of 86.48m at #WU20Bydgoszcz2016 pic.twitter.com/zL4gaR9bme

— JSW Sports (@jswsports) July 23, 2016
With inputs from agencies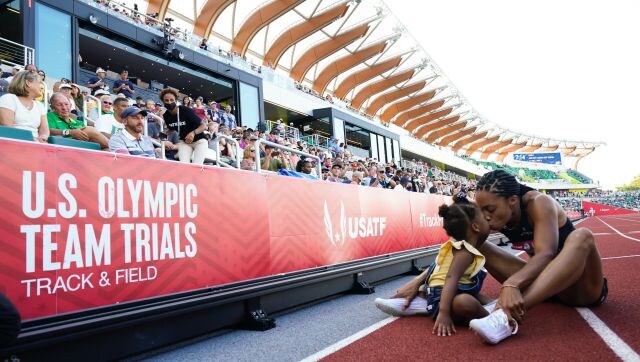 Sports
Allyson Felix gets a chance to win a 10th Olympic medal and break a tie with Jamaica's Merlene Ottey as the most decorated female track athlete in the history of the games.
Sports
Dutee Chand, who is the first high-profile athlete from India to open up about being in a same-sex relationship, said she often gets asked intrusive questions like 'tumhaara pyaar kitna door tak gaya?' or 'tum future main shaadi karogi?'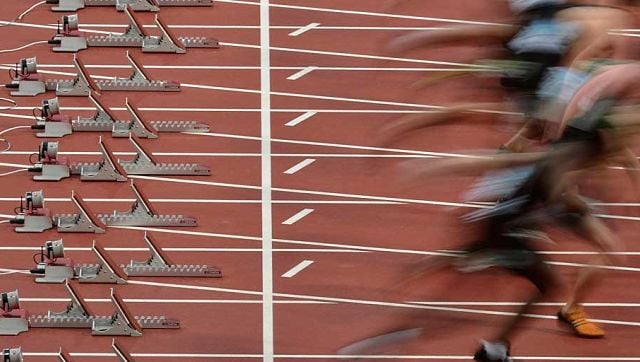 Sports
The decision to hold the fourth series of the Indian GP was taken after the AFI's efforts to send a 40-member team for competitions in Kyrgyzstan and Kazakhstan could not achieve success due to "changed quarantine rules" in those countries.