ITTF India Open: Sharath Kamal, Harmeet Desai march into pre-quarterfinals, Manika Batra bows out
Sharath Kamal and Harmeet Desai won their opening round matches in contrasting styles to enter the pre-quarterfinals of the ITTF India Open
New Delhi: Sharath Kamal and Harmeet Desai won their opening round matches in contrasting styles to enter the pre-quarterfinals while second seed Vladimir Samsonov suffered a shock defeat to crash out of the competition in ITTF World Tour India Open on Thursday.
Desai produced a special performance to beat higher-ranked Frenchman Tristan Flore while Kamal completed a comfortable win against Can Akkuzu, also from France.
World number 112 Desai outplayed 77th ranked Flore in the opening three games before the Frenchman fought back to take the Round of 32 clash into the seventh and deciding game.
Trailing 5-6 in the decider, Desai displayed his class to take the next six points and secure one of the biggest wins of his career. The eventual scoreline read 11-4, 11-6, 11-9, 9-11, 9-11, 7-11, 11-6.
"I have always found it tough against the French players. Therefore, really pleased to win this one. He played like he had nothing to lose after the first three games and I was a bit taken aback. The decider was very much a mental battle," Desai told PTI.
A little later, 62nd ranked Kamal came out firing on all cylinders against the world number 129 Akkuzu. The Indian ran away with the first game before taking a 9-3 lead in the second.
However, he gave a few loose points to reduce his advantage before a crisp crosscourt forehand drive helped him take the game. Kamal led 9-3 in the next game as well but this time he did not falter and closed it out comfortably.
The fifth game was well contested but Kamal saw his opponent off for an 11-5, 11-8, 11-4, 8-11, 11-8 win.
His next match against Japan's Yuto Muramatsu is expected to be much tougher. The world number 24 Japanese blanked Abdel-Kader Salifou of France in first round match.
"It was my first match so I was a little bit nervous. He got aggressive in the fourth game, so I had to match him on that front," said Kamal.
In other matches, Anthony Amalraj could not make much of an impact against Koki Niwa, the world number 19 from Japan, losing in four straight games.
It was also a forgettable day for the highest-ranked Indian woman player Manika Batra, who put up an ordinary effort against compatriot Mousumi Paul to go down 7-11, 11-8, 7-11, 4-11, 8-11 in the opening round.
However, the biggest upset of the day came when second seed Vladimir Samsonov got a thrashing at the hands of Japanese U-21 player Asuka Sakai. The 40-year-old from Belarus lost 5-11, 10-12, 9-11, 4-11.
First Cricket News
Goodall stood in 24 Test matches and 15 one-day internationals between 1965 and 1988.
First Cricket News
Broad said it would be great to have the injured Jofra Archer in Australia and have that express pace, but his side's bowlers would need to move the ball and to be relentless.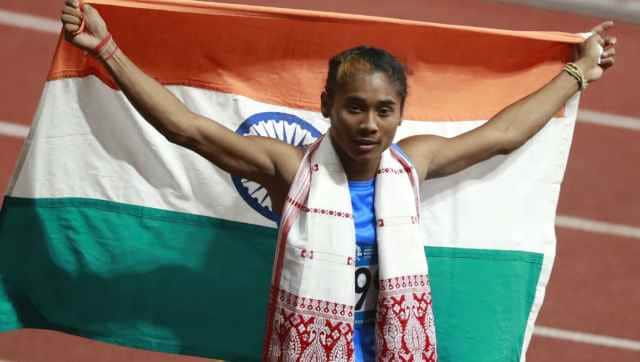 Sports
Das, 21, reported to the national camp at the National Institute of Sport (NIS) in Patiala recently.