Italy's new attacking style defies their legacy
Gone are the days of Italy and their defend-defend-defend tactics. What Cesare Prandelli has achieved this year at Euro 2012 is a landmark for a simple reason: he makes Italy look entertaining.
Gone are the days of Italy bolting the door by playing defenders who did basically nothing wrong. Gone are the days of playing Catenaccio. And it is decades since the 1-3-3-3 or the 1-4-4-1 formations were last used.
The Italy we are seeing at Euro 2012 are defying the very basis of Italian football. The football they are playing is uprooting the legend of anti-football and putting to rest the fact they can win only if they have a sweeper, eight defenders and a striker.
This brand of football which mixes up the old undying tales of Franco Baresi and Co. with the madness of Andrea Pirlo and Mario Balotelli.
There is no doubt Italy's defensive football contributed to their success on the world stage. Results were certainly mixed, but logic suggested that it was their best chance to win. Teams should play to their strengths and Italy did so. With all due respect to their attacking greats, the foundation of the Azzurri was always defence.
Cesare Prandelli understands his team's success lies in going forward:  "I felt we should play to our strengths, and with these players that means a much more attacking game."
Even Andres Iniesta the genius playmaker was happy with what he came up against:  "People are mistaken if they say that Italy is a team that only defends: they know how to play lovely football."
Dino Zoff, Otto Rehhagel (for Greece in Euro 2004), Azeglio Vicini and Heleno Herrera used the tactic successfully at club and international level, giving birth to stars like Claudio Gentile, Franco Baresi, Paulo Maldini and Alessandro Costacurta.
But football has changed. Teams are more competitive, games scrappier, tactics make a huge difference on the pitch and upsets are more regular.
What Cesare Prandelli has achieved this year at Euro 2012 is a landmark for a simple reason: he makes Italy look entertaining. Credit obviously will go to him, but the change was coming round the corner. They were constantly trying different methods and it has finally clicked.
His 4-1-3-2 formation is adventurous and attempts to score goals rather than keep clean-sheets. The sweeper position has vanished. Andrea Barzagli and Leonardo Bonucci sit back, but have the freedom of supporting Daniele de Rossi, who is their defensive midfielder and also takes a shy at goal when possible.
Their fullbacks are the most impressive though. Federico Balzaretti and Ignazio Abate (who wears no.7!!) were always looking to overlap with Andre Pirlo and Riccardo Montolivo supporting them in the middle as playmakers.
The change is apparent in how Pradelli deployed two attack minded midfielders and two strikers. With Antonio Cassano delving in wide areas, Balotelli stayed in the box and looked for the finish.
He also touched the audacious by using a 3-5-2 against Spain and it worked.
Not only did they have the passing of a team maturing into a unit, but they also tried the odd long-ball early on in the game. It did not work and they quickly reverted to quick pass-and-move. That did the trick, and England, who expected Italy to play like them... got the shock of their lives.
And that shows why Prandelli was right when he said, "A team must be able to change and adapt both within a game and from match to match."
Even against the mighty Spain, Italy scored and that was probably the beginning of a run which could end as a fairy-tale run if they win the championship.
This Italian team look unfazed with what their opposition offer. They have a belief that is growing with every win. All that apart and more importantly, this team can attack.
Sports
Juve, alongside Barcelona and Real Madrid, defended the aborted competition and said they had received "unacceptable" threats from UEFA and FIFA.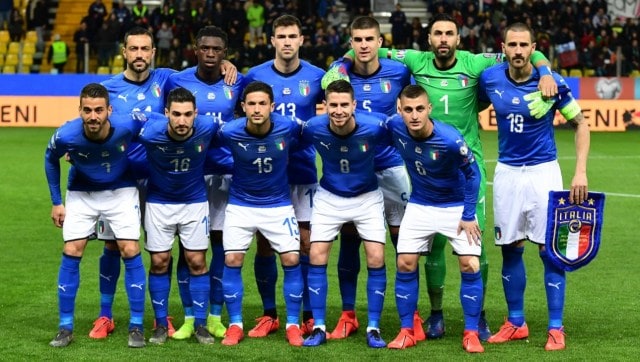 Sports
After being given the go-ahead by the Italian government, 28 players were given their first doses at two hospitals in Rome and Milan.
Entertainment
"I wouldn't be able to tell a story far from me, something that I haven't lived or that doesn't belong to me," says Italian author Antonio Dikele Distefano, whose novels inspired Zero on Netflix.