Italy striker Giuseppe Rossi evokes possibility of 'involuntary food contamination' after testing positive for banned substance
Italy striker Giuseppe Rossi proclaimed his innocence and evoked the possibility of 'involuntary food contamination' after testing positive for the banned substance dorzolamide
Rome: Italy striker Giuseppe Rossi proclaimed his innocence and evoked the possibility of "involuntary food contamination" after testing positive for the banned substance dorzolamide, media reports said on Tuesday.
Rossi, who has played 30 times for the Azzurri in a career blighted by knee injuries, tested positive following an Italian league match between his team at the time, Genoa, and Benevento on 12 May.
Dorzolamide is commonly found in eye drops. Its use is permitted if the athlete obtains a therapeutic use exemption, although if not applied to the eyes, it could be used as a diuretic.
"I've always competed cleanly and this case will surely soon be settled," Rossi said in a statement issued by his agent.
"The positive test is linked to an involuntary food contamination."
The 31-year-old Rossi, formerly of Manchester United and Fiorentina but currently without a club, has denied using eye drops, according to the Gazzetta dello Sport daily.
Eyedrops containing "dorzolamide and brinzolamide, when administered topically in the eye, are not prohibited", according to the World Anti-Doping Agency.
It added: "The rationale behind this exception is these drugs do not have a diuretic effect when topically applied."
Rossi now faces a one-year ban by the Italian anti-doping agency (Nado), according to reports. Gazzetta said Rossi's case is scheduled to be heard on 1 October.
Football
Riots broke out after the game ended Saturday evening at the Kanjuruhan stadium in Indonesia with hosts Arema FC of East Java's Malang city losing to Persebaya of Surabaya 3-2.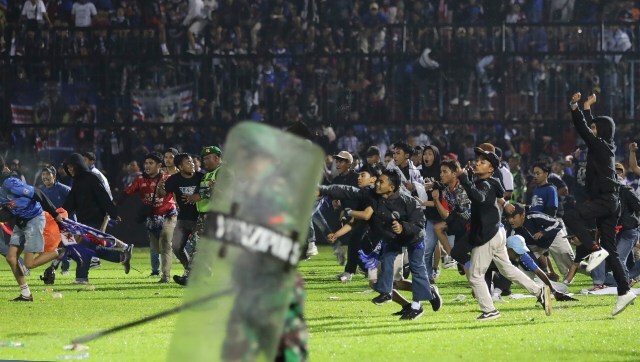 Football
The tragedy on Saturday night in the city of Malang, which also left 180 injured, was one of the world's deadliest sporting stadium disasters.
Football
The stampede at a football stadium in Indonesia resulted in 125 deaths and also saw 323 people injured after officers fired tear gas in a packed stadium to quell a pitch invasion, triggering a stampede.