Italian Open: Novak Djokovic sets up final against Alexander Zverev, Elina Svitolina to face Simona Halep
Novak Djokovic won twice on Saturday to play for another Italian Open title, his first final since January.
Rome: Novak Djokovic won twice on Saturday to play for another Italian Open title, his first final since January.
Djokovic, the four-time champion, will play Alexander "Sascha" Zverev, the youngest Masters Series finalist at 20 since Djokovic won Miami a decade ago at 19.
The day could have dragged on for Djokovic, but he closed out Juan Martin del Potro quickly 6-1, 6-4 in their quarter-final suspended overnight because of rain. He resumed 6-1, 1-2 up. Then about seven hours later he dispatched in the semi-finals Dominic Thiem of Austria 6-1, 6-0.
Thiem, coming off the Madrid final last weekend, stopped Rafael Nadal in the quarter-finals on Thursday.
Djokovic won the Doha title in January but has struggled since then and dropped his coach and support staff.
He's reached his eighth final in Rome, where he won in 2008, 2011, 2014, and 2015.
Djokovic called it his "best performance of this year and maybe even longer."
"I'm overjoyed and happy with every minute that I spent on the court today," Djokovic said. "Everything that I intended to do, I have done it and even more.
"I am so grateful to experience something like this, because I have been waiting for it and working for it for a long time."
Zverev beat American veteran John Isner 6-4, 6-7 (5), 6-1 with tennis greats Rod Laver and Manolo Santana looking on at the Foro Italico. Zverev showed off an all-court game that has prompted many experts to predict he'll reach No. 1 some day.
"If (Zverev) does win, it would be a very cool story for tennis," Isner said. "He was gifted with a lot of ability. But he doesn't let it go to waste at all. I have seen it in the offseason, as well. That's what it takes to be incredibly good and one of the greats."
Zverev believes his time will come when Roger Federer, Rafael Nadal, Andy Murray, and Djokovic retire. This will be his first meeting with Djokovic.
"Unfortunately for the spectators and for our sport and for everybody, those guys cannot play forever," Zverev said. "That's why the ATP is doing a good job promoting us young guys with the Next Gen Finals and a lot of different things"
Zverev won most of the longer rallies, displayed a well-disguised drop shot, made precise volleys and even served bigger than Isner, who is usually one of the best servers on tour.
In the opening set, Zverev won 20 of his 22 points on serve to Isner's 19 of 29, and over the course of the match he struck more aces: 12 to 8.
"He's a tough guy to ace," Isner said. "He stands really far back. He has extremely long arms and he's tall and he anticipates well."
After losing a tight second set in which neither player dropped serve, Zverev responded by breaking at the first opportunity in the third.
"It's a great beginning of his professional career he had so far, and he deserves to be in the final," Djokovic said. "But I'm going to make sure he doesn't get his hands on that trophy tomorrow."
On the women's side, fourth-ranked Simona Halep advanced to the final and extended her clay-court winning streak to 10 matches by beating Kiki Bertens of the Netherlands 7-5, 6-1.
Halep will face 11th-ranked Elina Svitolina of Ukraine for the trophy after French Open champion Garbine Muguruza retired due to a neck injury after only 20 minutes. Svitolina led 4-1.
Svitolina won her tour-best 30th match of the year.
After dropping five set points while serving for the opening set at 5-4, Halep started knocking her head with her finger as if saying, "Wake up." After getting broken in that game she held at love in her next service game to end the set.
Halep then cruised past 20th-ranked Bertens amid intermittent rain.
Bertens committed 31 unforced errors to Halep's nine.
Halep took the title in Madrid last weekend.
Find latest and upcoming tech gadgets online on Tech2 Gadgets. Get technology news, gadgets reviews & ratings. Popular gadgets including laptop, tablet and mobile specifications, features, prices, comparison.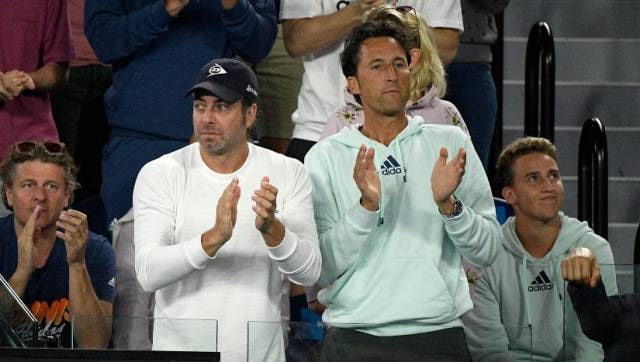 Sports
Thiem's father told Austrian media that he would train with Dominic and fellow Austrian Dennis Novak.
Sports
The biggest event missing from the schedule is the joint WTA-ATP hard-court tournament in Indian Wells, California.
Sports
Garin, ranked 22nd, and top-ranked American John Isner, 25th overall, lead a 28-player field at the start of a revamped schedule that will not return to US soil until the Miami Open in March.