Italian Grand Prix: Lewis Hamilton's title dash to Kimi Raikkonen turning back the clock, talking points from Monza race
Lewis Hamilton's title dash to Kimi Raikkonen turning back the clock, talking points from Monza race
Lewis Hamilton defied all odds and hatred (from the tifosi) to snatch victory from the two Ferraris and claim his fifth win at Monza; a record he now owns with former Ferrari great, Michael Schumacher. Hamilton's 68th career win in Formula 1 was thanks to a perfect mix of racing talent, strategy, gamesmanship and teamwork by Mercedes and their two drivers. Ferrari, who clearly have the fastest car on the grid, were beaten yet again — only that this time, they were beaten at home, in front of the tifosi, a loss that will hurt more than any other. Let's remember, both Ferraris locked out the front row in Saturday's qualifying session — a feat they achieved at Monza for the first time since 2000.
The Lewis Hamilton factor
But numbers don't narrate the full story that was of the 2018 Italian Grand Prix. After witnessing one of the best dry qualifying sessions in recent times, the race on Sunday could be labelled as one of Hamilton's best, if not the best. It has been said time and again that to win this year's World Championships, the fastest car might not be enough and in the Mercedes garage, it certainly seems that Lewis Hamilton is the differentiating factor.
While it is easy to get annoyed by his whining each time he complains that his Mercedes car isn't the fastest of the field currently, it is difficult to not appreciate the Hamilton-factor that has been instrumental in putting the Mercedes in places where it shouldn't always be so - like the top step of the podium in Monza, for example.
The race-winning move 👊#ItalianGP 🇮🇹 #F1 pic.twitter.com/wjKECQF6aW

— Formula 1 (@F1) September 2, 2018
After losing out the Ferraris in the qualifying session, Hamilton admitted that he would need to 'study hard with his engineers' to understand how to beat at least one Ferrari on the opening lap. Come lap 1, Hamilton's move on the outside of Vettel at the turns 4/5 chicane seemed perfectly timed and bold enough to out-psyche his title-rival Sebastian Vettel into making yet another mistake when under attack and under pressure. The 2018 Italian Grand Prix will also be remembered for Ferrari and Vettel's mistakes, but before that there's still Hamilton's win and Mercedes' strategic brilliance to celebrate.
The Kimi Raikkonen of old
The early race Safety Car allowed Lewis Hamilton to overtake Kimi Raikkonen on the restart and under-braking for Turn 1. However, Raikkonen pulled off the unthinkable when he attacked Hamilton in the braking zone of Turns 4/5 to retake the lead — a move that saw the tifosi roar in unison. It was only a few days before the 2018 Italian Grand Prix when Raikkonen told the media that his driving was the same as it was 10 years ago (when he won his Drivers' Championship title), a claim that one could easily debate. However, Raikkonen's overtake on Hamilton did have shades of the Iceman's former self — lethal and precise.
In the meanwhile, the spinning Ferrari of Vettel joined at the back of the pack, allowing Ferrari to focus on Raikkonen's race as Hamilton chased him down followed by Max Verstappen and Valtteri Bottas. The gap between Raikkonen-Hamilton oscillated between 0.700-1.7 seconds mark as the race neared the pit-stop window for all drivers starting their race on the super-soft tyre. Now in normal cases like these, the driver running second would pit for fresh rubber first and attempt the 'undercut' to overtake the driver ahead. In Hamilton's case, it was clear that come clear air, he would be able to push and narrow the marginal gap to Raikkonen, this is also why Ferrari's decision to pit Raikkonen for the soft tyre before Hamilton was a puzzling one. Let's hope that Ferrari are able to offer some explanation on this not-so-normal tyre strategy.
Ferrari's three mistakes
Did Ferrari fall for the dummy that Mercedes threw at them? In the lap when Raikkonen pitted, the Mercedes mechanics did take positions in their pit bay, but neither of their drivers pitted. Also in Raikkonen's case, his tyres seemed to be holding up and apart from the swinging gap between himself and Hamilton, there didn't seem much reason for Ferrari to call their driver in the pits first. Even though Hamilton rejoined the race behind Raikkonen after their first round of pit-stops, it was thanks to yellow flags brought out by Daniel Ricciardo's retiring Red Bull Racing car that allowed Raikkonen to reduce his gap to Hamilton to less than 24 seconds - the time needed for a pit-stop at Monza. However, was pitting Raikkonen first Ferrari's third possible mistake in the race? In which case, let's discuss their first two mistakes.
Second, did Ferrari's preparations for the weekend get compromised due to an incorrect tyre choice for their home race? Raikkonen and Vettel had only accounted for one and two sets of soft tyres respectively — the preferred race tyre. Did the lack of allocated tyres hamper their race preparations and car setup? This could be one of the reasons why Raikkonen's soft tyres suffered from blisters as he defended hard against Hamilton while also attacking Mercedes' strategic race pawn, Valtteri Bottas. By pitting Raikkonen first, Ferrari possibly lacked foresight that Mercedes could use Bottas in the Raikkonen vs Hamilton fight for the race lead by delaying their Finnish driver's first pit-stop and using him to slow Raikkonen down — and that's exactly what Mercedes did.
Valtteri Bottas playing 'wingman'
Raikkonen's near four-second gap (after the first round of pit-stops) was cut down to almost nought as Hamilton used his fresher tyres to close-in on Raikkonen, who was invariably stuck behind Bottas and unable to find a way through. In the Hamilton-Mercedes victory at Monza, Bottas' role and sacrifice will be remembered for time to come. The Finnish driver inflicted damage by not letting Raikkonen past — a classic case of defensive driving that also saw the Ferrari driver destroy his tyres. While Hamilton's overtake on Raikkonen was timely, it would have happened at a later stage in the race given Raikkonen's reduced pace to 'bring the car home' towards the end of the race.
As for Bottas' race, Mercedes knew that the best possible result for Bottas would have been third or fourth, in which case, a delayed pit-stop didn't change his fortunes much. However, Bottas' holding up of Raikkonen did help reverse the order of the drivers finishing first and second. Also, Ferrari's first mistake at their home Grand Prix could be traced back to their qualifying order in Q3 on Saturday. While most expected Raikkonen to lead Vettel through and offer the traditional slipstream and the time benefit that came along with it, the team surprised everyone when it actually did the opposite. The result saw Raikkonen claim pole and the fastest ever lap of Formula 1 ahead of Vettel — a result that was pleasing for the team and their fans, but not so much so for Vettel. A team that normally used 'team orders' to the benefit of their number 1 driver (Vettel, in this case), their lack of team orders in Monza did seem very surprising. Had Vettel started on pole, who knows if the story of the 2018 Italian Grand Prix could have been different! It certainly could have made life and the race easier for Sebastian Vettel.
Vettel's error-ridden season
The pressures of performing under the Ferrari banner must be enormous. This is possibly why we are seeing Vettel make too many errors time and again — especially in seasons he is locked in close battle with the otherwise flawless Lewis Hamilton. In 2018, Vettel's mistake in Monza was his fourth. At Azerbaijan, he out-braked himself and lost positions while attempting to overtake the Mercedes cars at the restart. At France, he made an error in braking and tagged Valtteri Bottas on the opening lap. In Germany, he beached the car in the gravel while in the lead. In Monza, Vettel's impatience is what cost him the race, more than his erred judgement on defending against Hamilton's opportunistic move. Given how the race lead exchanged hands more than a few times through the race and given the pace advantage of the Ferrari over the Mercedes, maybe being patient would have helped Vettel's case; even if it meant surrendering second place to Hamilton within a few kilometres of the start of the race. Insert Tweet:
Vettel 💥 Hamilton

Discuss... #ItalianGP 🇮🇹 #F1 pic.twitter.com/XFAMIaNyEh

— Formula 1 (@F1) September 2, 2018
In the Drivers' Championship, Vettel now trails Hamilton by 30 points as nine races remain. Along with speed and error-free races, Vettel and Ferrari will be relying on luck as the season progresses. In the Constructors' Championship, Mercedes lead Ferrari by 25 points but it was Renault that was beaten to fourth place by the Haas F1 team, courtesy Romain Grosjean's sixth-place finish. Both teams are tied on 84 points, but Haas are classified fourth and ahead of Renault as a result of a countback of points. Force India scored 10 points (Ocon, 7th, Perez, 8th) to up their points tally to 28 points — just 2 points away from Toro Rosso in eighth place. The story of the mid-field could be Force India charging their way to sixth place as Mclaren (Vandoorne, 13th, Alonso, DNF) finished their second successive weekend outside of the points. And of course, Williams scored the final championship point as Lance Stroll finished 10th.
[PS: Renault had lodged an official protest against the legality of Grosjean's Haas and the decision from the FIA was still awaited while filing this story]
5th place is +18.208s and then 6th place at +56.320s. Oh man!

— Kunal.Ghate (@Kunal_Ghate) September 2, 2018
Red Bull's Verstappen problem
Elsewhere, Max Verstappen was classified fifth in the race, even though he finished third. The Dutchman was given an in-race penalty; one that saw 5 seconds be added to his overall race time. As a result, he slipped behind Bottas and Vettel in the final classification. Verstappen's aggressive defence on Bottas saw both drivers rub tyres; a move that saw Bottas' car bounce off the track and requiring to use the run-off area at Turn 1. Instead of focussing on his race and attempting to finish five seconds clear of Vettel in the race to retain fourth place, Verstappen chose to debate the penalty with his team via the team radio. One wonders how the Red Bull Racing management will tackle the immaturity and arrogance of Verstappen. Perhaps, Red Bull Racing's similar ignorance of Vettel's antics is why the German driver is struggling with the added pressure while racing for Ferrari.
Max Verstappen was given a 5-second time penalty for this manoeuvre - and missed out on a podium

"I don't agree with it." Read more reaction from the Dutchman >> https://t.co/CiRgvKw23M pic.twitter.com/bb6hwhAxPs

— Formula 1 (@F1) September 2, 2018
Can Raikkonen win again?
While the tifosi, Ferrari and Raikkonen himself will have to wait longer for a Grand Prix victory, it does seem for now that the 2018 Italian Grand Prix was his best bet. While Ferrari were not out-paced, they were definitely out-thought by their title rivals. Irrespective of whoever wins the title this season, the 2018 Formula 1 Season will go a long way in defining Hamilton's legendary status in the sport. In which case, let's applaud the reigning World Champion for delivering an entertaining and edge-of-seat action race all through. Over to Singapore.
Find latest and upcoming tech gadgets online on Tech2 Gadgets. Get technology news, gadgets reviews & ratings. Popular gadgets including laptop, tablet and mobile specifications, features, prices, comparison.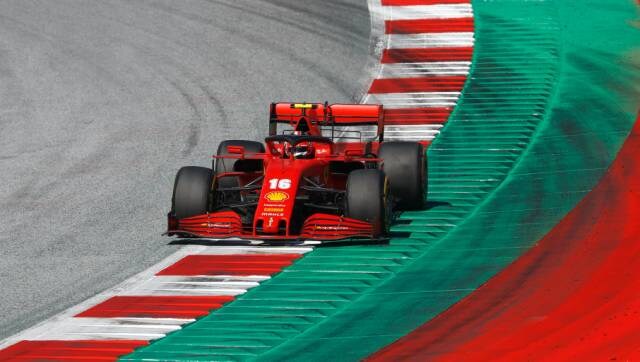 Sports
Ferrari also finished outside the points in the previous race in Belgium and the second successive double flop dropped them to sixth in the constructors' championship.
Sports
Bottas was 0.229 seconds faster than Carlos Sainz and 0.323 quicker than Lando Norris after an impressive showing from the McLaren pair.
Sports
It was Hamilton's record-increasing 94th career pole position, his sixth in seven races and his seventh in Italy.